NHL Rumors: Shane Doan down to three teams, Coyotes aren't one of them
Shane Doan has been waiting more than a month to see the situation in Phoenix unfold before deciding on his next team. It looks like he's done waiting and is ready to move on to either Vancouver, New York or Pittsburgh.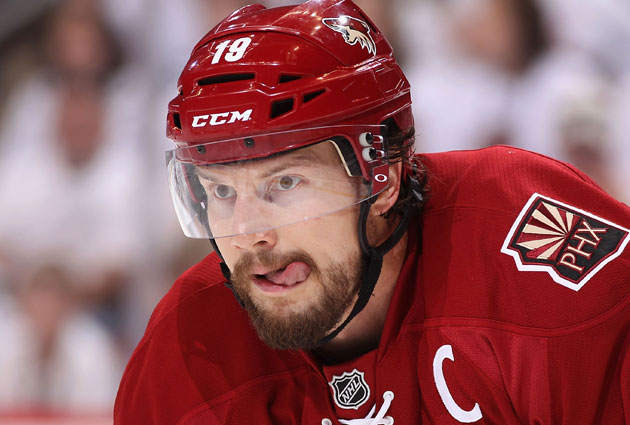 Shane Doan can only wait so long for the situation in Phoenix to unfold. (Getty Images)
Here we are a week into August and Shane Doan still hasn't made a decision on where he will play next. He's been waiting very patiently to see if the situation in Phoenix was going to be stable enough to allow him to return as all along he has said that his preference would be to remain with the Coyotes but he wanted the future of the franchise to be firm.
It would appear that he's finally decided to move on. That's according to Larry Brooks of the New York Post.
Doan, who understandably wants this to be the last move he makes, is believed to have narrowed his sights on Manhattan, Pittsburgh and Vancouver. It's unclear if Rangers general manager Glen Sather is willing to go four years, but if he does, Doan is more likely than not to become a Blueshirt.
Yes, that's three teams on the list and none of them is the Coyotes. If it's indeed true then Doan will finally find out what it's like to play for another franchise.
At some point, the rubber has to meet the road for Doan, he can't wait until training camp to sign a contract. He has real-life issues to consider such as potentially moving his family to a new city. That means new schools and activities for his children, etc. Given that my television is already being inundated with back-to-school commercials (seriously Target, those are pretty bad), the time for a decision has to be very close.
If you're Doan and you decide that the time has come to leave Phoenix and you're 36 years old, isn't it reasonable to think being on a contender makes the most sense? At that point it's about a little more than money.
But it's still about money, and that's why the Rangers do seem to make the most sense. Not only do they still have a need on the wing, but they have a lot of room under the cap. If Doan really can fetch a deal worth $7.5 million per season or so -- absurd on so many levels, but that's neither here nor there -- as has been rumored, the Rangers can do it. Yes, they added a big contract this summer in Rick Nash but with the players they sent to the Jackets in return, the Rangers actually gained cap space, believe it or not.
Obviously none of this is good for Phoenix. A franchise that's still in danger of even sticking around is now losing its face. Doan is the Phoenix Coyotes, he's been there since they moved to the desert and is easily the most recognizable face of that franchise. For a team that already struggles to draw fans to the arena, losing the captain and fan favorite is a blow.
The fact that it has gone this long though and Doan still hasn't re-signed in Phoenix lends a lot of creedance to the fact that he's ready to move on. He's given the situation a lot of time to be worked out and with no resolution in sight yet, it makes sense to go or get off the pot.
For more hockey news, rumors and analysis, follow @EyeOnHockey and @StubitsCBS on Twitter and like us on Facebook.
Boston gave New York a hefty haul for the 33-year-old winger

We'll be here to keep track of all the deals that go down before the NHL trade deadline

Toronto picks up a versatile depth piece in the 35-year-old Plekanec
SportsLine's Mike McClure, a DFS pro with more than $1M in winnings, gives optimal lineup...

David Kelly has nailed 43 of his last 54 NHL picks and just released a play for Sunday's m...

A look at 10 veterans who figure to be on the market as Monday's deadline draws near