NHL rumors: Teams still interested in signing Tim Thomas
There has been little noise about Tim Thomas since he told his agent he wanted to come back to the NHL but a report says there is interest.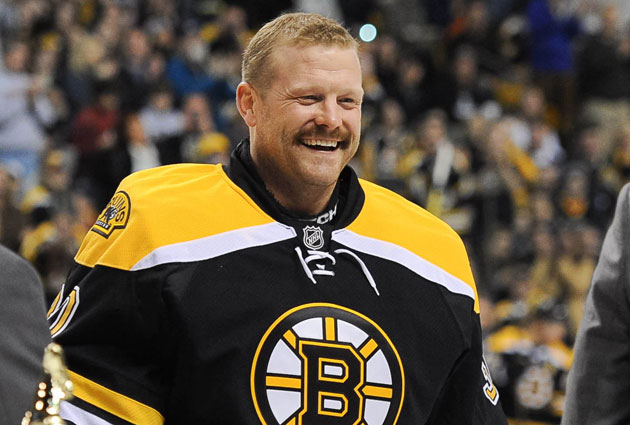 More NHL offseason: Rumors | Top 50 Free Agents | Buyout Tracker | Trades | Transactions
Since it was revealed that Tim Thomas told his agent he was interested in making a return to the NHL next season, it's been pretty much all quiet on the 'tender's front.
If you have been keeping score at home you would know that at this point there are hardly any teams still in the need for a No. 2 goalie, let alone a No. 1. A simple guess would say there's really nowhere left for Thomas to sign as noted by Al Muir of SI.
But hope is not lost yet for Thomas. According to Jimmy Murphy of ESPN Boston, there still is interest in Thomas but first things first.
Per NHL source teams are interested in signing Tim Thomas for upcoming season but other dominoes must fall first before he would be signed.

— Jimmy Murphy (@MurphysLaw74) July 25, 2013
Notice how Murphy says "teams" and not "a team." If true that is obviously good news for Thomas as it could help him fetch a better deal should push come to shove and he could choose whatever situation suits him best.
As for the dominoes, that's mostly related to cap space and not necessarily goalie dominoes. With the cap crunch on and a few quality free agents still left such as Mikhail Grabovski, money is an issue for just about every team in some shape or form this summer.
Not that I doubt Murphy's scoop, it's just hard to believe at this point there are multiple teams interested in Thomas' services. He hasn't played in more than a year and there just aren't very many teams at all in the market for a goalie right now, especially a relatively expensive goalie.
The question stands: Would you want your favorite team to risk a deal on Thomas?
The 40-year-old center is returning to the Wild after a successful run in Pittsburgh

Edmonton locks up its 21-year-old RFA a month after McDavid's historic extension

Even with a new coach and added veteran help, the Canucks have a long road ahead
Unlike expansion teams before them, the Knights have enough talent to entertain right away

Brian Lawton says he 'would not be surprised' if Boston deals its young star to end contract...

It turns out Phil does love his hot dogs, especially when they're in a Stanley Cup