NHL Rumors: The Kings as a possible landing spot for Jarome Iginla
Would the Los Angeles Kings be a good landing spot for Calgary Flames forward Jarome Iginla?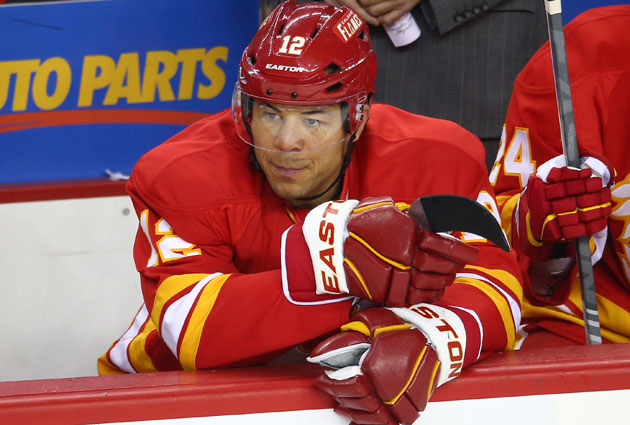 More NHL: Scores | Standings | Odds | Fight-O-Meter | League Leaders | Rumors
Last year, it was Rick Nash. This year, it's going to be Jarome Iginla.
The big game leading up to this year's trade deadline will be what the Calgary Flames decide to do with their 35-year-old long-time captain and whether he'll waive his no-trade clause. The fact the Flames are near the bottom of the Western Conference and seemingly out of the playoff race is only going to add to the rumor mill.
His name has already been connected with Eastern powers Pittsburgh and Boston, but ESPN's Pierre LeBrun threw another name into the hat on Thursday -- the defending Stanley Cup champion Los Angeles Kings.
While it's been widely (and accurately) reported that Boston and Pittsburgh have interest in the Flames captain should he become available, I believe the Kings would be right there in the mix as well and could be willing to dangle young backup netminder Jonathan Bernier.

One would imagine that would interest the Flames since life after Mikka Kiprusoff isn't far off. But then again, who knows with the Flames?

It should surprise no one that the Kings have interest in Iginla. For starters, L.A. inquired about his ability a few years back only to be told he wasn't going anywhere. More to the heart of the matter though is Kings head coach Darryl Sutter and his relationship with Iginla from their days together in Calgary.

I think the Kings would want at least a draft pick to go along with Iginla -- whose contract expires after the season -- in return for a future franchise goalie like Bernier.
Man, this really is like the Nash sweepstakes a year ago right on down to Jonathan Bernier being one of the players talked about going the other way. While Bernier has played well this season, I'm not sure I see him as a future franchise goalie. It seems like his upside at this point is more along the lines of a league average to slightly above average starter. But even that's probably never going to happen for him in Los Angeles with Jonathan Quick locked in for a decade.
But how willing would the Kings be to trade Bernier now given the way that Quick has performed this season coming off offseason hip surgery? He hasn't been as reliable as he was a year ago. And with Bernier getting more starts (and playing well in those starts), it might be a bit of a risk to part ways with him this season.
Whether or not Bernier is a part of a potential deal, Iginla would be an intriguing thought for an already strong Kings team. And if you added him to their top six to go along with Anze Kopitar, Dustin Brown, Jeff Carter, Mike Richards and Justin Williams, that would be one imposing set of lines that they could roll out every night.
Los Angeles is one of the many teams lumped in the middle of the Western Conference playoff picture. But while their record might be rather pedestrian, their underlying numbers show a team that's playing a lot better than its record indicates (they're the best possession team in the league, and a team that's getting beaten by some unsustainable percentages (like the current sub-.900 save percentage of Quick that is due to bounce back).
With or without Iginla, the Kings should be a team that nobody wants to play in the Western Conference playoffs.
In 25 games this season, Iginla has seven goals to go with 12 assists for the Flames.

For more hockey news, rumors and analysis, follow @EyeOnHockey and @Agretz on Twitter and like us on Facebook. Also, subscribe to our YouTube Channel.
The 32-year-old forward tells the media he expects to be back on the ice for the Devils op...

It seems it's all as wild as it sounds, with Canadian actor Zack Ward heading a 'West Coast...

Lots of moving parts may be the biggest hurdle for Carey Price and Co., a defensively geared...
The Penguins have some fun with the names of some Ducks linemen

Rookie Tyler Wong scores a hat trick to lift the NHL's newest team in its exhibition debut

Depth is a concern, but Edmonton is all in on its young, speedy stars with Stanley Cup pot...