NHL rumors: Thomas Vanek open to re-signing with Isles even if traded
Will Thomas Vanek re-sign with the Islanders or will they trade him? It might not be an either/or situation. He says he'd consider re-signing even if he's traded.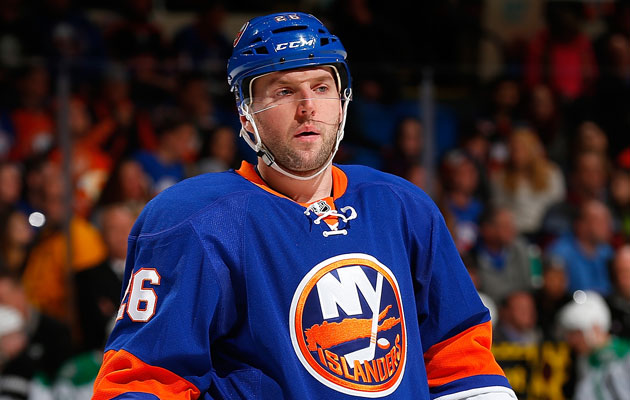 More NHL: Scores | Standings | League Leaders | Odds | Injuries | Power Rankings
When it comes to the trade block before this year's deadline, one of the biggest names on it is that of Islanders forward Thomas Vanek. What should they do with him?
It cost a lot for the Islanders to land him so they'd like to recoup some of their investment, you'd think, by either trading him or signing him to make sure he sticks around for years to come. Turns out, that might not be an either/or scenario.
Vanek and the Islanders have been playing some very strong hockey of late and it seems as though Vanek has truly come to enjoy life on Long Island. That doesn't mean he's ready to decide on re-signing with the team right now but it's not something he's ruling out either, even if he's traded away. Arthur Staple of Newsday spoke with Vanek on Thursday about the complex situation.
There haven't been any substantive contract talks between the two sides, which just adds to the limbo of the situation. But even though Vanek hasn't indicated via his agent or directly to Snow whether he'd be willing to sign before July 1, saying that the Islanders "would definitely be on my list" when free agency begins could be seen as a sign he's not crossing them off to force a trade.

"Even if they traded me, sure," Vanek said. "I like it here, it's a good group of guys. This would be a place I'd consider if it gets to July 1."
There has been a long-held belief that if Vanek hits free agency, he's very likely headed to Minnesota with the ties he has to that area (he played at the University of Minnesota, his wife is from there). While that could still very well happen, Vnake doesn't sound like a guy who has made up his mind that's what he intends to do.
Perhaps the ideal situation would be for the Islanders to trade Vanek and then sign him back. They'd get to keep him for years to come while also getting some good assets in return. But that's quite a risk and if the Islanders could, they'd probably like to sign Vanek before the trade deadline and put the situation to rest.
It's a pretty tough position for everybody involved; Vanek has never tested free agency and that must be tempting but he seems to really be smitten with Long Island. Meanwhile the Islanders might not have a decision from Vanek before the deadline, putting them in a pickle. It's probably safe to assume that Vanek won't be leaving the rumor mills until he inks a new deal somewhere.
Stacia Robitaille says Donald Trump told her in an elevator that she was coming home with...

Vladislav Yeryomenko was the Teddy Bear Toss goal scorer for the Calgary Hitmen

The Golden Knights are finally getting their No. 1 goalie back after a 25-game absence
Washington has won four straight, and the Kings are also on a tear right behind the Lightn...

The NHL says it's only interested in expanding to Seattle, but here's a look at all the moving...

The NHL says it is only looking toward Seattle for the next expansion team