NHL rumors: Tim Thomas has 'offers on the table,' talking with Panthers
There might be more interest in in Tim Thomas as his agent says he has 'offers.' Meanwhile, he continues talking with the Panthers.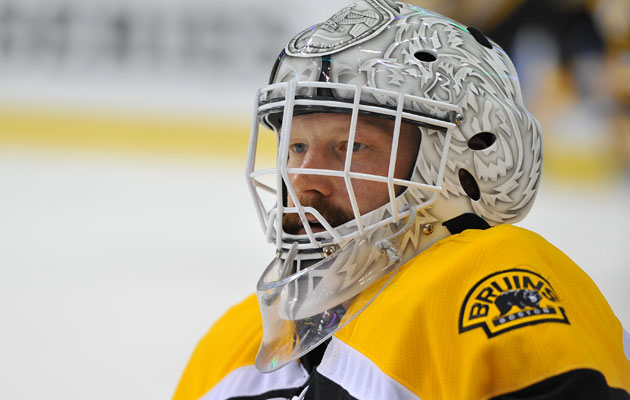 More NHL offseason: Rumors | Top 50 Free Agents | Buyout Tracker | Trades | Transactions
The Tim Thomas mill started spinning again a couple of days ago as we were reminded that the veteran goalie was indeed still looking for a spot on the NHL and as camp approached interest was picking up.
How much interest wasn't clear. The Florida Panthers were one team looking into him but that's all that's been really known. The Panthers sent Thomas an invitation to camp and are still awaiting word.
Perhaps it's because Thomas has some other options as well. Here's how his agent Markus Lehto put it to Aaron Portzline of the Columbus Dispatch, while saying the Blue Jackets aren't in the running:
"We haven't even really discussed it with the Blue Jackets," said Markus Lehto, who represents Thomas with ACME World Sports. "But he does have offers on the table, and there has been interested from clubs. It's just finding the right situation for him."
That would be offers, as in more than one. That kind of interest can give him leverage to try and negotiate an actual contract instead of just a professional tryout. Ren Lavoie reports that's one of the reasons why Thomas still hasn't accepted the Panthers' PTO offer ... and why he likely won't at all.
Tim Thomas and the Panthers are still talking. A deal can be reach but it won't be on a tryout.

— Renaud Lavoie (@LavoieRenaud) September 13, 2013
It's hard to discern if there really is any other team seriously interested in Thomas' services, it does him good though to say that there are. Thomas isn't coming from a point of much leverage here as he sat out an entire season and GMs don't know what he really looks like right now so doing whatever they can to create leverage makes sense for Thomas.
Whatever the truth is -- I suppose it's always possible the agent is being honest -- it looks like Thomas is making headway toward a return and will be back in the NHL this season.
NBC will reportedly be devoid of NHL game broadcasts between Feb. 7-26

The Winnipeg winger suggests Trump is going after 'the principles the U.S. was founded on'

League gets excited about exhibition matches in Beijing and Shanghai
NHL players are still disappointed they won't be going to skate in PyeongChang

With Artemi Panarin in the mix and a Vezina winner headlining the defense, Columbus can be...

The league's crackdown on faceoff infractions and slashing penalties isn't without some cr...