NHL rumors: Toews, Kane could pass $11M on next contracts
After the 2014-15 season, Jonathan Toews and Patrick Kane will each be due new deals and they could be huge, maybe even $12 million annually.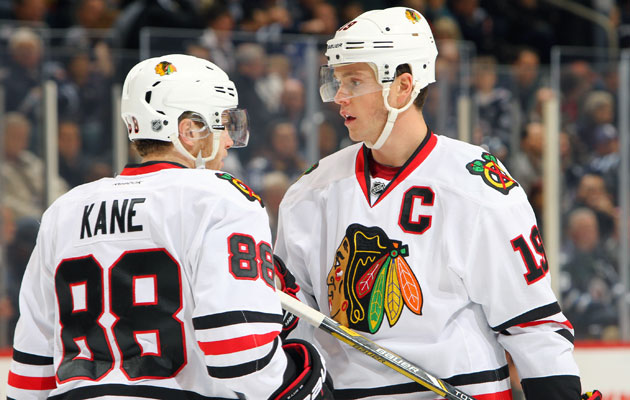 More NHL: Scores | Standings | League Leaders | Odds | Injuries | Power Rankings
The news out of the Board of Governors meetings this week wasn't only music to the ears of players that are scheduled to be free agents this upcoming summer but the summers beyond. The NHL is healthy right now and the cap is likely only going to continue to escalate and escalate in a hurry.
It won't be long until the NHL has its first $10 million salary cap hit. In fact, P.K. Subban could possibly hit that number with his next contract, due before next season in Montreal. But it could be in a couple of years that the bank really gets broken.
With the salary cap making a jump of almost $7 million before next season, it's reasonable to expect that in two years, after the 2014-15 season, the cap could be around $80 million. You know who is slated to become free agents after the 2014-15 season? Blackhawks superstars Jonathan Toews and Patrick Kane.
There is a growing sense that both are going to ask for a lot of money, as in close to double what they're making right now. What are they making right now? They each have $6.3 million against the cap.
TSN's Bob McKenzie explained on NBCSN on Wednesday:
Here is the part of interest on this topic for the video impaired:
"I look at the Chicago Blackhawks, and I look at Patrick Kane and Jonathan Toews, guys who have a year left on their contracts after this season but then are unrestricted free agents. These guys are only making $6.3 million on their cap hit right now. That is very modest. But keep in mind those deals were negotiated before these guys won Stanley Cups and effectively became the brand for the Chicago Blackhawks. Nobody would dispute as good as Duncan Keith and the other guys are on the Hawks, it's Toews and and it's Kane. I think these guys are going to get paid. It would not surprise me if they look for double what they're getting right now. That's up maybe in the $11 million-$12 million range.

"NHL players have done a magnificent job of not being greedy. They don't want to take the 20 percent of the cap, they like to leave some money for the team to spread it around and surround them with other players. But I also think you're going to see players like Kane and Toews and two years from now, Steven Stamkos when his deal comes up, you're looking at guys that are going to be looking for $11 million, $12 million, $13 million, $14 million, which is still less than the 20 percent maximum salary that they're entitled to."
The NHL has not seen a player with a cap hit that exceeds $10 million yet. Alex Ovechkin is the closest at $9.5 million on a contract signed in 2008. But it looks like it will only be a matter of time.
Inevitably this will make people wonder why there was a lockout. It's fair, the optics aren't good. But the game is healthy and revenues are skyrocketing. When that happens, of course the money is going to funnel back to the players in the form of higher salaries. It's a bit of a shock to see such large numbers but it's where the game is headed.
If Kane and Toews are both around $12 million per season or so, that's a significant amount of the cap tied up in those two players so the Blackhawks might have a challenge in filling out a roster around them. That beats the option of letting one or both of them leaving Chicago.
It's time to hook your favorite NHL fan up with some Black Friday deals

The Lightning have Steven Stamkos to thank, and the Blues should be extra grateful for Brayden...

The Sabres will face the Rangers at Citi Field on New Year's Day in these sharp threads
SportsLine's Mike McClure, a DFS pro with more than $1M in winnings, gives optimal lineup...

Without the star power of the NHL, America is banking on big contributions from some AHL, KHL...

Lincoln Financial Field will play host to the annual outdoor game on Feb. 23, 2019