NHL rumors: Vincent Lecavalier a buyout target for Lightning?
The Lightning are close to the salary cap for next season, raising questions on whether Vincent Lecavalier or Ryan Malone might be bought out.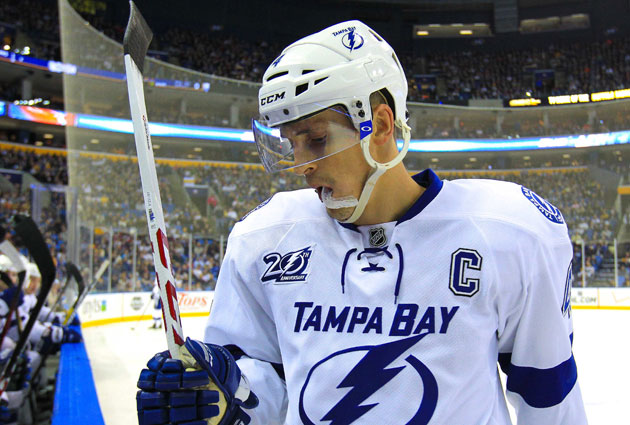 More NHL Playoffs: Scores | TV Schedule | Expert Picks | Odds | Mock Draft | Rumors
As the offseason is rapidly approaching, there is an addition this year to the usual two-step of the draft and free agency. That's the amnesty buyout period.
In that conversation, names are tossed around all the time -- who could be bought out and made a free agent as teams try to come down to a descending salary cap for next season. Tampa Bay Lightning forward Vincent Lecavalier is in that conversation.
From the Tampa Times' Damian Cristodero:
But Tampa Bay's captain also understands the business of the game. That is why he is preparing for the possibility that the team will choose to buy out his contract.

"It's obviously something you think about," Lecavalier said. "At the same time, there's nothing I can do about it."

Such a move would be a chance for the Lightning to get out from under the annual $7.727 million salary cap hit -- eighth highest in the league according to capgeek.com -- that came with Lecavalier's 11-year, $85 million contract extension that took effect in 2009-10.
Cristodero goes on to say that in addition to Lecavalier, the Lightning might consider buying out Ryan Malone. His contract isn't worth as much or on the books for as long, but he has often been injured, and the $4.5 million in cap space would still be very welcome.
Despite finishing with the third-worst record in the league, the Lightning are facing a cap crunch and still have to sign a few players this offseason. So they need to clear some room, and Lecavalier does seem to be a prime candidate to go, even though he has been with the Lightning since they drafted him No. 1 overall in 1998. It would be expensive, but that could be the price to pay for flexibility.
If Lecavalier were bought out, there would certainly be teams interested in his services. The Lightning wouldn't be getting rid of him because he can't play anymore; it's just his current contract is difficult to work with. Signed to a more friendly deal, many teams would welcome him with open arms. He is past the days of being a 50-goal scorer, but even at 33 he's still a capable producer. He had 32 points in 39 games this season (10-22=32).
As for Malone, when he's healthy he has proven to be a 20-plus goal scorer, but that's been a big problem -- and it doesn't figure to get much better as he is 33. This season he played in just 24 games, recording six goals and two assists.
The University of Denver star and Hobey Baker Award winner is drawing interest

Intrigue is high in Arizona after a wild offseason, but expectations should still be tempe...

Players are set to give personalized messages for Adidas' former hockey equipment brand
The 40-year-old center is returning to the Wild after a successful run in Pittsburgh

Edmonton locks up its 21-year-old RFA a month after McDavid's historic extension

Even with a new coach and added veteran help, the Canucks have a long road ahead