NHL rumors: Weiss, Panthers talking extension, other teams interested
Before free agency, the Panthers are giving one last push to re-sign Stephen Weiss but other teams are said to be interested in him as well.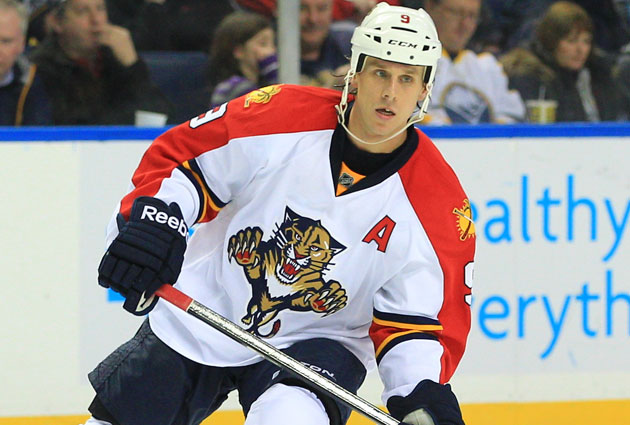 More NHL Playoffs: Scores | TV Schedule | Expert Picks | Odds | Mock Draft | Rumors
The Stanley Cup Final continues but that means only two teams are left standing; the others are resigned to looking forward to the draft and free-agency period that will begin almost immediately upon completion of the Final.
That means it's time to weigh in on the free agents who will hit the open market on July 5. All along it's been assumed Panthers center Stephen Weiss will be one of them, and one of the more coveted players on the open market (read what you will about the state of the market). But the ship has not completely sailed out of Florida yet, according to Elliotte Friedman.
"The Florida Panthers and Stephen Weiss are talking about seeing if they can get a contract extension done. The Panthers are taking another run at getting this."
However, that doesn't mean a deal will happen. Weiss has been with the Panthers his whole career, but after his season ended early with surgery on his wrist he talked like a player who was likely done in Florida -- though he didn't shut the door either.
Still, even if the Panthers don't sign Weiss to a new contract, he might not hit the free-agent market. More from Friedman:
"They have several teams that have contacted them and said, 'If you do decide to trade him we are interested.' The three that I could confirm were Dallas, Detroit and Toronto."
Weiss only played 17 games past season and was clearly not himself, looking poor in racking up just one goal and three assists. But just last season he had 20 goals and 37 assists. He has goal-scoring abilities but is a bit more of a playmaker and is certainly capable in the defensive zone. He would make a nice top-six center for a lot of teams -- Florida included -- and will likely command a pretty high salary given the status of centers this summer.
The decision would likely be met by anger from some fans, but it could also make sense

Toronto shoots to the No. 1 spot, just ahead of the Chicago Blackhawks

The Penguins' standout is at it again
Gary Bettman all but reverses course from his September comments on anthem demonstrations

The 'Washington Post' says many teams have stopped booking stays at Trump-owned properties

New Jersey has the long-term promise; Vegas is nothing like an expansion pushover