NHL Rumors: Wild 'express interest' in Marc-Andre Fleury
The Minnesota Wild are in the market for a goalie. They're said to have expressed interest in Pittsburgh's Marc-Andre Fleury among others.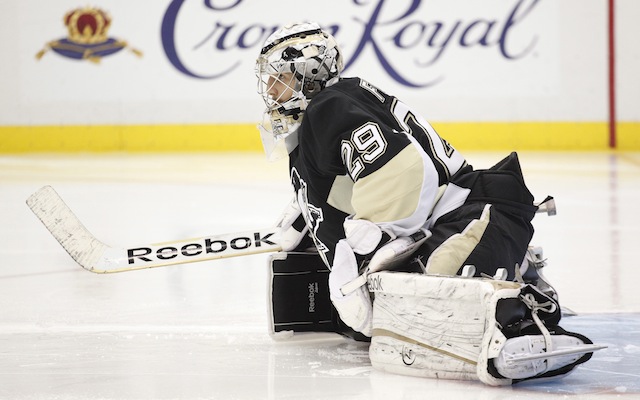 More NHL Playoffs: Scores | TV Schedule | Expert Picks | Odds | Mock Draft | Rumors
The Minnesota Wild are one of the three teams said to be in the running for Los Angeles Kings goalie Jonathan Bernier.
He's apparently not the only goaltender whom general Chuck Fletcher is looking at.
Michael Russo of Minneapolis' Star Tribune reports on Saturday that team is looking at several options in net, including the possibility of re-signing Niklas Backstrom. Along with Backstrom and the possibility of Bernier, Russo also reports the Wild "have expressed interest" in Pittsburgh's Marc-Andre Fleury.
Now, "expressing interest" can mean a lot of things. It could be an internal discussion about what it would take to get him, an informal conversation or even an offer. There's an obvious link between the two teams; Fletcher was previously the assistant general manager in Pittsburgh and was a part of the front office when Fleury signed his current six-year, $30 million contract.
Fleury still has two years remaining on that deal.
Both Penguins general manager Ray Shero and coach Dan Bylsma gave Fleury a vote of confidence after the season and seem committed to him being their starting goaltender at the start of the 2013-14 season.
Fleury lost the starting job in the playoffs to Tomas Vokoun after struggling through the first four games of the Eastern Conference quarterfinal series against the New York Islanders. For Fleury, it was his fourth straight year of postseason struggles.
No matter what happens, Fleury is an interesting case, and there seems to be only two opinions on him as a goalie: There's one side that still views him as a franchise goalie and one of the top players at the position and another side that views him as a complete liability. As is usually the case in these matters, the truth is probably somewhere in the middle. His regular-season numbers over the past few years place him around the league average. His playoff numbers, however, are among the worst in the league.
With the Penguins tight against the cap and still trying to figure out what to do with defenseman Kris Letang, they could certainly use some relief under the cap. With Vokoun still under contract for $2 million, now seems like an ideal time to consider moving on from Fleury, if not through a trade, then perhaps a compliance buyout.
But based on the words of Shero and Bylsma this month, that doesn't seem like it's a possibility.
If Minnesota can't re-sign Backstrom, it's going to need another goaltender this offseason. The Wild have $6 million in cap space with 20 players under contract. That could limit their options unless salary is going back the other way or they take advantage of the compliance buyouts at their disposal.
J.T. Brown, who raised his fist during the national anthem, meets with Tampa Police Depart...

The decision would likely be met by anger from some fans, but it could also make sense

Toronto shoots to the No. 1 spot, just ahead of the Chicago Blackhawks
The Penguins' standout is at it again

Gary Bettman all but reverses course from his September comments on anthem demonstrations

The 'Washington Post' says many teams have stopped booking stays at Trump-owned properties