NHL rumors: Will Ales Hemsky start next season with Oilers?
Ales Hemsky seemed like a player who was done in Edmonton with a summer of shakeups, but it looks like he might stay an Oiler. For now.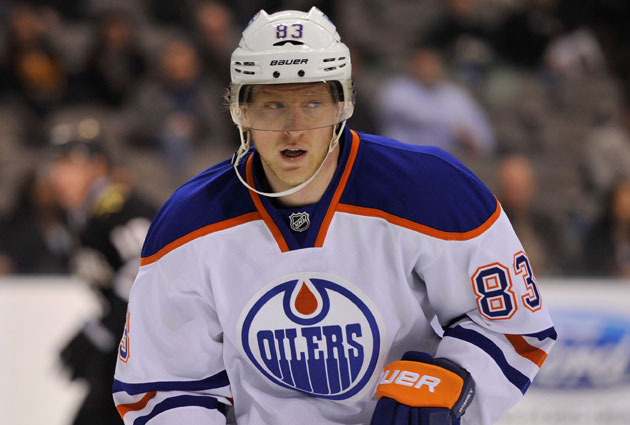 More NHL offseason: Rumors | Top 50 Free Agents | Buyout Tracker | Trades | Transactions
Going into his Summer of Shakeups for the Oilers, new GM Craig MacTavish had two candidates who seemed prime to move out of Edmonton in veterans Shawn Horcoff and Ales Hemsky. Horcoff has moved on already, the captain being traded to Dallas. But Hemsky is still around.
Now it looks like Hemsky might not go at all. In a radio interview on Sunday night, MacTavish indicated that perhaps he's done dealing and this is the roster the Oilers will go with into next season.
By extension, that means Hemsky is staying put a little while longer. With only one year left on his contract, there will likely remain speculation that he won't finish next season in Edmonton. But as of now, he's still an Oiler.
Might that change? The Edmonton Journal's David Staples thinks so. He's not convinced a trade won't happen before the season starts.
It's time for Hemsky to move on. There's no real controversy around that, which is why MacTavish talks so openly about it.

Hemsky is also a good bet to rebound on the right team.

Me, I still expect a trade gets done. Another NHL team in need of offence, and an NHL GM in need of saving his job, will make the reasonable bet that Hemsky can rebound, and the Oilers will pick up another hard checking winger or centre.
However, it's tough to find the right price. Hemsky is entering the final season of a contract, so that does make him a bit more moveable. But he has a $5 million salary cap hit for next season. With the cap crunch being felt all across the league, there aren't a ton of suitors that could even entertain the thought.
Hemsky has seen his offensive production go down in recent years, but he is still a guy capable of being a top-six forward on a lot of teams. It was just two seasons ago that he had 42 points in 47 games.
There could be worse lots in life then to be stuck with Hemsky going into a contract year, but it seems like the ride has come to an end for him and the Oilers. Perhaps the faster they could all move on from it the better. It's not like there are any real issues at play. It's just at the point at which a breakup is probably best for all involved. However, it might have to wait a little longer.
The team tweeted on Monday that Shaw would be re-evaluated in 7-10 days

The Montreal forward was hospitalized after taking a Zdeno Chara slap shot to the head

Tampa Bay is still No. 1 and Vegas is still up there, but a few others are finally catching...
Army filed an opposition to the use of 'Golden Knights' on the last day that it was permitted...

The NBC rinkside reporter is hoping to return in time for the 2018 Olympics

Here's who wade the cut for the 2018 NHL All-Star Game on Jan. 28 at Amalie Arena in Tampa...