NHL rumors: Will Marian Gaborik be on the trade block again?
Marian Gaborik is a free agent after this season and speculation is already mounting that the Jackets won't try to re-sign him and instead will trade Gaborik.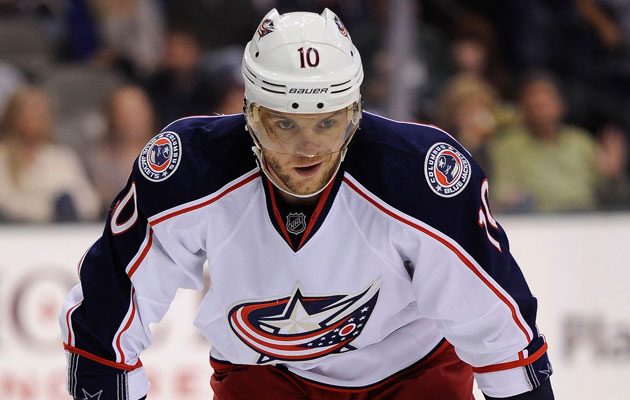 More NHL: Scores | Standings | League Leaders | Odds | Injuries | Power Rankings
When the Columbus Blue Jackets acquired Marian Gaborik before the trade deadline last season, it was an exciting time in central Ohio. Not only did it signify the Blue Jackets as actually being a buyer but it gave them a scoring threat they hadn't had since they Rick Nash was granted his trade request. A team in desperate need of offense picked up a seven-time 30-goal guy.
However he is a free agent after this season and with the Jackets in last place in the NHL's worst division as well as a high salary, it's looking like Gaborik's time in Columbus is going to be short-lived.
At least that's how Blue Jackets writer Aaron Portzline sees it.
Barring a dramatic change, I see no chance #CBJ even attempt to re-sign Marian Gaborik, will look to move him at trade deadline or sooner.

— Aaron Portzline (@Aportzline) November 14, 2013
In other words, for the second straight year get ready to hear Gaborik's name on the trade block as the deadline approaches.
Right now Gaborik is in the final season of a five-year deal that carries a cap hit of $7.5 million. He will also turn 32 before this season is up, likely signalling his best days are behind him. However that doesn't mean he's done, it's just right now in Columbus it isn't working out as well as everybody hoped. He still has five goals and 11 points in 16 games; not great but not terrible by any stretch. However given his age and cost as well as the current direction of the franchise, he doesn't seem to fit in for the long haul.
The difficult part is that the Jackets gave up some quality players (John Moore, Derek Dorsett, Derick Brassard) to the Rangers to get Gaborik and now they might turn around and deal him away a year later with a presumably diminished trade value. It would sting to have to give up on Gaborik so quickly but again, the salary demand is tough for a team that's near the bottom of the East this season.
As a result, there might have a high-priced rental player available in the coming months. Too bad for Columbus the excitement of having two good wingers in Gaborik and Nathan Horton has worn off before they ever even played in the same game (Horton is recovering from surgery).
The Pittsburgh Penguins will put politics aside and visit the White House out of 'respect'...

NBC will reportedly be devoid of NHL game broadcasts between Feb. 7-26

The Winnipeg winger suggests Trump is going after 'the principles the U.S. was founded on'
League gets excited about exhibition matches in Beijing and Shanghai

NHL players are still disappointed they won't be going to skate in PyeongChang

With Artemi Panarin in the mix and a Vezina winner headlining the defense, Columbus can be...