NHL Rumors: Would NHL expand after new CBA is reached? Why not?
Expansion seems a growing possibility in the NHL. Adding two teams after the next CBA is reached would be a perfect time for many reasons.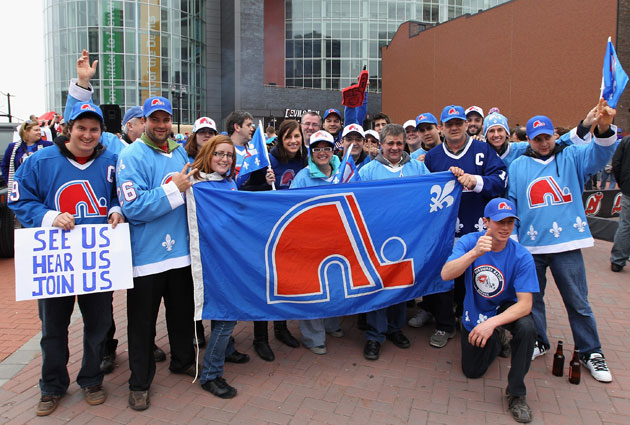 Could Nordiques fans get their wish and see their team return soon? (Getty Images)
When the lockout is all said and done, the NHL will have some major damage control to undertake. The rhetoric continues to be spilled that the fans will come back; they always come back.
While the majority of fans will likely come back, I'm not convinced they all will. There will be work to be done, the numbers will fall. That's particularly true in the United States.
In Canada I don't foresee it being much of an issue, but the contempt for Gary Bettman and his Southern expansion experiment will only rise. You will have a hockey-mad country steaming mad at the commish for taking away their hockey. That's not an ideal situation.
So what would the NHL do to make up for this? Here's a thought:
An NHL agent predicts that whenever a new CBA is signed, Gary Bettman will try salvaging his rep by announcing 2 expansion teams for Canada.

— Adam Proteau (@Proteautype) September 25, 2012
Before we go any further, just note that this is speculation, a prediction. It potentially comes with a trace of inside knowledge, or comes as a total guess.
No matter, it's an intriguing idea.
By now the word expansion has become analogous to lockout in hockey; it's a dirty, dirty word. The NHL is still dealing with the impact of its last round of expansion into the South and many argue that it diluted the product by spreading out the talent. Adding two more teams to the league would only exacerbate that problem.
But there's no two ways around the idea that expansion seems destined for hockey. With the proposed realignment plan earlier this year that was shot down by the union, there's no denying two more teams would help. That model had two conferences of seven teams, two conferences of eight. One of the reasons the union said no was because the unfair competitive edge the teams in the seven-team conferences had built in, one less competitor. Bring two more teams into the fold and, voila! You have four equal conferences.
If the NHL were to expand with two teams in Canada, there's no doubt at all where they would go (necessary yet silly qualifier: so long as the Oilers remain in Edmonton). That would of course be Quebec City and Markham, Ontario outside of Toronto. Those two cities are currently working on arenas that they hope will attract hockey.
That would mean other NHL-hopeful cities like Seattle and Kansas City would have to hope for a team looking to relocate and there remains an option or two out there in the NHL (Coyotes will remain in that state until they are finally sold to Greg Jamison, if they ever are).
Assuming the question is how can the NHL appease fans after a lockout and not what will happen if you go on an ice cream-eating binge without hockey, is expansion really the answer? Based on the fact that the NHL is already at least considering the possibility, the answer is probably. But maybe not for the simple answer of extending an olive branch to the fans north of the border.
Think about how much more revenue the NHL would gain by adding two teams in markets that very clearly could lend massive support? There is zero doubt the Toronto area can handle another team. If the New York area can have three teams, I'm sure Toronto can do two. OK, even without that as an example I have no doubt the Toronto area would be just fine and the Leafs would hardly feel a ding in their bottom line.
That extra money could represent a massive spike in the escalation of hockey-related revenue in coming years. So say the CBA that is eventually agreed upon contains a limit on the players' escalation with the rise in revenue, that's a lot of extra money that the league would pocket. We're getting ahead of ourselves here a little bit, but it's easy to see adding two Canadian teams would serve much greater benefit than just serving as a gift.
Before you simply suggest just moving a couple of teams to cities where they would better succeed, remember we're talking about the NHL here. This is the same league that has fought tooth and nail to see to it that the Coyotes don't leave the desert. Moreover, I'm just not a fan of relocation, I had the misfortune of seeing my once-favorite NBA team leaving its home in Seattle to become the championship-caliber Thunder in Oklahoma City. Relocation sucks. Only when it is absolutely necessary should it be on the table.
Besides, I think the NHL would prefer to move into Canada again via expansion for another simple reason: Expansion fees. The money that would come in to secure teams would be greater than any city from the states, you can bet your bottom dollar on that.
How much are we talking about in expansion fees? A lot.
The NHL's little secret- $500M expansion fee per team. That's $1B divided up between the owners, players get nothing.

— Allan Walsh (@walsha) September 25, 2012
Alright, so those numbers are probably well into the stratosphere and aren't realistic, but you get the point. It would be a lot of cash that would get to be spread around.
So while the NHL could pass it off as Bettman salvaging his reputation and appeasing Canadian fans, there are a lot more reasons why it would make sense. Plus the NHLPA would add two more rosters worth of jobs. Everybody wins, right? Well everybody except those leery of expanding again but with safe expansion options like Quebec City and Markham, it's not like going from 30 to 32 teams is a killer.
For more hockey news, rumors and analysis, follow @EyeOnHockey and @StubitsCBS on Twitter and like us on Facebook.
The former Boston Bruin was the first black player to play in the NHL

Inclement weather led to the Charlotte Checkers and Bridgeport Sound Tigers playing in front...

The NHL chose the Detroit rocker as its All-Star Game entertainment and not everyone is th...
NHL fans from all over seem to agree on one thing: Hating Kid Rock

The team tweeted on Monday that Shaw would be re-evaluated in 7-10 days

The Montreal forward was hospitalized after taking a Zdeno Chara slap shot to the head