NHL season preview: Who will bring home the individual hardware?
Sidney Crosby is a clear favorite for the Hart Trophy for a reason but what about the other trophies like the Vezina, Norris, Calder and Selke?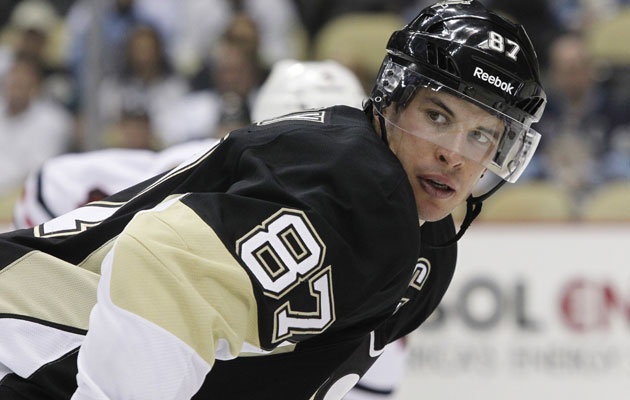 NHL previews: Atlantic Division | Metropolitan Division | Central Division | Pacific Division
Talk to any player in any league anywhere on this planet and you will get a canned response that team accomplishments trump individual recognition from 99 percent of athletes. That's not to say it's untrue -- the goal is to win the game, after all -- but who doesn't want to win an award for individual accomplishments too?
Like the NHL, the talent has become so spread and plentiful that the awards races are very difficult to forecast. Injuries are a real issue and seasons can go so vastly different than anybody foresaw. Still, that didn't stop us from trying to predict winners anyway.

Hart: Sidney Crosby
No, I'm not going to step onto the ledge on this one, not after seeing what Crosby did last season (and every other season of his career thus far). Despite playing just three quarters of the schedule, he still nearly took home the Art Ross Trophy as the league's leading scorer, finishing only four points behind Martin St. Louis.
He enters this season healthy, showing last year that the neck/concussion issue was a thing of the past. With the summer to heal, the broken jaw shouldn't have any effect either. Assuming he is able to stay injury free, Crosby should be so dominant that there's little choice but to name him MVP.

Vezina: Antti Niemi
You have your standard-fare picks -- Henrik Lundqvist, Tuukka Rask, Pekka Rinne and Jonathan Quick -- to choose from but I'm going to pick the Sharks starter going into the season. Niemi did earn a spot as a finalist last season for the Vezina, taking another step in his climb to being one of the better goalies in the league.
Niemi had a career season in 2012-13 with a .924 save percentage and 2.16 GAA, so there is some concern for regression. However his numbers weren't so astronomically above his career averages that it seems wholly unrepeatable. With San Jose, he should have another strong team around him to help keep those numbers looking great. That doesn't factor in that he won't have a proven backup and Niemi could very well start upwards of 73 games. That should lead to a lot of wins.

Norris: Erik Karlsson
The Norris has become a race packed with contenders, with new guys seemingly emerging every season. In the case of Karlsson it could be re-emerging as the 2011-12 Norris winner should be back 100 percent from that nasty Achilles injury he suffered last season. When he's healthy, there simply isn't a better point-producing defenseman in the league. He drives the offensive play for the Senators, who should have more offensive output this season.
Really though, this is a race that could go any which way. With a ton of candidates, including 2013 winner P.K. Subban, it all just kind of depends what exactly the voters are going to find to be the most important characteristic that season. Some argue that Karlsson doesn't play enough actual, you know, defense, to be a good Norris candidate but his offensive play is so strong it can make up for it to the point that it's impossible to ignore. Plus I will maintain he's not as bad as people claim in his defensive abilities. There's at least something to be said for his ability to quickly get the puck started up ice either on his own stick or through passing.

Calder: Alex Chiasson
The top rookie is always so hard to pick because it's a guarantee that every season a player or three will come from completely off the radar and be in the mix. Last season that title went to Brendan Gallagher, who wasn't even supposed to be the best rookie on his own team (that was Alex Galchenyuk).
Usually those guys make their cases but don't actually win. The past three champs were all 19-year-olds who were selected very high overall, but that won't deter me from going off the board and taking Chiasson. You have a lot of very high prospects to pick from including No. 1 pick Nathan MacKinnon and it's very possible that Chiasson won't even be the best rookie on the Stars (hello, Valeri Nichushkin). He teased last season with six goals in seven NHL games. Certainly that can't and won't continue but Chiasson is going to see a role as an offensive player and on the power play. In the end it's pretty much all about numbers and the 23-year-old is going to be given a chance to put up good numbers.

Selke: David Backes
Again, the safe pick here is the always-reliable Patrice Bergeron or reigning Selke winner Jonathan Toews. It's very possible (and perhaps likely) they will be finalists again and one of them will take home the honor as the best defensive forward. But I'll take a shot on Backes for a Blues team that will be excellent again.
It's not completely off the board -- Backes was a Selke finalist two seasons ago -- but this much is sure; he does need to pick up the scoring. As stupid as it is, the Selke doesn't go to the best defensive forward, it goes to the best defensive forward who can score. Point production has become an essential element to winning the trophy, so Backes would do well to get back up to the 25-30 goals he was at for a few seasons. Last season he had just six goals (though with 22 assists) in 48 games. If he can do that, it might be enough for him to be recognized again for his defensive play, especially for a team that doesn't figure to give up a lot as a whole.
Backes started his shifts in the defensive zone nearly 60 percent of the time last season and coach Ken Hitchcock knows defense so if Backes is the guy he's turning to in their own end, you know he's a good defender. Something that needs to improve though to catch him up with the past two winners; he needs to do better in the faceoff circle.

Jack Adams: Alain Vigneault
Identifying a Jack Adams Award winner in advance is another difficult thing to do as it often just goes to the coach that did the best turnaround job or seemed to achieve more with less. Considering those are coaches exceeding expectations, that's a bit difficult to predict.
In that regard, perhaps Vigneault won't have an advantage as people across the league are well aware of the talent the Rangers have and what they're capable of doing. At the same time, though, if the Rangers perform up to those expectations and are significantly improved record wise from a team that underwhelmed last season, the juxtaposition of the two seasons can help make a big case for Vigneault. That's if the Rangers do what I think they will and pick up the scoring and have a great season. It's his first year in New York but hardly his first year behind a bench, having won the Adams in 2007 and being a finalist for it again in 2011.

Lady Byng: Martin St. Louis
Honestly, it's a wonderful award and all and it's undoubtedly an honor to win and be recognized as a great person as well as a great player, but this one just doesn't get the juices flowing. Nobody really cares about it. That said, I'll just go with the safe pick in St. Louis. If he doesn't win it, he's likely to be a finalist for it often.
Saturday's showdown will serve as a rematch of one of the NHL's first-ever regular season...

Stacia Robitaille says Donald Trump told her in an elevator that she was coming home with...

Vladislav Yeryomenko was the Teddy Bear Toss goal scorer for the Calgary Hitmen
The Golden Knights are finally getting their No. 1 goalie back after a 25-game absence

Washington has won four straight, and the Kings are also on a tear right behind the Lightn...

The NHL says it's only interested in expanding to Seattle, but here's a look at all the moving...