NHL second-half outlook: Atlantic Division trade deadline primer
With the Olympics interrupting the second half and trading period, here's an early look at what Atlantic Division teams need to do to either make the playoffs, or sell off at the deadline.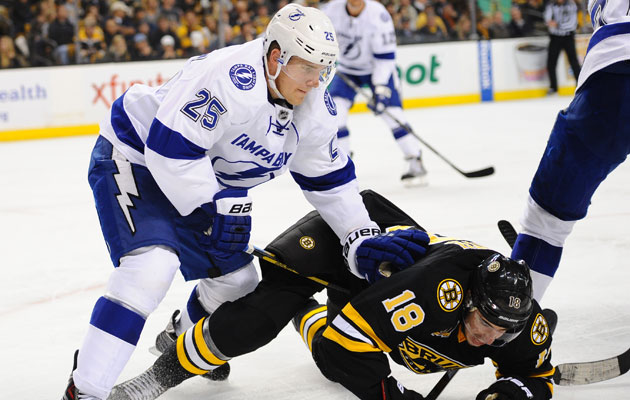 More NHL: Scores | Standings | League Leaders | Odds | Injuries | Power Rankings
With all teams past the 41-game midpoint of the season, it's time to look ahead to the rest of the second half. The condensed schedule to accommodate the Olympics should create quite a buzz in the league over the next few weeks as teams prepare to either make a push for the playoffs are start cutting their losses.
We continue our look across the league with the Atlantic Division. Right now the top three spots -- the three guaranteed playoff positions -- are somewhat comfortably held. The Canadiens are currently the third seed in the Atlantic and at this rate they are on pace for 99 points. That's well clear of the projection on the mass of humanity that will make up the race for the wild cards. Of course that's if they can keep the current pace.
As for those two East wild-card spots, well they are relatively tough to pin down right now. Teams 4-12 in the East standings are separated by a mere five points. It really almost is anybody's game. At the moment the Rangers would have the first wild card and the Maple Leafs the second as each stand with 51 points.
That said, the Red Wings, who have played two fewer games, and Senators with one fewer game project out with slightly higher point totals. The Sens are on a pace just above 87 points but with how crowded the field is, we'll set the bar just a few points higher and say that 91 points should be a target number to be safe. Fewer than 91 might be good enough in the end but that's where the target will go for now.
Here's a look at how things will need to play out in the Atlantic Division and which teams need to bulk up or sell off.
Points needed for postseason: 31 (Record: 15-20-1)
Midseason Grade: B+
The Bruins had to revamp the roster in the offseason because of the cap crunch that affected a lot of teams but all in all they haven't really missed a beat. They continue to make their way through the regular season like they have the past couple of years; staying comfortably in playoff position while not completely dominating at the same time. They've looked good, not great.
Jarome Iginla has been a welcome addition, as has Reilly Smith (the other player in the Seguin-Eriksson swap). The same can't be said for Loui Eriksson but only because he has had awful luck in the injury department. Naturally it helps to have Tuukka Rask in net. With him anchoring, the Bruins remain arguably the deepest team in the East. They're a group with few glaring holes, if any. Forget just making the playoffs, they want to get to the Cup Final again.
Trade Deadline Primer: GM Peter Chiarelli doesn't have a lot of room to work with but the good news is that he doesn't really need to do much. The Bruins have the top defense in the East and second best offense. Eight players have already surpassed the 20-point mark. Maybe you could look for a replacement for the injured Dennis Seidenberg on the blue line but he wouldn't be easy to replace and the B's have plenty of in-house options on defense.
Points needed for postseason: 31 (Record: 14-18-3)
Midseason Grade: A
Raise your hand if you had the Tampa Bay Lightning in a tie atop the Atlantic Division with the Bruins in mid-January. Now put your hand down because we know you are lying. Simply put, what the Lightning have been able to do this season has been nothing short of awesome.
Injuries haven't been all that plentiful -- thankfully -- but the one big injury they did have was tremendous as Steven Stamkos went out in early November with a broken leg. Still, the Lightning have more than endured. They are suddenly a stout defensive team, all the work that Steve Yzerman did trying to find the right pieces on the back half of his team finally paying off.
The biggest key of all, of course, has been Ben Bishop. He is having a season that will garner him perhaps top odds to win the Vezina when it's all said and done. Just don't fall into the trap of thinking it's all about Bishop or the defense which is vastly improved. Even without Stamkos the Lightning are fifth in the East with 2.79 goals per game.
Trade deadline primer: The Lightning will have the luxury of not having to lose any players and/or prospects and still get a massive improvement when Stamkos returns; at this point it looks like it will be after the Olympic break. He will clearly help with one of their few trouble spots at the moment, a slumping power play. The Bolts don't have room to work with on the cap and it seems as though Yzerman has found the right group to work together. If anything, they could use a boost on the left wing but it's not a point of desperation. Keith Aulie and Tom Pyatt could be the targets to trade out, but there doesn't figure to be a line waiting to nab them.
Points needed for postseason: 34 (Record: 15-16-4)
Midseason Grade: B+
The Canadiens have been running a bit up and down this season and if any team in the top three in the Atlantic is in any kind of danger of slipping, it feels like this is the candidate. That said, teams that are good at keeping the puck out of their own net don't usually fall all that hard and the Habs are fourth in the league with 2.30 goals against per game. Carey Price is a huge reason why as the Habs are middle of the road in shots against.
At the same time, when a defenseman leads your team with 33 points in 46 games and two of your top four point producers are on the blue line, not everything is going perfectly. As it stands, the Habs have no forward on pace for more than 60 points this season. The offense being 21st in the NHL with 2.45 goals per game isn't quite how they drew it up.
Trade deadline primer: The Canadiens spent the summer beefing up so they have that part covered. What they could use is some offensive punch, particularly on the wings and especially after Alex Galchenyuk suffered a broken hand. Guys like Danny Briere and Rene Bourque haven't exactly been lighting up the secondary scoring for them. Ideally they might like to part ways with either of those guys but there's probably not much of a market.
The player that would be the most ideal to dangle would be pending UFA Raphael Diaz. He's a third-pairing defenseman for the Habs right now who could be attractive to some teams and could possibly fetch a nice return as the centerpiece of any deal. They have some depth on the blue line and he is one of those puck-moving defensemen a lot of teams look for at the deadline. In other words, he has trade value. What they shouldn't dream of is dealing Max Pacioretty, as has been mentioned in the past.
Points needed for postseason: 40 (Record: 18-12-4)
Midseason Grade: C
It sure has been an interesting season so far for the Maple Leafs. They followed up last season's strong start and playoff appearance with a strong start this season despite the usual problems that have plagued them under Randy Carlyle; specifically the fact that they are routinely outshot by a large margin. Still, they have benefitted from good goaltending and a good shooting percentage as well as the line of Phil Kessel, Tyler Bozak and James van Riemsdyk really clicking, especially lately.
That said, their position in this wild card race feels awfully precarious. Right now they hold the eight seed but just barely and for the past while they haven't been trending the right direction. Their win in Boston on Tuesday night was only their third win in regulation in the past 27 games. Yes, that really does matter with the battle for the last spot figuring to involve a whole heap of teams. The Leafs will be on the wrong side of the ROW tie-breaker.
Trade deadline primer: The question isn't what the Maple Leafs could do to upgrade the team, the question is if they will do it. For example, the Leafs could really use some better players on defense right now, particularly guys who can move the puck up ice and start some breakouts but the Leafs might feel as though they already addressed the defense when they picked up Tim Gleason for John-Michael Liles. With Dave Bolland still on the long-term injured reserve, the Leafs would love to add a center as well.
Who could be dealt? For some reason Nazem Kadri's name has popped up and Jake Gardiner has very clearly not been a favorite of Carlyle's but it's hard to believe the Leafs get better by losing either. You can pretty much rest assured that the Leafs will be making calls, it's just anybody's guess what Dave Nonis might actually do.
Points needed for postseason: 41 (Record: 18-13-5)
Midseason Grade: B
Few teams have had to deal with the type of injury woes that the Red Wings have had this season. Also, few teams have had the shootout woes that the Wings have had this season. There are only three players on the team that have played in all 46 games: Joakim Andersson, Drew Miller and Kyle Quincey. However as they continue to get healthier, seeing them finish with something like 18-13-5 isn't all that difficult to envision.
One of the big issues this season, a departure from the Wings teams of just a few years ago, has been the offense or lack thereof. Henrik Zetterberg and Pavel Datsyuk are still who they are and Daniel Alfredsson has been strong with 11 goals and 19 assists but the drop off to the secondary scoring has been felt. The defense and goaltending haven't been quite stellar enough to make up for the 20th-ranked offense.
Trade deadline primer: First and foremost, the Red Wings could just stand to add some healthy, sturdy bodies to the lineup. More accurately, though, they could very well be on the lookout for some scoring help whether it be on the wing or the center. In the offseason they signed Stephen Weiss thinking he'd be the No. 2 center but even before his injury that was going rather terribly.
Like with most teams that want help, the question is what they might be willing to part with. The Wings have a lot of guys who have been on the AHL shuttle this season and could be contributors at the NHL level but would the Wings want to say goodbye? Doubtful. On top of that, most of the pending UFAs have no-trade clauses. Quincey is one who doesn't but the Wings don't have a glut of defensemen so that wouldn't be ideal either. Ken Holland will be looking for scoring help but don't be surprised if the chosen course is to just wait for the team to get healthy.
Points needed for postseason: 41 (Record: 19-13-3)
Midseason Grade: C+
The expectations were high for the Senators coming into the season and apparently they didn't handle it well. Almost from the word go the Senators have taken up residence in sixth place. As of now they are still there but the gap that existed between them and the teams above has shrunk to nothing. The Sens have turned their season around and have put themselves right with everybody else chasing the coveted playoff spots.
Under coach Paul MacLean the Senators have had a fair amount of success but they play a style that's somewhat risky, feeling comfortable to give up a lot of shots so long as they are not from the prime scoring areas. The result is that the goalies see a lot of pucks and this season Craig Anderson hasn't been up to the task like he was last season. He has rebounded a little of late but he's also had the help of Robin Lehner, who has been playing more often and has been strong despite a 6-9-3 record (his .926 save percentage is tied for eighth best in the league). Also helping to overcome this fact has been a productive offense, one that is in the top 10 in the league once again. Bobby Ryan and Clarke MacArthur have been very good with their new team.
Trade deadline primer: As mentioned, the offense hasn't been a major concern but that doesn't mean it couldn't stand to be upgraded. The vast majority of the offense comes from a top-heavy group. Consider this disparity: Five players have exceeded 30 points for the Senators while no other player has surpassed 20 points. If GM Bryan Murray can find a deal that makes sense financially -- remember the tight budget that he has to work with -- there's no doubt he would like to add a veteran scorer on the wing and they have plenty of talent in the pipeline to entice teams into any potential deal. Murray seems like he's pretty determined to get something done, so you can expect the Senators to be heard from.
Points needed for postseason: 48 (Record: 22-12-4)
Midseason Grade: C
Under Kevin Dineen, the season in Florida began terribly and it didn't take long for Dineen to be fired, replaced by Florida's coach in the AHL, Peter Horachek. Since that time, the Panthers haven't become world-beaters but they have become a much better team. They also made one of the first big moves of the season when they traded Kris Versteeg back to Chicago for Dylan Olsen and Jimmy Hayes, both of whom have shown to be a better-than anticipated return.
Had they been playing as they have under Horachek from the start, they'd be right there with everybody else in the wild card race. As it is they are eight points back of eighth place and as you can see by the projected record above, they'd have to turn their game up another two notches further to think about coming back. Looking at the standings, eight points back doesn't seem so incredibly daunting but when you consider the point total they need to hit, reality sets in.
Having said that, was anything more really expected of this team which finished last in the NHL last season? They won't be down there again and the young guys like Nick Bjugstad and Aleksander Barkov have looked very promising. They aren't that far off the organizational blue print's course.
Trade deadline primer: If we have learned anything in recent years it's that GM Dale Tallon isn't afraid to make a big move and now that he has an open wallet from ownership, who knows what lies ahead. The Panthers have been rather open as saying most of their roster is available. A guy like Shawn Matthias, who has been mentioned in past trade speculation, could be a target of teams. Marcel Goc would make a nice trade asset but the Panthers haven't seemed interested in parting with him despite his pending UFA status. He's been good and there are plenty of teams that would like to have him down the middle. Dmitry Kulikov has been another name that's popped up a lot.
In other words, the Panthers could very well be busy again and you'd think the target would be NHL-ready prospects who can add scoring. Maybe, just maybe, Tallon could really go for the fences and take a swing at adding a big-contract player with his new-found cash.
Points needed for postseason: 60 (Record: 29-6-2)
Midseason Grade: D+
Let's be honest; the expectations on the Sabres this preseason were minimal at best. So seeing them struggle this season hasn't been a surprise. However under their latest coach Ted Nolan at least the wins have been more plentiful. One problem with that, though -- if you want to label it as such -- is that it's almost all been done on the backbone of excellent goaltending from Ryan Miller and Jhonas Enroth, not necessarily from a tremendous growth in their plethora of prospects.
Even knowing it was going to be a long season, the struggles of the Sabres have been tough on fans. They are last in the league in scoring and it's not even close. They average 1.64 goals per game while 29th place Calgary puts up 2.17 per game. The Sabres also are outshot on a nightly basis of 34-26. There is little they've done well. Again, that was to be expected with so many young players.
Trade deadline primer: At last year's deadline the Sabres traded away Jason Pominville and received a strong return from the Wild. Earlier this season the Sabres traded Thomas Vanek to the Isles and again received a strong return, a return that included Matt Moulson. Odds are now that Moulson will be traded to the highest bidder and new GM Tim Murray will likely be able to get a good return. This is how a rebuild should start.
The other name that people will be watching is Miller. The Sabres are in a tough spot as Miller has been the team MVP but he's a pending UFA. The team has said they would like to keep him but nobody would blame Miller if he didn't want to sit through the rebuild. Problem is there isn't a huge market for goalies in the season, especially guys who start, so it seems like it would be tough to trade Miller in the coming weeks. If I had to bet, I'd guess Miller remains in Buffalo through the season. It's a risk that Murray has to weigh.
Vladislav Yeryomenko was the Teddy Bear Toss goal scorer for the Calgary Hitmen

The Golden Knights are finally getting their No. 1 goalie back after a 25-game absence

Washington has won four straight, and the Kings are also on a tear right behind the Lightn...
The NHL says it's only interested in expanding to Seattle, but here's a look at all the moving...

The NHL says it is only looking toward Seattle for the next expansion team

The 33-year-old defenseman hopes to help find a cure for serious head injuries in athletes