NHL second-half outlook: Metro Division trade deadline primer
With the Olympics interrupting the second half and trading period, here's an early look at what Metro Division teams need to do to either make the playoffs, or sell off at the deadline.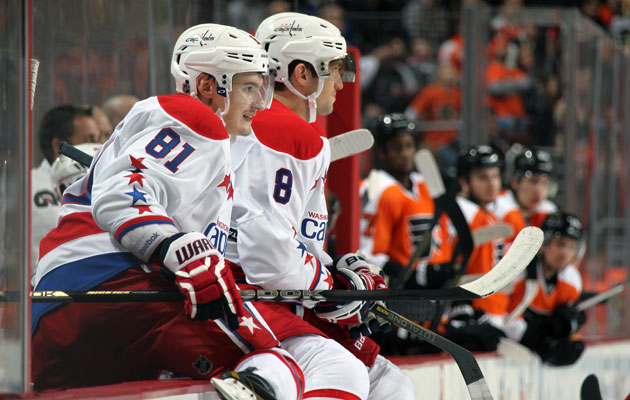 More NHL: Scores | Standings | League Leaders | Odds | Injuries | Power Rankings
With all teams past the the 41-game midpoint of the season, it's time to look ahead to the rest of the second half. The condensed schedule thanks to the Olympics should create quite a buzz in the league over the next few weeks as teams prepare to either make a push for the playoffs are start cutting their losses.
Today we turn attention to the Metropolitan Division. There is one clear division winner and then the rest is completely up for grabs. The Penguins will run away with the division title and then everybody else is fighting for the other two guaranteed spots as well as the wild cards. The Metro might not have had the most sterling first half but you have to give it this: The playoff push should be exciting.
As for those two East wild-card spots, they are relatively tough to pin down right now. Teams 5-13 in the East standings are separated by a mere six points. It's anybody's game. At the moment the Maple Leafs would have the first wild card and the Rangers the second as each stand with 51 points.
That said, the Red Wings, who have played two fewer games than New York, are on a better point pace than the Rangers, projecting out to almost 89 points (same for the Maple Leafs in the first wild-card spot). But since the field is so crowed, we'll set the bar just a little higher as the target number for the playoffs at 91 points. Maybe it will be higher, maybe lower, but reaching 91 points in the East should be a relatively comfortable spot.
Here's a look at how things will need to play out in the Metropolitan Division and which teams need to bulk up or sell off.
Points needed for postseason: 21 (Record: 10-23-1)
Midseason Grade: A
Another regular season, another dominant Penguins team and once again they are battling through adversity without missing a beat. This season just about every player not named Sidney Crosby or Marc-Andre Fleury has missed time due to injury but it sure doesn't show. The Penguins have a whopping 18-point lead in the division and are 10 points ahead for the top seed in the Eastern Conference. They aren't blowing this.
Aside from the injuries, very little if anything has gone wrong for this team. Crosby is back to being the same great player and the top six remains as potent of a group as there is in the game. It's so good that it basically makes the shaky bottom-six almost irrelevant. Everything is going pretty much how they had expected: The NHL's fourth-best offense at 3.17 goals per game and ninth with 2.38 goals against per game.
Trade Deadline Primer: Ray Shero often sneaks in this time of year with a deal that looks rather innocent but pays off. Even with Pascal Dupuis down for the rest of the season, there's little need to touch the top six. If he could, surely he wouldn't mind trying to add a little scoring prowess with a checking-role winger.
Points needed for postseason: 39 (Record: 18-14-3)
Midseason Grade: B
That atrociously slow start sure feels like a long time ago. Whether it was the coaching change or simply their fortune flipping, it doesn't matter. The Flyers won't catch their Keystone State rivals, but nobody in the Metro was going to this season. Instead, the Flyers have caught everybody else and moved into second place, albeit by just a whisker over the rest of the division.
That was bound to happen when the offense started to play a bit more like it was capable of doing. The Flyers simply couldn't score in the early part of the season but it has come to life while the goaltending has begun to regress back to a more expected level. Still, you can't talk about the Flyers' success thus far without mentioning what Steve Mason has done. Whether or not he can keep it up is another matter but he certainly did all they could have hoped for in the early going, especially since Ray Emery's second visit to Philly isn't going much better than his first.
One thing to keep in mind with the Flyers down the stretch: They will be at home a lot with 21 of their final 35 games at Wells Fargo Center.
Trade Deadline Primer: This is Paul Holmgren's time to shine, or at least that's how it usually goes. There are a lot of GMs across the league who aren't afraid to deal but none of them are as willing as Holmgren. The apple of his eye will likely be defensemen again, ideally a two-way guy (as if they grow on trees). Of the 20 power-play points the Flyers have from defensemen, 19 are split between Kimmo Timonen and Mark Streit. Not to mention one way to help make sure the goaltending doesn't completely regress is to build up the D in front. Are there many big moves like this to be made? Who knows, but that has never stopped Holmgren before.
Points needed for postseason: 39 (Record: 18-14-3)
Midseason Grade: B-
More than any team in the league, the Capitals have benefitted from the overtime points system and the shootout this season. In 47 games, they have been involved in 14 shootouts and had four more games settled in OT. That's good for picking up points in the standings but not so good for tiebreakers. Those 14 regulation/overtime wins (ROW) they have right now are tied for the fewest in the division.
So far the Capitals have been pretty much what we've come to expect. Alex Ovechkin is a scoring machine with 34 goals. They do get pretty decent production from the second and third lines but they really make their living with special teams. At five-on-five play, the Caps have left quite a bit to be desired. For that matter, so has the goaltending. The belief that Braden Holtby was the franchise goalie now has been tested as he has struggled and the Caps have begun using a goalie triangle.
Trade Deadline Primer: Normally GM George McPhee isn't one to make a ton of moves but he might be busier this time around. There are three different players who have requested trades out of Washington this season and all three of them remain: Martin Erat, Michal Neuvirth and Dmitry Orlov. Perhaps that sentiment has changed for any of them (most likely Orlov if it has) but that shouldn't stop McPhee from seeing what the interest level is.
Points needed for postseason: 40 (Record: 19-13-2)
Midseason Grade: B-
The Rangers have also turned their season around after a woeful start. They have been felled by some pretty poor luck (No. 29 in the league with a 7.5 shooting percentage). That number should keep climbing as it has slowly recently with Rangers rising just one point back of a guaranteed playoff spot. When we spoke to Mark Messier this summer, he forecast a big second half for this team and he looks like he might be right.
There is no clear offensive go-to guy -- nobody on the team has more than 12 goals and New York has the league's 23rd-ranked offense (2.42 goals per game). You could point to the low shooting percentage/luck as much as anything else. The Rangers have been a top-10 possession team this season and that bodes well for the finish.
Another reason for hope of a strong close has been the resurgent play of Henrik Lundqvist. His early struggles have been attributed mostly to two factors: the change in pad size and the switch from a John Tortorella defense to an Alain Vigneault defense. Whatever the reason, he has played better lately and when he wasn't, backup Cam Talbot has had him covered after the sudden retirement of Martin Biron. Perhaps it's not where they wanted to be but the Rangers aren't in bad position as the push begins.
Trade Deadline Primer: GM Glen Sather options are pretty limited (as is the case with most teams in the free-spending Metro) but he could have some work ahead of him. Defenseman Michael Del Zotto's name has been in the rumor mill. He has turned his game around of late and perhaps he has worked himself off the block and into the good graces of Vigneault, who was openly unimpressed with Del Zotto's play earlier this season.
Points needed for postseason: 41 (Record: 18-12-5)
Midseason Grade: C+
The Devils have seen their offense stripped away the past two years with the losses of Zach Parise and Ilya Kovalchuk. Meanwhile, the team has endured by playing tight, low-scoring games where they possess the puck a heck of a lot more than the opponents. It has been a contributing factor to overcoming the shortcoming in the scoring department that has them 26th in the league with 2.33 goals per game. No team faces fewer shots than the Devils (while no team takes fewer shots than the Devils).
A pair of newcomers have been huge reasons they're still in the thick of things -- Jaromir Jagr and Michael Ryder. Jagr is clearly the best offensive weapon the team has with 38 points in 48 games. Ryder is doing what he does best; score goals. In net, the crease continues to be split despite the fact that Cory Schneider has numbers much better than Martin Brodeur (.921 save percentage vs. .905, 1.96 GAA vs. 2.33). The team just hasn't given Schneider the same support Brodeur has had. As long as they continue to play their style of hockey and slow the games -- that helps explain the 10 OT losses -- they have a shot.
Trade Deadline Primer: Clearly the Devils could use more scoring -- Jagr is the only guy with more than 25 points -- but that can be hard to find at the deadline, especially with so many teams hanging around in the races. Additions like Damien Brunner and Ryane Clowe haven't been able to give them major lifts, though Clowe has been better of late now that he's healthy. One thing you shouldn't look for is the Devils to be selling players such as Jagr. He has said he's happy in New Jersey and wouldn't like to change teams as he did at last season's deadline. If the Devils want to stay in the hunt this season, they better not even think about it.
Points needed for postseason: 43 (Record: 20-13-3)
Midseason Grade: C+
Can the Blue Jackets close this season like they did last? It wouldn't seem likely (that's a tough run to repeat) but they have won five of their past six games. It's no coincidence that this run has come since Nathan Horton made his Blue Jackets debut. Columbus has yet to play with the roster it came into the season thinking it would have with both Horton and Marian Gaborik on the right wing for a good 1-2 punch. While Horton was still rehabbing, Gaborik was injured. As a result, the found other sources of offense. A group that had little scoring punch last season has improved.
The Blue Jackets are 13th in the NHL in scoring with 2.74 goals per game. The growth of players like Ryan Johansen (17 goals, 17 assists) and additions from past trades (Brandon Dubinsky, Artem Anisimov) have been helpful. The Jackets have a balanced offensive look with nine players that have 19 or more points and none of those is Gaborik or Horton due to injuries. For once, that's not the glaring issue anymore.
The bigger issue has been the defense, which was strong last year with Vezina winner Sergei Bobrovsky in net but is 19th in the league this season with a 2.83 goals against average. That doesn't mean that Bobrovsky has been bad, he has regressed to be good (a .915 save percentage ain't half bad). One issue is that they are facing more shots than they are taking. The Jackets are also right in the mix. Keep in mind that they have games in hand on teams in front of them.
Trade Deadline Primer: GM Jarmo Kekalainen has a big decision to make and it's not one to be envied. Gaborik is a free agent at the end of this season and could fetch a nice return in trade (assuming teams could work in the $7.5 million cap hit). He was slated to be out 6-8 weeks with the broken collarbone around Christmas. A return in February should be on the horizon, giving Kekalainen little time to think. If they do trade him (or make any move), they could use a more defensive defenseman to add to the mix.
Points needed for postseason: 44 (Record: 20-12-4)
Midseason Grade: C
The Hurricanes have had their struggles on offense. Their 2.39 goals per game put them 24th in the league and their power play has been inefficient, hitting just 14.6 percent (26th). Defense has been better but not significantly so with 2.76 goals against per game (18th in the league). With those numbers you start to get the sense they're thankful they play in the Metro, where no team is running away with a spot except for the Penguins.
One thing that has certainly gone well this season has been the bounceback for Jeff Skinner. He had his sophomore struggles after winning the Calder Trophy but he has settled back in, becoming a point-per-game player with 21 goals and 14 assists in 35 games. He and the Staal brothers (both with 10 goals) are the only Hurricanes in double digits in goals. There hasn't been enough support from the other forwards in that department.
Trade Deadline Primer: The Hurricanes could be one of the busiest teams at the deadline. GM Jim Rutherford has seemingly put it out there that a lot of his players are available. The latest name to hit the block? Goaltender Cam Ward, who has struggled with an .895 save percentage this season and has been outplayed by both Justin Peters and Anton Khudobin. Moving a goalie with a cap hit of $6.3 million for another two seasons beyond this one sounds like a pipe dream. Same goes for the rumors around Tuomo Ruutu, who has only four goals and eight assists this season while carrying a cap hit of $4.75 million through the next two seasons. Rutherford could really use a top-six winger. The question is if he has the assets to get that.
Points needed for postseason: 48 (Record: 22-8-4)
Midseason Grade: D+
The Islanders have been one of the hottest teams in the NHL lately. Yet the idea of moving into playoff position still seems almost impossible. Could they really earn 48 points (or even a few less should the target number drop) in their final 34 games? That's asking a lot, even if John Tavares and Thomas Vanek seem to have finally clicked. The dreadful stretch in the middle of the first half stings almost as much now as it did then.
It's the same issue for the Islanders -- the offense hasn't been bad (it hasn't been great either with 2.67 goals per game, tied for 14th), but the defense has been. The Islanders are allowing 3.19 goals per game, 29th in the league. It certainly hasn't helped to quiet the questions that people had of GM Garth Snow's decision to bring back Evgeni Nabokov and not bring in another goalie. Kevin Poulin has done his best as the backup and has seen a lot of time with Nabokov's injuries, but he has just an .895 save percentage. Whether it's the system, the defensemen, the goalies or any combination, the ability to stop the puck has been and remains a problem.
Trade Deadline Primer: The Islanders made the first big move of the season when they traded Matt Moulson and a pair of draft picks to the Sabres for Vanek. You could say they got the wrong Sabre (Ryan Miller might have helped). Like the Blue Jackets, they face a really tough question: Do they take their shot at re-signing Vanek or do they look to flip him for some assets at the deadline? Many are under the belief that Vanek will walk to Minnesota should he hit free agency but he apparently enjoys Long Island, adding to the ambiguity of the situation. The problem is while Vanek is a strong forward and makes a team better, the Islanders have a glaring problem on the back end that he doesn't really help solve. Ideally the Isles could keep Vanek and fix those issues but on a tight budget, that might be tough. Decisions, decisions.
The NHL says it's only interested in expanding to Seattle, but here's a look at all the moving...

The NHL says it is only looking toward Seattle for the next expansion team

The 33-year-old defenseman hopes to help find a cure for serious head injuries in athletes
Chicago becomes the latest NHL club to earn an evaluation of $1 billion or more

The city council has approved a $600 million redevelopment project for KeyArena

Arvidsson took off his glove to reveal an engagement ring for one lucky fan