NHL team trade grades: Goalies, disgruntled players winners, too
Time to hand out the grades for the trade deadline moves in the NHL with a couple of teams atop the class and one dropout.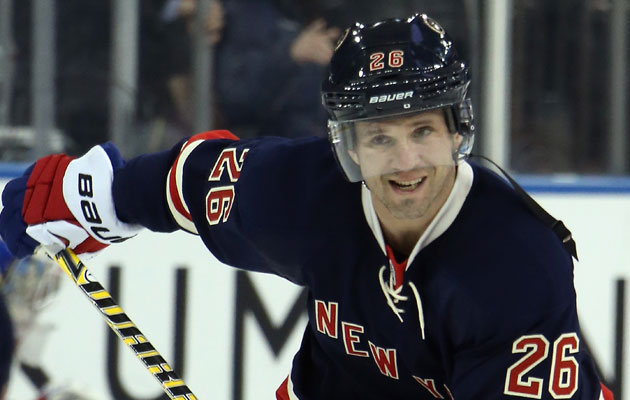 More NHL: Trades | Scores | Standings | League Leaders | Odds  | Power Rankings
Now that the deadline has passed and we've all had a chance to soak in the big names that changed places, it's time to hand out those grades.
This is about the teams but we're going to give an honorary A to a couple of groups up here: Players who request trades and goaltenders. Both were on the move a lot over the past few days since the Olympic break ended. If you wanted a trade out of town, you likely got it (even if it was a year or two later).
Then there were the goalies. The conventional wisdom was always that goalies don't move at the trade deadline, they go in the off-season. Contenders are usually set in net for their playoff runs, that's why they are playoff contenders after all. Well this year changed that thinking. In total 12 goalies were traded -- Jaroslav Halak twice -- in just a few days and some very big names among them.
Now, onto the team grades. One note about approaching the grades; C is seen more as neutral here. Every team starts at a C and goes from there. So for the Maple Leafs, as an example, they did nothing. They remain at a C. With that cleared up, I'm sure everybody will agree the grades are all absolutely correct and infallible.
Team
Grade
Analysis
B
In: Stephane Robidas, 2014 picks (4th DAL, 4th WAS, 5th EDM), 2015 pick (3rd EDM)
Out: Dustin Penner, Viktor Fasth

Certainly the Ducks got a very nice addition to their blue line in Robidas as soon as he's healthy -- which should be just a couple of weeks away. It was a position they wanted help at and he fits that profile. But it is impossible to feel like the Ducks didn't miss here. They were popping up in the big-name chases like Ryan Kesler and some on Thomas Vanek but got nobody. After dealing away Penner to presumably create room on the ice and in salary, they have a hole that didn't get filled. Penner had played well with Ryan Getzlaf and Corey Perry.
C+
In: Andrej Meszaros
Out: 2014 pick (3rd)

The Bruins were going to do little, that was certain, but there was one very apparent need that was going to be virtually impossible to fill; Dennis Seidenberg. Unfortunately for them there weren't a whole lot of impact defensemen to be had so they get Meszaros from Philly. He does give them a depth player at least and another body but he won't be the impact defenseman they perhaps hoped they could get. Average day gets an average grade, close to a simple incomplete.
A
In: Chris Stewart, Torrey Mitchell, Michal Neuvirth, Rostislav Klesla, Hudson Fasching, Nicolas Deslaurier, William Carrier, 2014 picks (2nd MIN), 2015 pick (1st STL), 2016 picks (2nd, MIN, 3rd STL)
Out: Ryan Miller, Steve Ott, Matt Moulson, Jaroslav Halak, Cody McCormick, 2014 pick (2nd) 2015 pick (3rd)

As you can see, new general manager Tim Murray was a very busy man but he was busy with a purpose. Every asset he had that needed to be traded was traded and he got pretty excellent value for just about everybody. He picked up more draft picks for the rebuilding -- including a 2015 first-rounder, which is like gold -- got a young goalie to join the mix and held off on dealing other players under contract when it became clear it was a buyer's market. Murray passed his first deadline exam.
B+
In: 2014 picks (2nd COL, 3rd PIT)
Out: Lee Stempniak, Reto Berra

Perhaps the Flames didn't do as much as people expected with the big name of Mike Cammalleri staying after being rumored to go. However the sides have been working on an extension and he could very well stay long-term. What was so impressive was the Flames getting a second-round pick for Berra and his .897 save percentage. It came out of nowhere and gave them a better return than Stempniak. Not bad for an interim GM.
B
In: Andrei Loktionov, 2017 pick (3rd NJ)
Out: Tuomo Ruutu

For all the talk all season long out of Carolina that Jim Rutherford was open to trading just about anybody, they didn't do a whole heck of a lot. The one deal they did do, though, wasn't bad at all. They got pretty similar players as far as production goes in Loktionov for Ruutu with a pick down the line and more importantly, they got the Devils to take Ruutu with his contract for the next three seasons at $3.8 million. That's a nice job shedding salary (Loktionov is making $725,000 and is RFA at season's end).
B-
In: David Rundblad, Mathieu Brisebois, 2014 pick (3rd, FLA), 2016 pick (5th, FLA)
Out: Brandon Pirri, 2014 pick (2nd)

Another team that insisted they would be quiet and they were, the Blackhawks didn't do much. They got a pretty nice return on Pirri who has a lot of potential but didn't fit on their NHL roster so he was expendable. Getting Rundblad could be a sneak-good move. It didn't work out for him in Phoenix but he's still just 23 and is still a well-regarded player who was drafted 17th overall in 2009. If you're taking a shot on defensive depth, why not a guy with a lot of upside still?
C
In: Reto Berra
Out: 2014 pick (2nd)

On the positive side is that they didn't deal away Paul Stastny even though he doesn't have a new contract yet. With them so close to the top of the Central, the last they wanted was to take out a key player of Stastny's level. But getting Berra, at the cost of a second-rounder to boot? They already have Semyon Varlamov and Jean-Sebastien Giguere, Berra isn't signed through next season, just like Giguere. Jiggy has a .912 save percentage to Berra's .897 (albeit behind different teams). It would seem he's insurance if Jiggy is injured but it is a pretty heavy price for a guy that could very well not play a game this season but just watch from the press box. Other than that, standing pat was a good idea.
C+
In:

Matt Frattin

, Nick Schultz, Matt Taormina, Dana Tyrell, 2014 picks (2nd LA, 3rd LA)
Out: Marian Gaborik, Jonathan Marchessault, Dalton Smith, 2014 pick (5th)

Frankly they were in a tough spot as a team in contention and playing well but with a big-name player who wasn't going to re-sign in Gaborik. With the prices not being as high as perhaps expected, the return is slightly underwhelming for a player with Gaborik's potential but they had to do what they had to do. Getting Schultz for just a fifth-rounder, though, was a very nice low-risk move to get them the help on D, which was their main goal.
B
In: Tim Thomas, 2014 pick (4th WAS via ANA)
Out: Stephane Robidas, Dan Ellis

It was undoubtedly tough to say goodbye to Robidas after he spent the last nine years in Dallas and the return of just a fourth-rounder had to be tough too but with him injured there was probably not much more they could get. As to the other deal in swapping Ellis for Thomas, well it's hard to argue that they didn't get an upgrade behind Kari Lehtnonen. Thomas is a pretty quality goalie to have as the backup and gives them a guy they can probably trust to give more starts if they want to give Lehtonen a break.
C
In: David Legwand
Out: Patrick Eaves, Calle Jarnkrok 2014 pick (3rd)

Certainly they got the best player in the one deal they made with Legwand but they paid an awful lot to get him, especially if Jarnkrok sticks around with the Preds instead of going to Sweden as some have speculated. Legwand, a Detroit native, has only 10 goals this season but does have 40 points. They will need help holding them over without Zetterberg and Datsyuk so he definitely helps there but again, they sure paid a pretty penny to get him.
C-
In: Viktor Fasth, 2014 picks (4th MIN, 5th OTT, 5th CLB), 2015 pick (3rd OTT)
Out: Ales Hemsky, Ilya Bryzgalov, Nick Schultz, 2014 pick (5th), 2015 pick (3rd)

Getting Fasth from Anaheim was nice, giving them a nice-looking duo now of him and

Ben Scrivens

but it cost them two picks which they pretty much just regained for Hemsky. It has been a busy season for the Oilers in trades but around the deadline they gave up three roster players for one in return and pretty much just gained two middle picks. Especially on Hemsky, it feels like an undersell.
B+
In: Roberto Luongo, Brandon Pirri, Dan Ellis, Mark Mancari, Steven Anthony, 2014 pick (5th PIT), 2015 picks (3rd PIT, 5th MON)
Out: Tim Thomas, Jacob Markstrom, Shawn Matthias, Mike Weaver, Marcel Goc, Eric Selleck, 2014 pick (3rd), 2016 pick (5th)

The highlight here, of course, is getting Roberto Luongo back after he was dealt away in a huge deal back in 2006. They have a very good goalie who wants to be in Florida and for this franchise, that's a big win in and of itself. It cost them their goalie of the future in Markstrom -- but he has underwhelmed so far -- and a player in Matthias, who was rumored to be gone anyway. They did what they could to then get something for Thomas by getting Ellis to be the backup. However the real winner here could be landing Pirri from the Hawks with his big potential. Losing Weaver and especially Goc would hurt but the Panthers have little to play for but the future the remainder of the season.
A-
In: Marian Gaborik, Brayden McNabb, 2014 pick (2nd, BUF)
Out: Matt Frattin, 2014 picks (2nd, 3rd)

The Kings have long wanted to get a forward to bolster the offense and Gaborik is as good of a choice as any. He cost them a couple of relatively high picks and Frattin but it's a price that could well be worth it, especially with Columbus eating about half his salary. He's not a Darryl Sutter-type player but maybe that's a good thing, they need goals and Gaborik can give that to them. Gaborik might not be who he was a couple of seasons ago but it's a great risk worth taking, especially without a massive cost.
B
In: Matt Moulson, Cody McCormick, Ilya Bryzgalov
Out: Torrey Mitchell, 2014 picks (2nd, 4th), 2016 pick (2nd)

For the second straight season the Wild turned to Minnesota in search of some offensive help and they got a good scoring winger in Moulson. They took McCormick and his contract too from the Sabres, giving up a pair of second-round picks and Mitchell to do it. A fairly high price but there's no denying Moulson gives them something they need; more goals. Bryzgalov might not be the top the backup goalie they wanted but he was cheap and he can get the job done as a veteran backup for the remainder of the season.
A
In: Thomas Vanek, Mike Weaver, Devan Dubnyk
Out: Sebastien Collberg, 2014 conditional pick (2nd), 2015 pick (5th), Future considerations

Perhaps the Canadiens just had it fall into their laps but it doesn't matter; they landed a prime scorer in Vanek for next to nothing at all. In absolutely no way can that be seen as anything but a major win. To not even give up a first-round pick for him was a coup. Rentals don't usually come that cheap. Scoring has been their biggest issue this season and we know Vanek can take care of that. Don't sleep on Weaver, either. He is a shutdown guy who will help shore them up on the back end and could take minutes from Douglas Murray, who hasn't exactly worked out in Montreal.
B-
In: Patrick Eaves, Calle Jarnkrok, 2014 pick (3rd DET), Future considerations
Out: David Legwand, Devan Dubnyk

It's a little tougher to grade the Predators because as David Poile was saying before the trade deadline, a deal of David Legwand would make his team that's still on the fringe of the playoff race worse in the short term and he's their Mr. Predator. But the haul was strong, almost to the point of being too good to refuse. They got more value for Legwand than most teams got out of guys they moved. Dubnyk's deal was rather inconsequential, shown by the future considerations in return. They had no need for him anymore with Pekka Rinne back.
C-
In: Tuomo Ruutu
Out: Andrei Loktionov
2017 conditional pick (3rd)

The Devils didn't do very much at all, which means they hung on to Martin Brodeur. While that might not actually be the best thing for the team's performance given Brodeur's numbers this season (and the last couple really) but it would have been just wrong if he were dealt. What doesn't quite compute is the Loktionov for Ruutu split. The Devils get an older, slower player who is five times as expensive that has about the same production this season and gave up a third-round down the line to boot. But maybe they hope a change gets Ruutu going again, they need more scoring in their playoff push.
F
In: Sebastien Collberg, Matt Mangene, 2014 picks (2nd MON, 3rd PHI), 2015 pick (2nd PHI)
Out: Thomas Vanek, Andrew MacDonald

Overly harsh grade? Maybe but the Islanders definitely didn't pass. It's a bit staggering to think they got a better return for the defenseman MacDonald than they did for a prime scorer like Vanek. Now that we can judge the whole sequence of events, the Vanek era was a complete blunder. It cost them a very high first-round pick, a second-rounder and Matt Moulson for Collberg a lower second-round pick than what they gave up, and a few months with Vanek that didn't get them out of the basement. That looks like a fail from here.
B+
In: Martin St. Louis, Raphael Diaz
Out: Ryan Callahan, 2014 pick (2nd, could become 1st), 2015s pick (1st, 5th)

More than anything the Rangers were a bit lucky that a player of St. Louis' ability wanted a trade and he wanted it only to the Rangers. It cost them a high price to get him but Callahan was as good as gone anyway so that softens the blow, as does the fact that St. Louis is very good. GM Glen Sather said he had another deal for Callahan in the works if this trade failed. The heavy cost will be losing potentially two first-round picks (the 2014 pick becomes a first if Rangers reach the conference finals). Diaz for a late-round pick can't hurt either.
B
In: Ales Hemsky, Patrick Mullen
Out: Jeff Costello, 2014 pick (5th), 2015 pick (3rd)

The Senators brought in a strong forward in Hemsky for just two picks and on the whole, that ain't bad. They have a winger with scoring capability to play with Jason Spezza, something that has been missing this season. And as big as anything else was not trading defenseman Chris Phillips but instead re-signing him for two seasons. It wasn't a blockbuster day but it solid nonetheless.
B
In: Andrew MacDonald, 2014 pick (3rd BOS)
Out: Andrej Meszaros, Matt Mangene, 2014 pick (3rd), 2015 pick (2nd)

Taken all together the Flyers essentially made one change; to replace Meszaros on their blue line with MacDonald at the price of just a second-round pick. It's not the Paul Holmgren deadline special but even if MacDonald isn't the world's most effective defenseman, it's hard to think he's not an upgrade over Meszaros, who was sparingly used this season. They did get better, though the question is how much better.
C+
In: Martin Erat, John Mitchell, 2014 pick (2nd CHI)
Out: Rostislav Klesla, Chris Brown, David Rundblad, Mathieu Brisebois, 2015 pick (4th)

Not that the Coyotes did a poor job at the deadline but they didn't do much. Maybe Erat will be a boon for them but he comes with a high price of $4.5 million against the cap and only one goal -- an empty-netter -- on the season. Will his requested change of scenery make the difference, that's the big question here. Giving up on Rundblad is something they can live with given the defensemen in the organization and that he just didn't seem to be working out there.
B+
In: Marcel Goc, Lee Stempniak
Out: 2014 picks (3rd, 5th), 2015 pick (3rd)

The biggest thing here is that while Marcel Goc is a very fine player, he's not Ryan Kesler as they hoped and dreamed. But he clearly comes at a much lower cost as well and he'll be able to help them out a lot. He played tough minutes in Florida for the past few years and was very effective. For a team that severely needed to upgrade the bottom-six, he fits in to that role seamlessly. Stempniak is in the same boat, he's an upgrade to the bottom six for a mid-round pick. The deals weren't major but they're a better, deeper team now than they were Tuesday.
C
In: Nothing
Out: Nothing

The Sharks did, as you can see, nothing. The good news is they didn't really need to, there isn't a massive flaw staring you in the face. Not disrupting things sometimes is the right call.
A-
In: Ryan Miller, Steve Ott, Eric Selleck
Out: Jaroslav Halak, Chris Stewart, William Carrier, 2015 pick (1st), 2016 pick (3rd)

The Blues were like those parents that finish their Christmas shopping on Black Friday, they got in and out of the game in a hurry. What they did, though, was solid in getting Miller for Halak. If there were an issue with the Blues it was in net and while statistically there isn't a massive difference here, it's fair to say they got an upgrade. Getting Ott helps the center depth too for a player that was inconsistent and didn't seem long for them anyway in Stewart. They're loaded for bear. Giving up a first-rounder stings but the consolation is it should be a very late first-rounder in 2015.
B
In: Ryan Callahan, Jonathan Marchessault, Dalton Smith, 2014 pick (2nd maybe 1st NYR), 2015 pick (1st NYR)
Out: Martin St. Louis, Dana Tyrell, Matt Taormina

Steve Yzerman was put into a very tough position by Martin St. Louis and he did the best he could which, all things considered, was pretty good. To have your leverage cut down to dealing with only one team and still getting potentially two first-round picks plus a very good player is well done. Callahan is not St. Louis but he's no slouch by any means. And with Steven Stamkos getting the go to return on Wednesday, they might be better now than they were a couple of days ago with Callahan and Stamkos sans St. Louis.
C
In: Nothing
Out: Nothing

It is a bit un-Leafs like to do nothing at the deadline but such was the circumstance this season in Toronto. It's not a massive mistake or missed opportunity because they no doubt can use an upgrade on defense but what options were available and at reasonable prices? Not much, so they didn't do much. OK, they didn't do anything.
D
In: Shawn Matthias, Jacob Markstrom, Jeff Costello, 2015 pick (5th NYR)
Out: Roberto Luongo, Steven Anthony, Patrick Mullen, Raphael Diaz

From start to finish, the Luongo situation looks like a total fumble by the front office. It's hard to imagine they had both he and Cory Schneider a year ago and now have neither. Eddie Lack has played well but now he's the No. 1 in his first NHL season with a team fighting for a playoff spot. The return isn't even tremendous. Matthias has shown tremendous flashes but that's what they are, flashes. Markstrom was once considered the best goalie prospect in the world but he has underwhelmed in his NHL duties. And to top it all off, they didn't trade Kesler which, by the end of it, seemed almost like a necessity. Given his and teammates' tweets after, that was an awkward resolution. The heat is on Gillis, the deadline did nothing to change that.
B
In: Dustin Penner, Jaroslav Halak, Chris Brown, 2015 picks (3rd BUF, 4th PHO)
Out: Martin Erat, Michal Neuvirth, John Mitchell, 2014 pick (4th)

Whether or not you felt they needed an upgrade in net, they seemed to get one with Halak over Neuvirth. That's at least in the short term. George McPhee had a few players who wanted out and that's what he was trying to do at the deadline, sending out both Erat and Neuvirth to meet their wishes. The other pick up was Penner which was relatively inexpensive with a mid-round pick and gives them a big body in the top six but we'll have to wait and see if his rejuvenation this season in Anaheim came by clicking with Ryan Getzlaf and Corey Perry or not.
C
In: Nothing
Out: Nothing

The Jets were another team standing pat which in their case is just slightly curious. They're now right in the heart of the playoff race and surely there could have been a way to improve their chances. But if it was tweaking just for tweaking's sake then it's probably best they avoided any mores. Well, they did re-sign Mark Stuart so there's that.
The city has already received approval from the NHL to file for an expansion team

Bovada says the two nicknames are favored to be used, with Rainiers coming in third place

Here's everything you need to know to watch the NHL's marquee midseason event
The expansion Golden Knights officially moved into first place in the NHL on Sunday

The former Boston Bruin was the first black player to play in the NHL

Inclement weather led to the Charlotte Checkers and Bridgeport Sound Tigers playing in front...