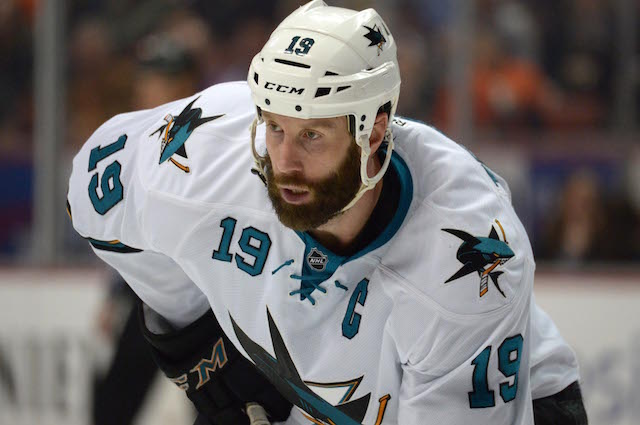 As of Thursday the Boston Bruins sit just three points ahead of the Florida Panthers for the final playoff spot in the Eastern Conference. Missing the playoffs is a very real possibility, especially with three games remaining against the Panthers, and they do not seem to be taking it very well.
They have not been able to score goals all season. Their salary cap situation is a mess. Their team president, Cam Neely, has recently talked about his disappointment with the performance of the team. There are reports that if they miss the playoffs they could make significant changes to their front office and coaching staff, including the potential firings of general manager Peter Chiarelli and perhaps even coach Claude Julien. 
Other than that, everything is great. 
For a team that is just two years removed from playing in the Stanley Cup Final, it is quite a fall. Given that Zdeno Chara, one of the most dominant defenders of the past decade, is getting closer to the end of his career and their salary cap situation is one of the worst in the league, it is possible that things will get worse before they get better.
As the NHL trade deadline approaches the Bruins have to decide whether or not it is worth adding to a team that hasn't been that good this season but still has a few high-end players that could carry them for a while if they get in the playoffs, or if it's going to go in a different direction. 
Two names that have been mentioned in recent weeks as potential trade chips are veterans Loui Eriksson and Dennis Seidenberg. These are interesting names added to the mix. Not only because it would likely indicate that maybe the Bruins are interested in selling as opposed to buying, but also because of the connection those two have to bigger Bruins trades in recent years.
I've been thinking about this for much of the season, especially as their offense has become such a problem, but over the past 10 years the Bruins have made some of the biggest trades in the NHL involving some of the best offensive players in the league. 
Joe Thornton. Phil Kessel. Tyler Seguin. All traded since 2005.
Even though he's not on their level, Blake Wheeler is no slouch offensively, either, and he too has been traded out of Boston. You would have a difficult time finding a team that has traded a better trio of players than Thornton, Kessel and Seguin over the past 10 years, and what is most remarkable about it is how the Bruins have still been such a dominant team, playing in two Stanley Cup Finals and winning one. Their ability to do so is a testament to just how dominant Chara and Patrice Bergeron have been, along with goalies Tim Thomas and Tuukka Rask. 
Eventually, though, trading superstar players is going to come back and bite you right in the butt because those guys do not grow on trees, and it is nearly impossible to get equal value for them in return, which almost always makes it a bad idea to trade that type of player. 
And that brings us back to Eriksson and Seidenberg, because they are part of the return, after several other transactions, in the aforementioned blockbusters. 
Let's start with the November, 2005 trade of Thornton to the San Jose Sharks, and the moves that blockbuster trade helped spawn over the years.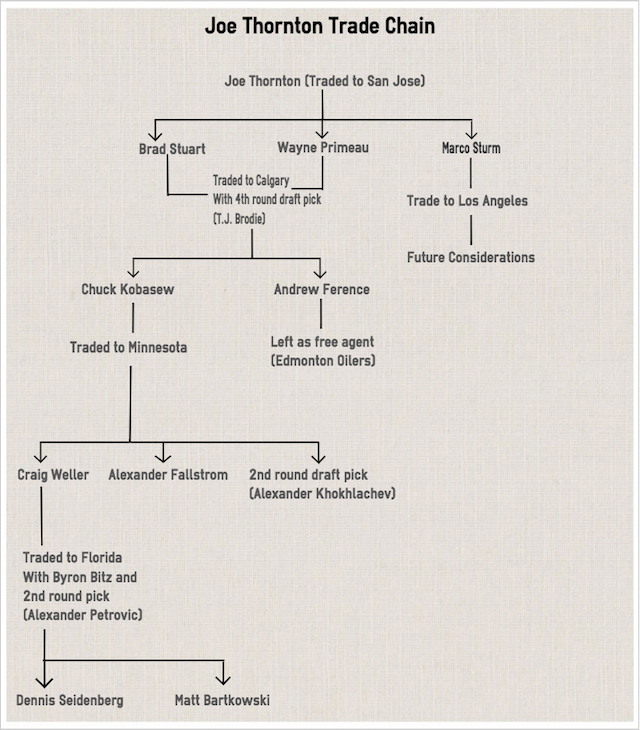 The initial trade wasn't anything special to begin with, and today the only players that remain in the organization as a direct result of the Thornton trade (a future Hall of Famer and one of the best playmaking centers in the history of the league) are Seidenberg (for now), Matt Bartkowski and Alexander Khokhlachev, who has played in four NHL games at this point. 
The "future considerations" in the Marco Sturm trade to Los Angeles are impossible to find as there is no record of them anywhere on any transactions page for either team (or the NHL), which likely means the "considerations" were nothing of any real consequence. 
Seidenberg and Ference were solid depth players on a Stanley Cup team, and that's certainly worth something, but neither guy was likely putting that club over the top and today Seidenberg is one of the larger contracts they might like to move because it is clogging up their salary cap situation.
The hidden gem in this trade is the impact it has had on the Calgary Flames. Seriously. Pay special attention to the trade that sent Brad Stuart and Wayne Primeau to the Flames for Chuck Kobasew and Ference. But ignore those names, because they're not impacting any team long-term. Look at the fourth-round draft pick that was involved in that deal going from Boston to Calgary and who the Flames used it on.
T.J. Brodie, who is currently making up one half of one of the league's best defense pairings (alongside Norris Trophy contender Mark Giordano) for one of the NHL's most surprising times. The Flames have Boston trading Joe Thornton to San Jose to thank for that one.
Now, the other big one, and the big trades it led to. 
Before the start of the 2009-10 season the Bruins sent Phil Kessel, fresh off of a 36-goal performance in his age 21 season, to the Toronto Maple Leafs for three draft picks, including two first-rounders that would turn into Tyler Seguin(!) and Dougie Hamilton.
For a while, this trade was a punchline because of the high draft picks it netted Boston. When Tyler Seguin scored a goal against the Maple Leafs in Boston, Bruins fans would chant "Thank You, Kessel."
The good feelings would not last, at least not as far as management was concerned. After three years, one disappointing playoff performance and some concerns about the toughness and off-ice habits of a young hockey player in his early 20s, they traded him to Dallas in a trade thta can be best described as taking quantity over potential quality.
Those never work. 
Here they are all together, with a bonus chain in there for the Blake Wheeler trade because it too has a role in all of this.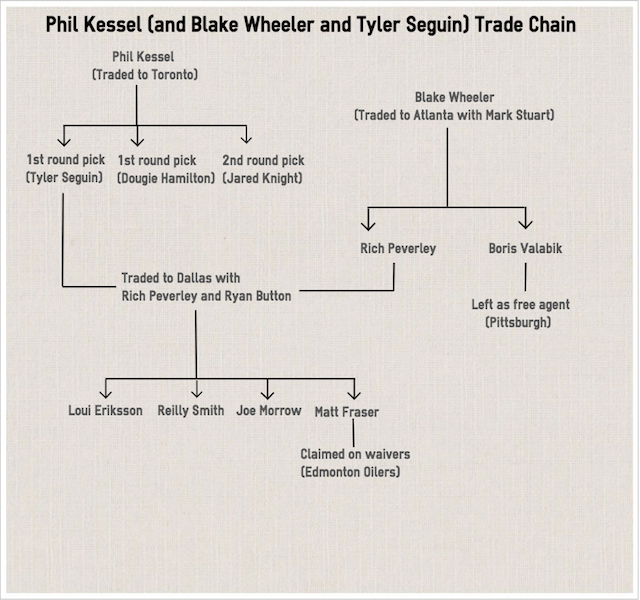 This one has the potential to really grow some legs, because it is very easy to see a situation in the coming years where both Eriksson and maybe even Reilly Smith get moved for even more pieces. But given their current value at this point, it's likely to just add more quantity to the chain instead of quality.
Given how proud of themselves the Bruins were after trading Seguin, and how Seguin's career has taken off in Dallas (just remind yourself that Boston could have had him and Bergeron for about $12 million in cap space for the next several years) that is not a very impressive return. 
Especially when you consider the Blake Wheeler aspect. 
The Bruins traded Wheeler (who also saw significant improvement to his offensive production after leaving Boston) and Mark Stuart to the Atlanta Thrashers for Rich Peverley and Boris Valabik. After serving as a quality depth player for a couple of years in Boston, Peverley was part of the package that went to Dallas in the Seguin trade. 
Valabik never actually played a game for the Bruins before signing as a free agent with Pittsburgh.
At the moment, the only thing the Bruins have to show for Phil Kessel and Blake Wheeler is Dougie Hamilton, Loui Eriksson, Reilly Smith, Joe Morrow and Jared Knight. Other than Hamilton, there's probably not a single player out of that group that is going to be making a significant impact for the Bruins in the future. 
I think there is a lesson here for teams, fans and media that are thinking about trading a star offensive player in the prime of their career. Even if it's not in the short-term, it almost always turns out to be a losing proposition long-term.
Even if it's not immediate, trading star players in the prime of their career is almost always a losing proposition in the long run. 
One superstar is worth more than two or three good players.