NHL Trade Chains: Patrick Lalime's historic run in Pittsburgh ends
In 1996-97 Patrick Lalime started his career with the Pittsburgh Penguins on an Andrew Hammond-like 14-0-2 run. Then he was traded. This is NHL trade chains.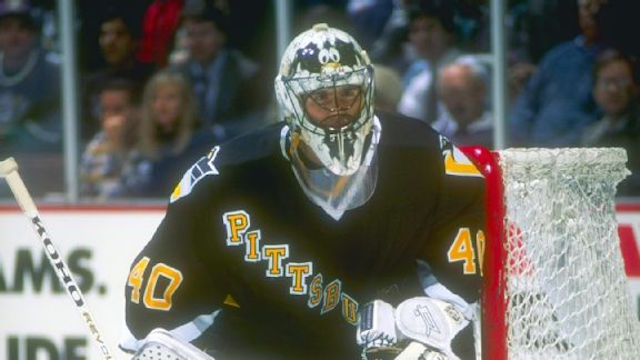 Before there was Andrew Hammond, there was Patrick Lalime.
It was early in the 1996-97 regular season, and the Pittsburgh Penguins had to call on a previously unknown 22-year-old goalie that had previously been playing for Cleveland Lumberjacks in the International Hockey League. After making two relief appearances to replace then-starter Ken Wregget, Lalime made his first NHL start on Dec. 7 against the Anaheim Ducks, stopping 30 of 33 shots in a 5-3 win. 
He would not be on the losing end of a decision until Jan. 23, a stretch that saw him go 14-0-1 in his first 15 NHL starts (he also earned a tie decision in a relief appearance during that stretch), the exact same record that Hammond has now for the Senators. The only real difference between the two: Lalime wasn't helping to bring a team back from an impossible second half deficit in the playoff race, and fans weren't throwing hamburgers on the ice. 
It was still an amazing run to start a career, and before Hammond came along it was the standard that all other goalies making their debut were measured by. 
It remains to be seen what the Senators are going to do with their goalie situation in the future (Hammond is 27 years old and did not have a particularly strong track record in the AHL so his long-term upside is questionable, and they still have two veteran goalies under contract), but they are no doubt going to ride this hot streak for as long as they possibly can. Perhaps even right into the playoffs. 
But we do know how the Lalime situation played out in Pittsburgh, and it was not a particularly happy ending. At least not in the short-term. The long-term payoff would take more than a decade to be realized, and needed several (and sometimes seemingly awful) trades to get there.
It ultimately ended with Pittsburgh getting its current starting goalie, Marc-Andre Fleury. 
Here is how it happened.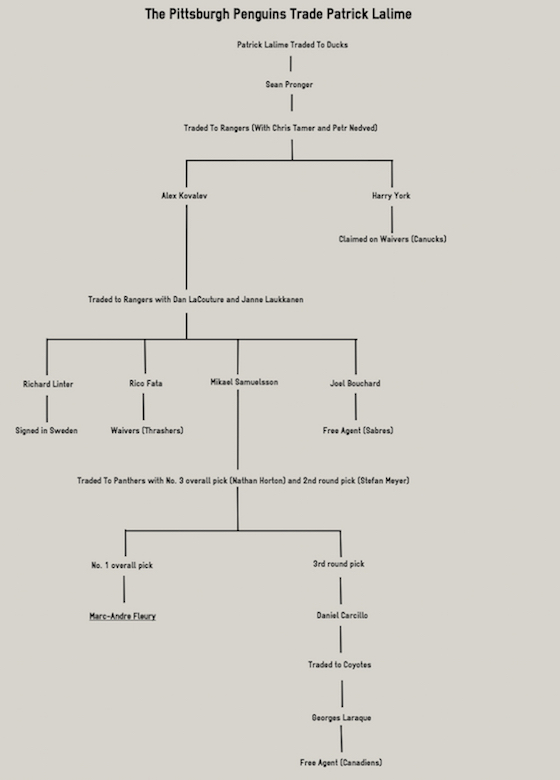 Following the 1996-97 season Lalime was in a contract dispute with the Penguins and ended up starting the season playing for Grand Rapids in the IHL before his rights were traded in March, 1998, to the Anaheim Ducks in exchange for forward Sean Pronger. And that is where the fun starts.
The following November, after Pronger had appeared in just seven games with the Penguins, he was included in a package of players that also included veteran defenseman Chris Tamer and forward Petr Nedved that went to the New York Rangers for Alex Kovalev and Harry York.
Kovalev, obviously was the key to the deal. He would go on to play four-and-a-half years in Pittsburgh -- perhaps the best years of his career -- before the cash-strapped Penguins, a little more than a year after trading Jaromir Jagr to the Washington Capitals for a bag of magic beans, sent him back to the Rangers (along with Dan LaCouture and Janne Laukkenen) for Richard Lintner, Joel Bouchard, Rico Fata and Mikael Samuelsson. It was at the time -- and still is -- a terrible return for a player of Kovalev's ability. Lintner and Bouchard finished out the year before moving on in their careers, while Fata spent two years in Pittsburgh, scoring a few goals and finishing as a minus-57(!) in just 120 games. 
On draft day, 2003, with the Penguins holding the No. 3 overall pick, they packaged their pick, a second-round draft pick, and Samuelsson in a deal with the Florida Panthers for the No. 1 overall pick and a third-round pick. The Penguins used the top pick in the draft on Fleury, who still remains with the team today as their starter.
The third round pick was used on Daniel Carcillo who would later be traded to the Coyotes for enforcer Georges Laraque at the 2007 trade deadline. 
While all of this was happening, Lalime ended up playing 11 years in the NHL with Ottawa, St. Louis, Chicago and Buffalo, with his best seasons coming with the Senators and going as far as Game 7 of the 2002-03 Eastern Conference Final. 
Amazingly, a few years after the Lalime experience the Penguins had a similar situation play out with another unknown goalie when they acquired Johan Hedberg from San Jose for Jeff Norton. They almost immediately threw Hedberg to the wolves in the middle of a playoff race and went all the way to the Eastern Conference Final with a 27-year-old goalie that had never played in the NHL before then. Eventually, they traded Hedberg to the Vancouver Canucks for a second-round pick which they used on Alex Goligoski. Goligoski was later traded to the Dallas Stars for James Neal and Matt Niskanen. Neal was traded over the summer to the Nashville Predators for Patric Hornqvist and Nick Spaling. 
Goalies. You never know where the good ones will come from, who they will be, how long they will be good, and what they will turn into. What a strange journey they can sometimes be. 
More NHL Trade Chains
What the Boston Bruins have to show for 10 years of trading superstar players
What Jaromir Jagr has been traded for in his NHL career
The Ryan Miller trade continues to grow for Buffalo
CBS Sports HQ Newsletter
We bring sports news that matters to your inbox, to help you stay informed and get a winning edge.
Please check the opt-in box to acknowledge that you would like to subscribe.
Thanks for signing up!
Keep an eye on your inbox for the latest sports news.
Sorry!
There was an error processing your subscription.
Handicapper Bill Marzano has returned over $10,000 on his NHL picks over the past four years.

This means the season might not start until August

The award ceremony was postponed when the season was paused and has not yet been rescheduled
The Sabres missed the playoffs for the ninth consecutive season during the now shortened 2019-20...

Yzerman continues to stick by Blashill despite this year's struggles

SportsLine's advanced computer model simulated the entire 2020 Stanley Cup Playoffs 10,000...
We have all the latest updates and rumors from around the league as the trade deadline approaches

Matthew Tkachuk's 6 points help set the tone for the Pacific in his hometown