NHL Trade Deadline Rumor Mill Roundup: April 2
What's the latest on the rumor mill with the NHL trade deadline a day away? Keep up with it here.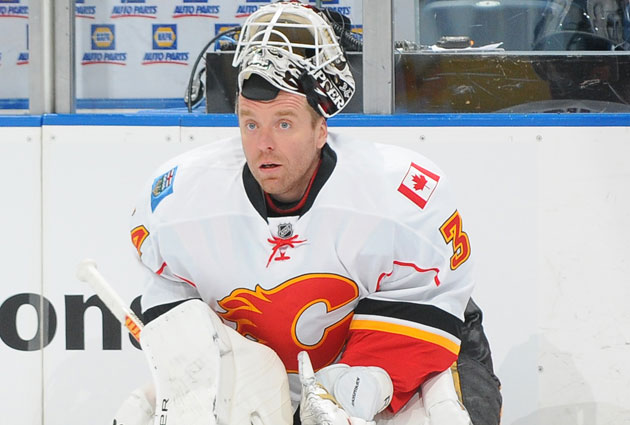 More NHL: Scores | Standings | Odds | Fight-O-Meter | League Leaders | Rumors
NHL Trade Deadline: Complete Trade Tracker
The NHL trade deadline is right around the corner on this Wednesday, April 3. The rumors are going to be flying much faster than the actual deals, so you can keep up with all the talk on the rumor mill.
Be sure to check back often as this will be an updating post, a one-stop shopping destination.
Tuesday, April 2
 
 
5:06 p.m.
ACTUAL TRADE ALERT: The Canadiens acquired defenseman Davis Drewiske from the Kings in exchange for a fifth-round pick.
4:00 p.m.
It doesn't look like the Islanders and captain Mark Streit are going to reach a deal on an extension before the deadline but Arthur Staple says it's still highly unlikely" the Isles will trade him.
3:41 p.m.
Add another team to the Ryane Clowe sweepstakes. Katie Strang of ESPN New York says that the Rangers remain "keenly interested" and are one of the favorites to get the power forward from San Jose.
3:39 p.m.
According to Andy Strickland, the Blues are done actively shopping for a deal before the deadline but GM Doug Armstrong will still listen to other teams.
3:37 p.m.
ACTUAL TRADE ALERT: The Oilers and Capitals made a minor-league swap with Edmonton receiving defenseman Garrett Stafford while the Capitals landed F Dane Byers.
1:50 p.m.
ACTUAL TRADE ALERT: The Capitals and Coyotes swapped AHL tough guys with Washington receiving Joel Rechlicz (who was with them last season) and Phoenix landing Matt Clackson.
1:42 p.m.
ACTUAL TRADE ALERT: The Boston Bruins have acquired Jaromir Jagr from the Stars for prospects Lane MacDermid, Cody Payne and a conditional second-round draft pick.
1:40 p.m.
ACTUAL TRADE ALERT: The Vancouver Canucks have acquired Derek Roy from the Stars for a second-round pick and defensive prospect Kevin Connauton.
1:38 p.m.
Smoke is starting to grow around Jason Pominville in Buffalo, who was kind of cryptic when asked if he was asked for teams he would waive his no-trade clause for. From Bill Hoppe/Buffalo Hockey Beat.
12:00 p.m.
The Jaromir Jagr talk has exploded with mulitple reports he will be traded by the Stars. According to 1130 Sports, Jagr gave the Stars a list of teams he would like to be traded to.
11:34 a.m.
The morning after losing to the San Jose Sharks where Ryane Clowe was scratched, the Canucks have interest in the Sharks forward who is set to be a free agent after this season according to Nick Kypreos.
11:24 a.m.
ACTUAL TRADE ALERT: The Hurricanes landed defenseman Marc-Andre Bergeron from the Tampa Bay Lightning in exhange for Adam Hall and a seventh-round pick.
10:53 a.m.
Before the season it seemed almost like an expectation that Sergei Gonchar would be traded out of Ottawa. Now the Sens aren't interested in trading him at all and they want to talk about a new contract this summer, per Elliotte Friedman.
10:51 a.m.
The Coyotes have taken a tumble, meaning their roster could be ripe for poaching. Elliotte Friedman lists Raffi Torres, Derek Morris, Boyd Gordon, Mike Smith and, yes, possibly Keith Yandle as guys to watch.
10:48 a.m.
The Flames have already traded Jay Bouwmeester and Jarome Iginla as well as seem to be entertaining offers for Miikka Kiprusoff. They still might not be done per Elliotte Friedman, but they would prefer to keep Curtis Glencross and Mark Giordano. And they are definitely not trading Sven Baertschi.
10:28 a.m.
What are the Capitals going to do; buy, sell or stand pat? Now that they have crawled back into the playoff race it's probably stand pat says Stephen Whyno, but all eyes are still on Mike Ribeiro, who still has not signed a contract extension.
10:15 a.m.
The Blue Jackets took one name off the trade block -- if it was ever on -- when they re-signed Mark Letestu to a two-year extension. The team announced the new contract on Tuesday morning.
9:32 a.m.
The Maple Leafs are definitely buyers at this year's deadline, James Mirtle says. Talk about a more-than welcome change from where they have been for the past 10 years or so in Toronto. Right now it certainly seems they are interested in Miikka Kiprusoff's services.
9:28 a.m.
Not much has changed in the Ryane Clowe sweepstakes even though a deal was not done on Monday. Nick Kypreos says it's taking a little longer because it could be a three-way deal.
9:27 a.m.
Don't expect to hear much from the Rangers, Larry Brooks says. They simply aren't good enough right now to sell off assets for veteran help to try and win this season when they aren't going anywhere.
9:25 a.m.
Well good morning! Jimmy Murphy of ESPN Boston says that Jaromir Jagr is now on the trade block after the Stars failed to reach a deal on an extension. That could get fun.
The expansion Golden Knights officially moved into first place in the NHL on Sunday

The former Boston Bruin was the first black player to play in the NHL

Inclement weather led to the Charlotte Checkers and Bridgeport Sound Tigers playing in front...
The NHL chose the Detroit rocker as its All-Star Game entertainment and not everyone is th...

NHL fans from all over seem to agree on one thing: Hating Kid Rock

The team tweeted on Monday that Shaw would be re-evaluated in 7-10 days