NHL Trade Deadline: Ten potential targets for the April 3 deadline
The trade deadline could be nothing more than a whimper this season with the standings so tight, but if players do move, here are some potential targets.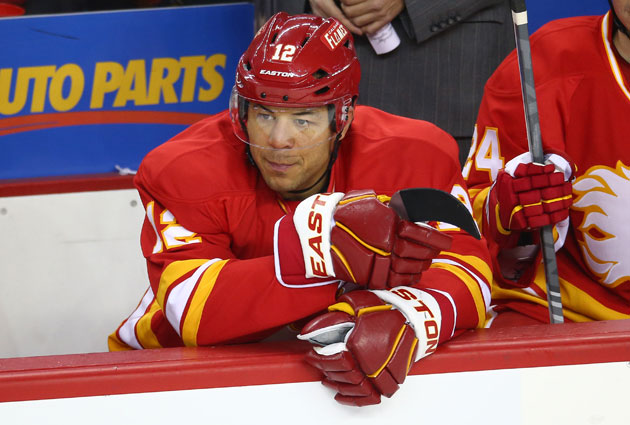 More NHL: Scores | Standings | Odds | Fight-O-Meter | League Leaders | Rumors
Just a few weeks ago we looked at the looming trade deadline and it looked like there might be some intrigue. Mainly it came from Anaheim where Ryan Getzlaf and Corey Perry were unsigned beyond this season, leaving the Ducks with some thinking to do.
Anaheim GM Bob Murray thought about it alright; thought about re-signing his guys. Now each is locked in for eight more seasons in Anaheim, taking two of the biggest names off the trading block, if they were ever really even on it.
Really, it's probably a foreshadowing of what the deadline has in store, probably a lot of nothing. The NHL has long sought parity in its league and thanks in part to the overtime loser point, it has pretty much achieved that. Look at the standings and you'll see how tight the races are.
Obviously that cuts down on the number of teams looking to "sell" and increases the number looking to "buy." It makes for a good seller's market if you have some good chips but it can drive the prices too high and stagnate the market.
Really, it's a bit of an unknown at this point. The prices for players right now are high because of supply-and-demand economics, but there are other factors at play here. Everybody knows that after this season the salary cap is going to drop so teams are very cognizant of adding salary to the roster.
"It's an interesting time," Jets GM Kevin Cheveldayoff told the Winnipeg Free-Press. "I think the real dynamics that come in to play are the potential ramifications of the cap going down next year. I think the traditional buying and selling will occur, but there could be some deals that have long-ranging effects." Some teams just can't afford it so does it become worth it to try out a rental player and give up something in return? That's up to the individual GMs to decide.
Having said that, there will certainly still be some moves, it is the NHL after all. While I wouldn't expect any blockbusters to be made, remember that in the NHL teams can now exchange salary in deals which is hopefully designed to facilitate more action. I'd look for that more in the offseason when the "buyers" vs. "sellers" mentality is gone.
Nonetheless, here are some targets to keep an eye on as April 3 approaches.

1. Jarome Iginla
For years now Iginla's name has been thrown out and for years he has stayed put in Calgary. So why will this time be any different? For starters, he's obviously older and he has less time ahead of him in his career. But now his contract is up after this season and he and the Flames haven't been talking extension.
Above all else, it seems that Calgary is finally realizing that it would be better for everybody involved to go their separate ways. It gives Iginla a chance to win at the end of his career and it could give Calgary some much-needed assets.
It seems pretty close to a guarantee that Iginla is going to go somewhere. A lot of teams will be interested, starting with Pittsburgh, Boston and Los Angeles, but that's hardly an exclusive list.
You can also keep an eye on Jay Bouwmeester in Calgary. He has yet to play in the postseason so he might consent to a move if that came up.

2. Mike Ribeiro
Ribeiro was acquired by the Capitals before last season to finally give them their No. 2 center behind Nicklas Backstrom. That hasn't exactly worked as planned; Ribeiro has pretty much been their No. 1 center. In fact, the trade has worked out pretty well in every facet for the Caps as Ribeiro is their leading scorer.
But the same can't be said for the Caps' season. They continue to linger near the bottom of the Eastern Conference and their chances of making the postseason are slim at best. With Ribeiro being a free agent after this season, the time would seem to be right for GM George McPhee to get what he can for Ribeiro now.
Like any time there is a legit top-six center available, there will likely be plenty of suitors interested. The Maple Leafs could be one with their desire for help at center, so could the Blackhawks. Remember, Dave Bolland has been their No. 2 center this season even though he's ideally suited for the third line.

3. Ryan Miller
Miller makes the list from Buffalo but frankly the Sabres could have a lot more than him on the list -- ahem, Robyn Regehr. For the second straight season the Sabres are having a brutal go of things, this time even worse than last season. The end has come for this core group in Buffalo as they have been slipping further and further from contention.
That leaves Miller out there to be had if anybody wants him. He has one more season left on his contract so he's not completely a rental player, but he is pretty contract friendly in that you're not on the hook long if a deal doesn't work out. Miller's image seems to have gone only down since his stellar Olympic run for Team USA but he's still a very capable goaltender. He hasn't been the problem for Buffalo.
Who would be in the market for a goaltender and is looking to buy? There doesn't seem to be a huge list but Nick Kypreos said this week that at least six teams would be interested.
A sampling of Flyers fans I threw this by wanted no part of it, but Philadelphia does seem like it could be a good fit. Assuming they will buy out Ilya Bryzgalov after this season, they would need a No. 1 goalie. Not to mention they could use somebody to help Bryz out now. That doesn't come from any rumors or anything like that, just my speculation.
Still, I don't think Miller will go at the deadline, I'd bet on the summer.

4. Chris Stewart
The thing about Stewart is that I highly doubt the Blues actually want to trade him. The problem is they have more than half their roster that will be free agents after this season and it's going to cost a lot to re-sign them all. Stewart is included in that group.
It's possible that St. Louis will forecast and decide it can't keep everybody beyond this season so they might try to get what they can for some of their players to free up a little breathing room on the budget. Stewart seems like as good a candidate as any. He leads the Blues in scoring with 14 goals and 14 assists this season. His shooting percentage is pretty high at 25 percent so there could certainly be a decline. The point is, if they decided to look at trading Stewart they would be selling high.
The obvious conundrum, though, is that Stewart is a key part of what the Blues are doing this season. They are a playoff team, that seems certain, and they might be a fringe Cup contender. It's not ideal, then, to trade away your leading scorer forreasons beyond this season.
St. Louis will have some decisions to make before the deadline and the one on Stewart will be huge, but I'd guess they'll keep him around. But if they do trade him there will be tons of interest, players who can score almost 30 goals and are power forwards don't grow on trees. I'd expect St. Louis to look for prospects/picks in return to give some relief on the salary roster.

5. All Florida Panthers (except young ones)
When things go wrong, they really go wrong.
The Panthers were figuring to be in full-on sale mode come this deadline with everybody on the team minus the young prospects (like Jonathan Huberdeau, Drew Shore and Jacob Markstrom) being available at the right price. Then they all got injured. Kris Versteeg, Stephen Weiss, Jose Theodore, Sean Bergenheim, Ed Jovanovski ... all injured.
That doesn't leave a ton of talent on the roster for teams to go after, at least in terms of superstar talent. One name that could have certainly been of intrigue for a lot of teams is Shawn Matthias but Elliotte Friedman reported this week that with the way he has played of late he might be moving into the "untouchable" side for the Panthers.
The majority of the rest of the guys have some term on their contract. So even though the Panthers would be interested in being movers, they probably won't be able to move a lot. There could be some smaller returns here or there, but injuries have really hampered what they can do.

6. Ryane Clowe
What is San Jose going to do? That's one of the big questions because we can see that what they have right now isn't quite doing the job. That could have Clowe on the outs.
San Jose isn't scoring this season and neither is Clowe. After scoring 41 goals in the past two seasons (combined, of course), Clowe has no goals this season in 25 games. Zilch. To frame that another way, Scott Gomez has two more goals than Clowe. Clowe does have nine assists, which is actually good enough to put him sixth on the Sharks in points, believe it or not.
Oh, and as you probably guessed/knew, Clowe is a free agent after this season.
With scoring being way down, the Sharks would be looking at a situation of selling low -- if they sell at all -- especially considering Clowe is now on the wrong side of 30. If things don't improve between now and the deadline in two weeks the Sharks will most likely be looking to shake things up and Clowe could be the shaker.

7. Brenden Morrow
Morrow is another guy who has seemingly been on the block for a few years now while never moving and he's also a guy in the last year of his contract. He also has movement restrictions in his contract.
In other words, he'll fit right in with the other potential trade targets.
The tricky part with the Stars, like everybody else, is if they are going to be interested in selling. They are hanging in a pretty familiar (and that's not a good thing) spot; just on the fringe of playoff position. It seems to be their perpetual destiny in recent years. If they remain tight as the deadline nears -- and I have little doubt they will -- then you shouldn't expect them to trade their captain.
As of yet, Morrow reportedly hasn't been asked to waive his no-trade clause per Friedman, and he might not be interested in doing that. He's been a member of the Stars his entire NHL career, I don't think it's a reach to say he's comfortable where he is at this point.
He would bring a veteran presence but Morrow is not the player that he was a few years ago. Injuries have really taken their toll on him over the years and this season he has just six goals and five assists.

8. Ian White
The ironic part is that the Red Wings are going to be looking for defense if they're making any trades and White is a defenseman. But he's obviously not the defenseman they're looking for.
At this point White has stated that he hasn't been asked to waive his no-trade clause and he's played the good solider. However he has been a healthy scratch on an almost nightly basis, getting back in the lineup recently with the injury to Kyle Quincey.
I'm not sure the Wings will be looking to move White or that he is lying when he says he's happy being where he is even if he's not playing on a regular basis, but his uncertain situation certainly makes him worth watching. I'd just think Detroit would prefer having him if even as a safety blanket because of the struggles on the blue line.

9. Tyler Bozak
The ingredients are the same ones we see for most trade targets ... he's a UFA after this season and he'll be looking for a raise, one the Leafs might not be willing to pay.
Bozak is most certainly not a game-changer. The only way he is involved in a blockbuster deal is if he's going somewhere in a package. That doesn't mean that he's not of value, however. He has 16 points on seven goals and nine assists this season and just a year ago he had career highs with 18 goals and 29 assists. He's not the worst guy teams could acquire.
However the Leafs are in a situation where they probably would like to keep Bozak and see where things fall in the offseason. Unless they could land somebody in return that can help them win right now, I'm not sure how interested they would be. Toronto wants to make the playoffs this season, they aren't looking to sell. In fact, they have even said as much that they aren't looking to trade Bozak or fellow UFA-to be Clarke MacArthur. But you never can be sure until the deadline passes.

10. David Clarkson
I'm sure teams will put out feelers to see if the Devils are interested in talking about Clarkson, but he's at the bottom of this list because I really wouldn't expect him to be traded at all. The only reason why he makes the cut here is that he's a free agent at the end of this season and based on the way he has started scoring in the past season and a half, he'll be due a raise.
However, if you are Lou Lamoriello, do you wonder if it's not a situation of striking while the iron is hot? I'm sure he believes that Clarkson is as good as he showed last season -- I'm not saying he's not now -- but his value is high and there is certainly a potential that the next contract could be a big overspend if he regresses. After all, he is approaching 30.
-- Just missed but who you could also see go: Ryan Whitney, Nik Antropov and many more I'm sure
For more hockey news, rumors and analysis, follow @EyeOnHockey and @StubitsCBS on Twitter, subscribe to our YouTube account and like us on Facebook.
The puck didn't go in the net but the skater did!

Another sign that Houston is a potential destination for an NHL relocation
The two teams combined for 111 penalty minutes and five ejections

The veteran Minnesota goaltender has recorded three consecutive shutouts

The historic start for the NHL's newest team has come largely from unprecedented balance in...