NHL trade deadline: Will frenzy return or cap limit excitement?
There are a lot of big names in the NHL's rumor mill, perhaps leading to an exciting trade deadline but moving players will be easier said than done.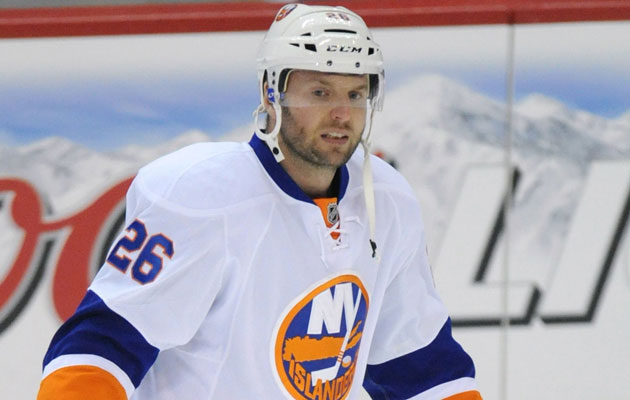 More NHL: Scores | Standings | League Leaders | Odds | Injuries | Power Rankings
With about two weeks of actual operational time remaining before the trade deadline comes, this season's action is looking like it has serious potential to bring back the deadline day frenzy.
The list of supposedly available players is longer than we're used to seeing in recent seasons and seems to only be growing. After a few seasons of relatively dull deadline days, this is exciting news if you love some trade action -- and who doesn't?
Thomas Vanek, Ryan Miller, Ryan Callahan, P.A. Parenteau, Sam Gagner, Martin Erat. What do these guys all have in common? They have each popped up in trade speculation recently, guys their teams might be looking to trade.
But that's not all they have in common; they all also hold salary cap hits that are $4 million or more. That doesn't even include some of the expensive players who have been mentioned in the past but not much recently like UFAs-to-be Dany Heatley and Marion Gaborik, who each have cap hits of $7.5 million.
That's a lot of money potentially on the move.
While this bevy of names in the rumor mill seems to lead to a lot of potential for blockbuster deals, the deadline could once again come up flat. If we're looking at the $4 million mark on the salary caps -- that's why Matt Moulson isn't in this discussion with his $3.13 million hit; Buffalo should be able to move that with relative ease -- you can see one major issue here. According to Cap Geek, half the league has less than $4 million available on their cap as of today, even fewer on the projected space.
That would seem to leave two possibilities from this; either the action won't be as furious as the speculation (which is likely to happen regardless) or GMs are really going to have to get creative.
Let's take Vanek for an example. Even with the prospect of him likely going to free agency and being the true definition of a rental player, there are a few teams that are no doubt drooling at the idea of adding him to their club. The LA Kings will probably be mentioned with every single scoring forward at the deadline given their issues, Vanek included. But fitting Vanek's square peg of a contract into the round hole that is the Kings' salary cap is a bigger issue. Kings GM Dean Lombardi is very smart -- we all know this -- but that would be a tall task.
Or look at Miller. There's not much dispute that Miller has been very good this season, one of the better goalies in the league despite playing for a team that is far from that. Teams like the Wild, Blues and Capitals have all been mentioned in some capacity with Miller. But again, you have a big issue of having to clear space on your cap before you can bring in Miller. As much as he could help any of those teams, the cost could prove too much. This season teams can't just trade away a couple of draft picks.
From the other side of this, for those teams selling, it won't be as easy as they're used to it being because of the cap constraints. Normally a team that is dealing away assets will want to get draft picks and prospects in return. To make it all work, though, there will have to be more. The buying teams will have to send money out to take money in.
There are teams willing to deal on both sides and, as we know, it takes two to tango. However being willing and being able remain different conversations.
One thing that might help the process is the retained salary rule that is now in the CBA. Using Vanek as an example again, the Islanders don't have an issue with cap space so to help move Vanek along and get the type of return they'd prefer, they have the option of retaining about half of his cap hit in a trade. Doing so would absolutely help facilitate a move.
This might not be appealing to an owner like Charles Wang, who would have to pay cash down the stretch for a player who is not on his team, but remember, the Islanders did buy out Rick DiPietro. A few weeks at the end of the season on Vanek's deal wouldn't hurt, especially if it helps Garth Snow turn Vanek into assets for the franchise moving forward.
Already there are signs that the market might only be tantalizing and not much more. GMs seem to be interested in moving these players along but the real interest doesn't seem to be there from the buying perspective. Rentals can come at very high prices with little reward.
Teams would certainly love to get players like these but maybe will wait until free agency. There is obviously big risk you won't get the guy you want -- and big risk of overpaying massively -- but it doesn't cost you anything off your roster now if you go that route. It's been reported that already a lot of teams would wait for free agency on a player such as Callahan, especially with his rumored contract demands. That's not the best news Rangers GM Glen Sather will hear.
No doubt, the potential is there for a big deadline because for the first time in a while, there are some pretty marquee names on the proverbial block. But moving them will prove to be a lot harder than normal with this reduced salary cap.
The 45-year-old free agent is taking things patiently as September approaches

The playoff drought might not end immediately, but something is brewing in restocked Buffa...

Former Lightning standout will be guarding the net in style in 2017-18
Devils are still in rebuilding mode, but they have reason for hope thanks to young additio...

Buffalo is in the midst of contract extension talks with Jack Eichel, and the payout could...

Los Angeles isn't rushing to sign the 45-year-old forward any time soon