NHL trade deadline winners and losers
Because it's an instant analysis world and we don't have the patience to let everything play out over several years, let's take a look at some of the winners and losers from the trade deadline season.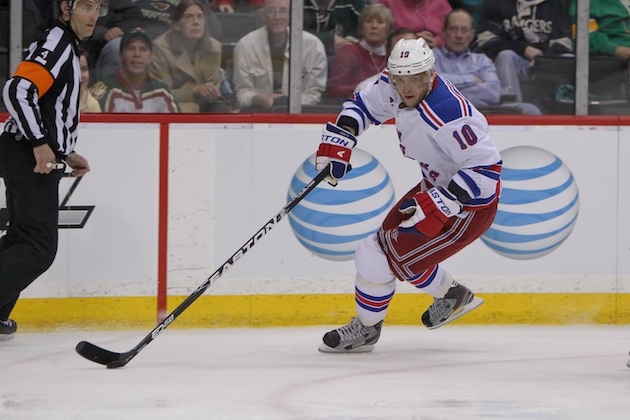 For most of Wednesday it looked like the real losers were going to be the people sitting around waiting for moves to happen in advance of the NHL trade deadline.
Then, almost out of nowhere, everything started happening. 
A rookie of the year candidate was traded for Ben Bishop. The Columbus Blue Jackets shockingly became buyers and went all in for a playoff spot by making the biggest move of the day. Jason Pominville ended up in Minnesota. Roberto Luongo admitted that his contract sucks. Washington traded one of the top prospects in the NHL for Martin Erat. 
It went from being one of the worst deadlines in recent memory to perhaps one of the best in roughly 10 minutes.
It was quite a day. Even the trades that didn't happen produced something noteworthy (looking at you, Luongo).
Because it's an instant analysis world and we don't have the patience to let everything play out over several years, let's take a look at some of the winners and losers from the trade deadline season.
Winners

Columbus Blue Jackets -- The talk of last year's deadline was all about Rick Nash potentially going from Columbus to New York. That blockbuster trade never happened at the deadline and was pushed back to the summer, but the two teams made up for it at this year's deadline. 
And nobody saw it coming.
The Blue Jackets sent Derrick Brassard, Derek Dorsett, and John Moore to the Rangers for Marian Gaborik in what was easily the biggest trade of the day. It also increases the possibility that Columbus could end up going to the playoffs while the Rangers, with Nash, could end up missing them which would just be unspeakably hilarious. Unless you happen to be Rick Nash. Or the Rangers. 
It was pretty clear that Gaborik and the Rangers (at least as long as John Tortorella was there) were headed for a divorce at some point and the Blue Jackets were sitting around to benefit. He's not having his best year, but he is loaded with talent and getting out of New York and away from John Tortorella might be the best possible thing that could happen to him.
Let's keep in mind that he scored 40 goals just last season. The Blue Jackets are a better team on Wednesday than they were on Tuesday.

Pittsburgh Penguins -- The Penguins were winners, but maybe not to the degree they're getting credit for being. Jarome Iginla will help them a lot and the price was certainly right, but Brenden Morrow and Douglas Murray won't be the impact players people are expecting them to be. 
Morrow will be fine as a third-liner, but that's pretty much all he is at this point in his career. 
Actually, the second most useful player they received over the past two weeks might be Jussi Jokinen, the most overlooked player they acquired. He will slide into a top center role in Sidney Crosby's absence and can add some skill to the fourth line once Crosby returns. He's great on face-offs and has some talent and has been hurt by some poor shooting luck this season. He's due to bounce back at some point.

San Jose Sharks -- An overlooked winner over the past week. 
They traded a couple of guys (Ryane Clowe, Douglas Murray) that weren't performing well and aren't going to hurt the team by no longer being around (actually, it might be the rare instance of addition by subtraction actually taking place) and were able to stockpile multiple draft picks in the process. They received a second-round pick and another conditional pick for Murray, and then acquired Scott Hannan from Nashville to replace him for a conditional sixth-or seven-round pick. There is no real difference between Murray and Hannan at this point, other than Hannan possibly being a little better. And San Jose ended up getting better draft picks in the swap. Winner all around. 

Boston Bruins -- They didn't get Jarome Iginla, and that made everybody in Boston mad, including general manager Peter Chiarelli, as evidence by the fact he held a press conference to talk about a trade that didn't get completed, but it actually ended up working out for the better. 
They eventually traded for a better player (Jaromir Jagr) and had to give up fewer assets than they were going to give up in the original Iginla trade. 
You might not like the way the Iginla circus turned out, Boston, but you're a better organization for it today.

Toronto Maple Leafs -- This one is easy. 
The Maple Leafs are winners for the simple fact that Miikka Kiprusoff isn't coming to Toronto. 
Granted, general manager Dave Nonis said they were trying to make it happen, but Kiprusoff didn't want to move and basically saved the Maple Leafs from themselves. Given the way James Reimer and Ben Scrivens have played this season it would have been nonsensical for the Maple Leafs to give up assets for a severely declining goalie. And that's not true for just Kiprusoff, that's true for any veteran goalie they may have acquired. 

Nashville Predators -- Martin Erat wanted out in Nashville and the Predators received a big-time prospect in Filip Forsberg for him.
The deal also clears some nice salary cap space for Nashville. 
Given that Nashville is unlikely to make the playoffs and Erat was looking to go elsewhere it's awfully hard to fault general manager David Poile for pulling the trigger on this deal. It should have been a pretty easy call, actually..

Ottawa Senators -- Once Craig Anderson gets healthy and is back in net the Senators aren't going to need Ben Bishop anyway, and in return they get a talented young forward that currently has more points than every other player on their team. 
Conacher won't be playing on a team with Steven Stamkos and Martin St. Louis, and he's not a lock to be a top-line scorer in the NHL, but I like the chance Ottawa is taking especially when it's dealing from such a position of strength.
Losers

Calgary Flames -- I can't fault Jay Feaster too much for how the Iginla situation turned out this year because he did have a better deal in place with Boston until the player (Iginla) chose Pittsburgh. But I can fault him for not trading Iginla sooner and maximizing the return.
Like he might have been able to do last year.
In return for Jay Bouwmeeser, the other big move this past week, Calgary received a 26-year-old prospect and an undersized defenseman. Add that return to the Iginla trade, where neither player received seems like much of a prospect, and it wasn't a good start to the Flames' rebuild (if you even want to call it that).

Philadelphia Flyers -- Steve Mason going to the Philadelphia Flyers is the definition of unintentional comedy. A team constantly looking for goaltending help traded for the guy that's been one of the worst goalies in the NHL over the past four years. You just can't make that up.
This is the third trade the Flyers have made with the Blue Jackets over the past year. One of them (Jeff Carter for Sean Couturier and Jakub Voracek) worked out very well for the Flyers. The other two (Sergei Bobrovsky to Columbus for draft picks and this latest one) did not. 
When it comes to the latter two trades there is really one one way to describe them: Philadelphia traded Columbus a good goalie and then Columbus traded Philadelphia a bad one. 

New York Rangers -- You're never going to convince me that trading Marian Gaborik while adding Ryane Clowe, Derrick Brassard, and Derek Dorsett (if he's able to return this year) is going to improve this team's offense, or the team in general.
In their two most recent trades with Columbus the Rangers have traded Gaborik, Brandon Dubinsky, Artem Anisimov, a first-round draft pick, and Tim Erixon for Rick Nash, Brassard, Derek Dorsett, and John Moore.
Is New York really a better team after that?

Edmonton Oilers -- The Oilers have a lot of high-end young forwards to fill out their top-two lines and they can not only be very exciting, they should offer some hope for the future (assuming management doesn't mess it all up).
Their bottom two lines are made up of guys that can't get out from the shadow of their own net, and even worse the Oilers front office keep giving up draft picks to acquire more of them. A couple of weeks ago they for some reason a traded a fourth-round draft pick for Mike Brown.
On deadline day they traded another mid-round pick to Florida for Jerred Smithson, one of the least effective players on the worst team in the NHL. 

Tampa Bay Lightning -- Tampa Bay made a huge gamble by trading Cory Conacher to Ottawa for Ben Bishop. Huge.
Maybe Conacher's early season success wasn't sustainable and he's going to level off. Maybe Tampa Bay sold high and fixed a long-term problem.
But I'm not convinced that Bishop is going to be the cure for Tampa Bay's goaltending problems and it may have given up a key young player to make it happen. 
Every move general manager Steve Yzerman makes lately seems to be highly questionable.
And finally ...
Roberto Luongo -- For the simple fact that this trade saga is going to have to continue and probably never go away. At least not anytime soon. To is credit, he does understand why it's happening: His contract. 
Vladislav Yeryomenko was the Teddy Bear Toss goal scorer for the Calgary Hitmen

The Golden Knights are finally getting their No. 1 goalie back after a 25-game absence

Washington has won four straight, and the Kings are also on a tear right behind the Lightn...
The NHL says it's only interested in expanding to Seattle, but here's a look at all the moving...

The NHL says it is only looking toward Seattle for the next expansion team

The 33-year-old defenseman hopes to help find a cure for serious head injuries in athletes