NHL trade rumors: Does GM have green light to trade Ryan Kesler?
Ryan Kesler is a prime target but there are conflicting beliefs on if the Canucks GM has permission to trade Kesler.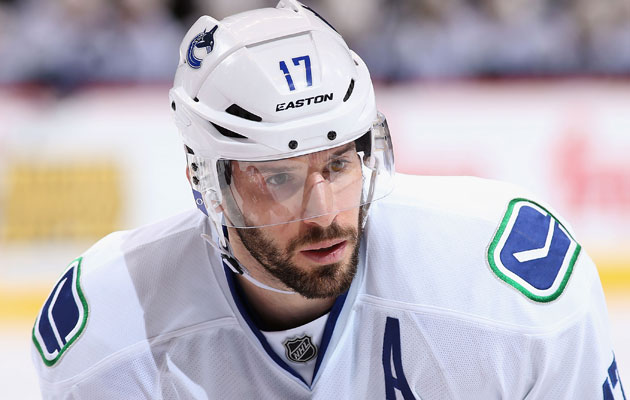 More NHL: Trades | Scores | Standings | League Leaders | Odds  | Power Rankings
Few players if any are more coveted before today's NHL trade deadline than Ryan Kesler in Vancouver. Talk that the Canucks have been trying to trade him have been rampant for a week now and a few contenders have emerged.
Chief among those teams is the Penguins, who have been hot and heavy and have had an offer on the table for a while now that's pretty strong. The other team in the picture now appears to be the Anaheim Ducks according to Bob McKenzie.
But perhaps the most interesting development on Wednesday is a report from Rob Rossi of the Pittsburgh Tribune-Review about the Canucks' willingness to move Kesler. GM Mike Gillis might not be allowed.
There is a growing suspicion within the Penguins that Gillis may not be authorized by Vancouver ownership to move Kesler. That seems to be a new development on Wednesday.
Almost certainly that would be related to the sudden and surprising deal of Roberto Luongo on Tuesday that left the Canucks without either of their top two goalies from the end of last season. Add that to the team's struggles this season and decline in the last couple of years it spells some insecurity for Gillis.
However a conflicting report from Craig Custance says the Canucks will still move Kesler if the deal is right.
If Canucks get the return they're looking for, they do have the green light from ownership to make a Kesler deal today.

— Craig Custance (@CraigCustance) March 5, 2014
Reading between the lines, it sounds like the Canucks are doing what they can to drive up the price a little more on the Penguins. They need all they can get so why not?
The team tweeted on Monday that Shaw would be re-evaluated in 7-10 days

The Montreal forward was hospitalized after taking a Zdeno Chara slap shot to the head

Tampa Bay is still No. 1 and Vegas is still up there, but a few others are finally catching...
Army filed an opposition to the use of 'Golden Knights' on the last day that it was permitted...

The NBC rinkside reporter is hoping to return in time for the 2018 Olympics

Here's who wade the cut for the 2018 NHL All-Star Game on Jan. 28 at Amalie Arena in Tampa...