NHL Trade Rumors: Ryan Miller discusses trade speculation
Buffalo Sabres goaltender Ryan Miller addressed trade speculation in advance of Wednesday's trade deadline.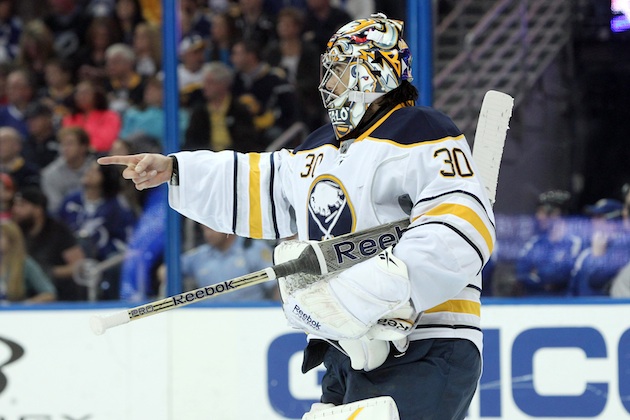 More NHL: Scores | Standings | Odds | Fight-O-Meter | League Leaders | Rumors
PITTSBURGH -- The Buffalo Sabres played what might have been one of their best games of the season on Tuesday night in Pittsburgh, snapping the Penguins' 15-game winning streak with an impressive 4-1 win.
They were aggressive on the forecheck, kept the Penguins pinned in their own zone for much of the night, and received a solid performance from veteran goaltender Ryan Miller as he turned aside 19 of the 20 shots he faced to earn the No. 1 star of the game.
Miller of course has been one of the Sabres mentioned in trade speculation and rumors over the past couple of months. Given that the trade deadline is on Wednesday and the Sabres are all but out of the playoff race (not to mention the fact general manager Darcy Regier recently said he's "open to anything" when it comes to potential moves) the possibility of a trade was brought up to Miller following Tuesday's game and whether or not worried or nervous about the next 15 hours.
"I'm not really worried about it," Said Miller on Tuesday night. "It's part of the business. We really don't know what's going on and we really don't have a say in anything. I just think it's funny that every year it's always 'what are you guys hearing, what do you guys know?' I don't really know anything until you guys report it sometimes.
"It's one of those things the players are definitely just chess pieces and the general managers are shuffling them and moving them around, and you don't really have a say. So you just worry about hockey."
Miller is still signed through the end of the 2013-14 season with a cap hit of $6.25 million while he has a no-trade clause where he can list eight teams he will not accept a trade to.
Miller was asked if he has provided Regier with that list of teams.
"I'm not going to comment on conversations I've had with Darcy, real or imagined," Miller said. "It is what it is. For him to say he's exploring every opportunity, I think every season every GM explores every opportunity.
"You're not going to not pick up the phone if one of your fellow general managers calls," Miller continued. "I think some years are more pressing than others. This year expectations were high and we didn't live up to them, but there is still time this season for us write our own story and we're just going to worry about hockey and see where it falls."
It's still hard to see a deal actually happening given how thin the market it might be for starting goalies, especially ones that carry a $6-plus million cap hit like Miller. Toronto is surprisingly still mentioned in goalie talks but those are centered on Calgary's Miikka Kiprusoff (for some reason). The only other team that comes to mind at this point is perhaps Tampa Bay, but that doesn't seem like the type of move Steve Yzerman would be willing to make.
NBC will reportedly be devoid of NHL game broadcasts between Feb. 7-26

The Winnipeg winger suggests Trump is going after 'the principles the U.S. was founded on'

League gets excited about exhibition matches in Beijing and Shanghai
NHL players are still disappointed they won't be going to skate in PyeongChang

With Artemi Panarin in the mix and a Vezina winner headlining the defense, Columbus can be...

The league's crackdown on faceoff infractions and slashing penalties isn't without some cr...