NHL would reconsider going to Sochi if 'something significant' happens
NHL players are all set to go to Sochi, the NHL is too but Deputy Commissioner Bill Daly says the league would re-evaluate if 'something significant were to transpire' before break.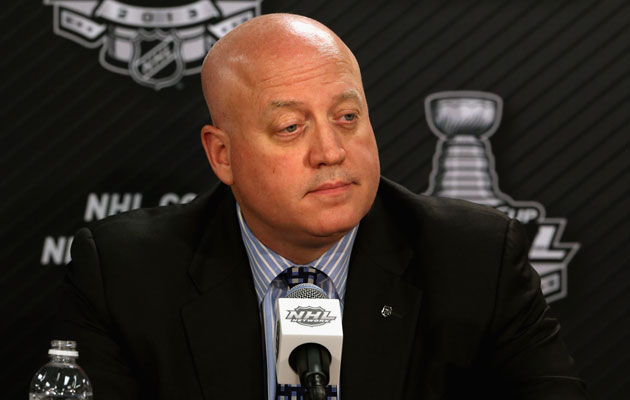 More NHL: Scores | Standings | League Leaders | Odds | Injuries | Power Rankings
The NHL is all set to send its players to Russia for the Winter Olympics, the league will shut down for two weeks, the rosters consisting mostly of NHL players have already been announced. The Olympics are a go.
However it's still not completely set in stone just a couple of weeks from the hockey action getting under way in Sochi.
In an email with the Associated Press (via Sportsnet), NHL Deputy Commissioner Bill Daly said that any significant developments in regards to the terror threaths in Sochi could cause the NHL to call a last-minute change of plans.
With the league set to push pause on its season for next month's Sochi Olympics, Deputy Commissioner Bill Daly also is allowing for the possibility of a security issue that could keep the players from travelling to Russia at all.

"As of now, we do not doubt that all necessary steps are being taken by the Sochi Organizing Committee, the Russian government and the IOC to ensure the safety of the athletes and guests in Sochi," Daly wrote Monday in an email to The Associated Press. "Obviously, if something significant were to transpire between now and February 9 that causes us to question that conclusion, we will re-evaluate. I don't expect that that will become necessary."
While Daly doesn't sound like he's worried anything is going to happen -- and we all hope nothing does happen that would force the NHL's hand for a lot more reasons than just hockey -- it's something the NHL has to consider.
There has been a lot of concerns about safety in Russia lately as there are believed to be three females at large who are suicide bombers and one is thought to be in or around Sochi.
Earlier on Monday the House Homeland Security Committee chairman Mike McCaul called it 'the greatest [threat] I think I've evern seen because of the proximity of the terrorists to the Olympic Village." So the threat is something that everybody is taking very seriously.
Already a few NHL players have told their families not to come to Russia for the Olympics, such as American defenseman Ryan Suter.
The Winter Olympics will have the Opening Ceremony Friday, Feb. 7 while the men's hockey schedule won't begin until Feb. 12.
The former Boston Bruin was the first black player to play in the NHL

Inclement weather led to the Charlotte Checkers and Bridgeport Sound Tigers playing in front...

The NHL chose the Detroit rocker as its All-Star Game entertainment and not everyone is th...
NHL fans from all over seem to agree on one thing: Hating Kid Rock

The team tweeted on Monday that Shaw would be re-evaluated in 7-10 days

The Montreal forward was hospitalized after taking a Zdeno Chara slap shot to the head