NHL's return not picture-perfect but a thing of beauty in Pens win
The NHL returned with three games Saturday afternoon, including the resumption of the Flyers-Penguins rivalry. If you didn't know, it was pretty easy to forget there was a lockout.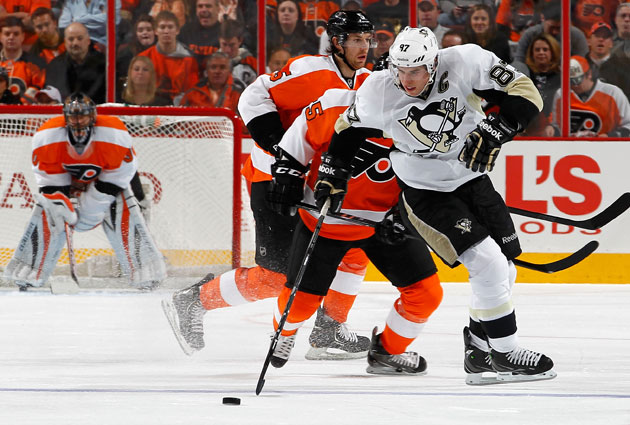 Sidney Crosby handles the puck as Flyers fans faithfully boo him. (Getty Images)
PHILADELPHIA -- It was a few months late, but the NHL returned from its offseason slumber Saturday and, fortunately, didn't put fans to sleep.
With the lockout having gone almost to the brink, lasting 113 agonizing days, players had only a week to come together and pick up relatively close to where they left off. For the Pittsburgh Penguins and Philadelphia Flyers that was a bit easier considering they picked up by resuming their heated rivalry exactly where the Penguins' season ended last spring. This time the Penguins won 3-1.
"It's not going to change anything from last playoff but it feels good," Penguins goalie Marc-Andre Fleury said.
More on Penguins-Flyers
Stories
What felt even better was simply having hockey back again.
"It's just great to play again," Fleury said. "It was such a long wait to come back here with such a great ambience and it was loud and fun. A fun hockey day. It was definitely fun to win that one."
It wasn't unreasonable to expect to see the same type of hockey we saw in that postseason series; which is to say ugly. It was the playoffs, yes, but that series was full of bad defense, atrocious goaltending and undisciplined play. It might have been entertaining, but it wasn't necessarily pretty. That could be attributed to the animosity and the stakes on the line, or any other excuse/reason you can find. If it was going to be ugly this time, though, the lockout was likely to blame.
But it wasn't too ugly. There was a little case of what I call Winnipeg Jets syndrome, the "well, I'm just glad the NHL is back" attitude. It felt almost as if a beat hadn't been skipped. Almost.
"I think as far as executing, we can get better, but I still thought we did a pretty good job making sure we worry about the details, not trying to do too much," Penguins captain Sidney Crosby said. "I thought we handled it pretty well."
There were four penalties in the first period, but that wasn't really an indication of a sloppy game. It was more the game being called the way it should as three of the four calls were for interference. You remember that rule, right? Well, out of the lockout it is a focus for the refs and it showed.
For the Penguins, Evgeni Malkin was strong from the start, but that was to be expected. In addition to being one of the world's best players, he stayed in form by playing in the KHL during the lockout. However, his teammates didn't appear to be at any disadvantage, the guys who elected not to go overseas.
To demonstrate how things were just like they had been before, Malkin and James Neal hooked up for a goal like we saw so many times last season; right off the draw, Malkin dropped it to a waiting Neal, who fired one home.
"G's great on the draw there, getting it back to me," Neal said. "I just tried to get it off as quick as possible, catch the goalie as fast as I can. He did a great job sticking with it and getting it back to me and I got a great shot off."
It had the fast-starting Penguins off and running, giving them a 2-0 lead in the first period.
The Flyers didn't have the start they hoped for but that was attributable to the Penguins' "best defense is a good offense" approach. The Flyers turned it up and looked to be in midseason form in the second period, or at least closer to it.
"After the first 13, 14 minutes we seemed to play more of the style we were looking for, we seemed to control the play at times," Flyers coach Peter Laviolette said. "We had lots of shots, a lot of opportunities to put pucks in the net and we weren't able to capitalize on that. There seemed to be a little bit of rush back there in passing, it was a touch off. We had a lot of passes that seemed [to be] going into skates. I think that will come with time."
It did come in stretches Saturday. The prime example was when new captain Claude Giroux scored the lone tally for the Flyers just 23 seconds into the second period off a beautiful pass from Scott Hartnell.
If that play had the look of rust, I want to see what midseason form looks like.
Was it the most beautiful hockey you've ever watched? No. The game wasn't without its ugly moments; it had enough to remind you that this was the first game of the season -- and in many months.
There was Fleury falling down in his crease and scrambling to get back in position before a Flyers shot from the slot. But there was also a tremendous sequence of saves from Fleury on the penalty kill in the opening period. (On a side note, where was THIS Pittsburgh PK unit last postseason?)
The much-maligned Ilya Bryzgalov, who also spent the lockout in the KHL but didn't get the number of starts he was probably hoping for, was beaten twice in the opening period -- once by a deflection off the stick of new Flyers defenseman Luke Schenn -- but he, too, had his bright moments. He flashed the leather to snare a Kris Letang slap shot and kept the Penguins quiet after the first.
But it was beautiful just to see the Giroux dangles, the odd-man rushes and the big hits, even if it was one of the least physical Pens-Flyers games you'll see.
"The game in general at times was a little haphazard, there were some scrambly pucks at both ends," Penguins coach Dan Bylsma said. "If you think you're going to go D to D in the back, cross ice, it's just not going to be there. So the team execution has to take a bit different in terms of the simplicity of it."
Really, it was all you could hope for in the NHL's return because of the simple fact that there was hardly any way to tell we had gone through a lockout. There was no message on the ice thanking fans like 2004-05, there were no "Bettman sucks!" chants; they were replaced by the familiar "Crosby sucks!" chants instead, as has become tradition in these parts.
Perhaps the only indication was a pregame video thanking Flyers fans and the appearance of team chairman Ed Snider. Even he wasn't booed; the cheers flowing for Giroux a second earlier were just hushed. Beyond that, it was all about the hockey, and it was a welcome change.
"It's been a long time since we've played but it was a good feeling," Neal said. "The building was amped up, it's fun to play here. We were ready to go, guys did a great job of staying in shape during the lockout and it paid off tonight."
If the NHL is going to get over the lockout and the stench it tends to attract, this was as good a start as it could have hoped for.
Same goes for the Penguins.
"No better way to start the season off than a big win in Philly," Neal said.
More from Eye on Hockey
VIDEO: Flyers fans happy NHL is back
For more hockey news, rumors and analysis, follow @EyeOnHockey and @StubitsCBS on Twitter and like us on Facebook.
The puck didn't go in the net but the skater did!

Another sign that Houston is a potential destination for an NHL relocation
The two teams combined for 111 penalty minutes and five ejections

The veteran Minnesota goaltender has recorded three consecutive shutouts

The historic start for the NHL's newest team has come largely from unprecedented balance in...