NHL's salary cap projection must be music to Sharks' ears
The NHL announced next season's salary cap could be around $71 million, great news for the Sharks who have three huge free agents to re-sign.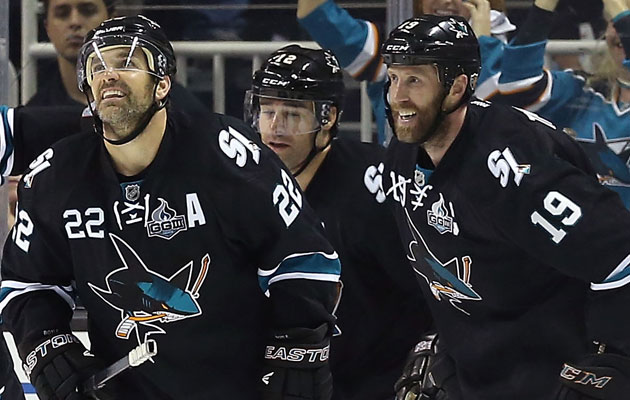 More NHL: Scores | Standings | League Leaders | Odds | Injuries | Power Rankings
Nestled just off the coast in Northern California, the NHL's Board of Governors gathered this week, a fitting location given the interest of the nearest NHL team's in one particular detail to emerge from the meetings.
While the salary cap projection by the NHL this week was of interest to every single team across the league (remember, where the cap sits affects where the floor will be), the San Jose Sharks might have been a little more tuned in when that part of the meetings came up. They have some important business to address but couldn't do so without first having an idea of what the budget will look like.
Gary Bettman's projection must have been music to their ears.
With revenues up and the league looking as healthy as it ever has been, the projection for next season's salary cap forecasts a dramatic increase. Currently the cap rests at the post-lockout level of $64.3 million but the league is expecting it to be somewhere in the ballpark of $71.1 million next season, representing a huge year-to-year jump. That's a jump San Jose should welcome with open arms.
The Sharks have three critical graybeards set to hit free agency this summer, none they want to see swim away. Joe Thornton is their captain and remains one of the most superb playmakers in the game, Patrick Marleau continues score goals, tied for the team lead with 14 this season and then Dan Boyle, who is a huge piece of their blue line as well as their power play. Each of them will be at least 35 years old next season (Boyle three years senior, he'll be 38) but it doesn't show. There's no reason why the Sharks wouldn't want to retain each.
Now they likely can. The three of them this season have a combined salary cap hit of a shade more than $20.5 million. That's an awfully large block of cash to fit in. These guys are veterans and have all made clear how much they enjoy it in San Jose plus the team is a contender, so raises likely wouldn't be necessary or sought but if they are, it won't be by much.
So assuming that the three of them carry a cap hit of a combined $21 million, right now that would leave the Sharks with a little wiggle room that will be necessary to fill out the rest of the roster, but would it be enough? Currently the Sharks have close to $47 million locked in for next season -- remember, Logan Couture and Joe Pavelski will have new contracts kicking in. Add in the $21 million and there is somewhere around $3 million-$4 million left, and that's if the cap hits the top end of the projection.
In addition to the big three, the Sharks will need new deals for RFAs Jason Demers, Tommy Wingels, James Sheppard and goalie Alex Stalock. There are also a couple UFAs like Mike Brown and Scott Hannan, guys they could just let go in the end. Even with the dramatic increase, it could be tough to fit everybody in if the Sharks keep the whole gang together. Given how they have looked and the fact that they seem as strong now as they have been in a couple of years, why wouldn't GM Doug Wilson want to stick with the same course?
Just because it's tough though doesn't mean it can't be done. It's not out of the question that any of the vets might take a pay cut. They all still produce at top levels but staying where they like it and chasing a Stanley Cup could be worth a little money off the top. Who knows, that's what the negotiations are for.
Already Wilson has said that initial talks have occured with Thornton, Marleau and Boyle but now those can open up some in earnest with the cap projection. It sure hasn't looked like a distraction for any of the guys this season but it's always nice to get deals like this done as soon as you can and keep all focus on the task at hand, which in San Jose is of course winning that elusive Cup.
Likely, the Sharks were going to try and move heaven and earth if they had to in order to keep their three valued vets. It's not going to be an easy task but this week's cap revelation has to ease some frayed nerves in San Jose.
Salary cap information courtesy of Cap Geek
Washington, Nashville and Tampa Bay are still rolling with winning streaks atop the NHL

Saturday's showdown will serve as a rematch of one of the NHL's first-ever regular season...

Stacia Robitaille says Donald Trump told her in an elevator that she was coming home with...
Vladislav Yeryomenko was the Teddy Bear Toss goal scorer for the Calgary Hitmen

The Golden Knights are finally getting their No. 1 goalie back after a 25-game absence

Washington has won four straight, and the Kings are also on a tear right behind the Lightn...