NHL's second tier of free agents still offers plenty of value
Mikhail Grabovski still leads the way when it comes to the second tier of free agents who offer a ton of value.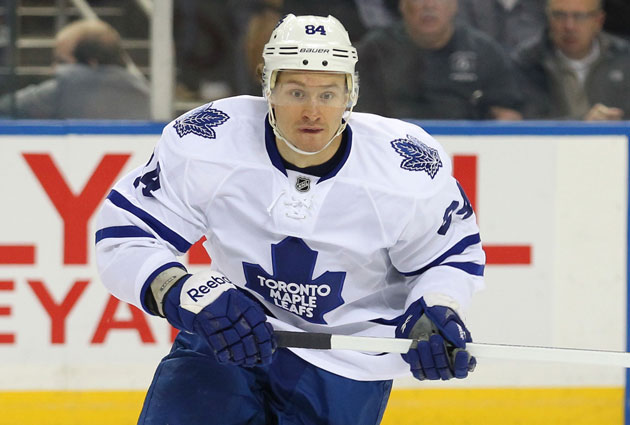 More NHL offseason: Rumors | Top 50 Free Agents | Buyout Tracker | Trade Tracker
Not much has changed on the NHL free agency front since the opening day of spending, and many of the second wave of players are the same as they were a week ago.
And, just as it was a week ago, just because the top players have already been picked over doesn't mean teams can't find quality players.
Some teams might even find better players and value after waiting out the initial spending and picking over the players who fell through the cracks.
Let's take another look at a few examples:
Mikhail Grabovski, F: How does a player go from being a yearly 50-point player and the recipient of a five-year, $27 million contract extension and then less than a year later find himself on the free-agent market after a compliance buyout?
It happens when the team that signed him puts him in the wrong role and doesn't quite know what to do with him.
That's what's happened to former Toronto Maple Leafs forward  Grabovski this offseason. And two weeks after it happened, it remains a stunning development.
Some of Grabovski's struggles in 2012-13 have to come back to the way that he was used, going from a top-line player in previous years to a guy who was relegated to a checking-line role and not only playing what were defensive minutes (tough competition and few offensive-zone starts) but also playing alongside lesser linemates.
That has to be taken at least somewhat into account when looking at his production this past season, when he scored just nine goals to go with seven assists in 48 games. When you look at the other forwards in the NHL who played similar roles, his performance actually seems to stack up pretty well.
There were only eight other forwards in the league to play the type of minutes that Grabovski did at even-strength, and Grabovski outperformed almost all of them.
Looking at the quality of competition and quality of teammates metrics found at BehindtheNet, you can see just how tough Grabovski had it this past season. He faced some of the toughest competition (Rel Comp) in the league and was playing alongside some of the lowest quality teammates (Rel Qot). He not only managed to score nine goals (more than almost every player who played in a similar role) but somehow managed to come out as a positive possession player (Shot +/-), which is pretty incredible given the minutes he faced.
Just look at how the other players who faced similar minutes performed.
(The higher the competition number, the tougher the competition; the lower the teammate number, the worse the linemates.)
Tough Minute Forwards: 2012-13 Season
Player
Rel Comp
Rel Qot
O-Zone Start %
Goals
Shot +/-
David Moss (Coyotes)
1.424
-0.009
39.1%
5
4.9
David Backes (Blues)
1.876
-0.674
42.3%
6
1.7
Mikhail Grabovski (Maple Leafs)
1.457
-3.182
36.7%
9
1.0
Josh Bailey (Islanders)
1.415
-2.444
49.0%
11
-4.6
Frans Nielsen (Islanders)
1.511
-1.634
48.7%
6
-9.4
Max Talbot (Flyers)
1.333
-2.358
35.2%
5
-10.8
Nikolai Kulemin (Maple Leafs)
2.087
-1.062
35.5%
7
-12.3
Matt Cooke (Penguins)
1.376
-4.391
40.7%
8
-15.8
Brandon Sutter (Penguins)
1.496
-3.561
37.8%
11
-19.6
Again, given the minutes and the way that other players performed in similar situations, Grabovski's performance wasn't as bad as it was made out to be this past season. Get him in the right role, and you're probably going to be rewarded for it.
Nikolai Kulemin, third from the bottom on the above table, is another talented Maple Leafs forward who wasn't given much of a chance to succeed offensively this past season.
I have a hard time believing that a talented player who was a consistent 20-goal, 50-point player with strong defensive ability over the previous four years suddenly forgot how to score. One lockout-shortened season in which he played a significantly different role with an entirely different set of challenges shouldn't overshadow what he did over the previous years.
There's a lot of talent and value here that shouldn't be overlooked.
Jaromir Jagr, F: It's still kind of amazing that Daniel Alfredsson and Jarome Iginla landed contracts in the free-agent market before Jagr simply because Jagr is still the better player. Then again, if the past two offseasons have taught us anything, it's to always expect the unexpected with Jagr, and that you should be prepared to wait for his decision.
Dustin Penner, F: Every team that wanted a big, physical, power forward this offseason probably targeted David Clarkson or Nathan Horton.
One player who has kind of fell under the radar -- due mostly to a down year with the Los Angeles Kings, where he scored just two goals in 33 games -- is Penner.
Penner's the type of player who is probably a little undervalued around the league because he has some warts to his game. People will question his conditioning and his commitment, and he no longer puts up 20 or 30 goals like he did with the Anaheim Ducks and Edmonton Oilers earlier in his career. But he's still a positive possession player and the type of guy who can help push play in the right direction and, with a little change in his shooting luck, might even be somewhat of a bounceback candidate in 2013.
Damien Brunner, F: When it comes to his combination of skill and age, Brunner is still one of the more intriguing names that's had to wait. He has 15-20 goal potential and, in a weak free-agent class short on goal-scorers, that shouldn't get overlooked.
Tim Thomas, G: If the former Boston Bruins goalie is serious about a return to the NHL following a year away, there has to be a team willing to take a chance on a guy who was the best goalie in the league before his sabbatical. There aren't many openings out there as far as starters go, but he has to be an upgrade for somebody, even as a backup.
The league's highest-paid player and Hart Trophy winner says his Penguins counterpart is No....

Defense is better and motivation shouldn't be lacking, but the Red Wings are still too cap...

The 45-year-old free agent is taking things patiently as September approaches
The playoff drought might not end immediately, but something is brewing in restocked Buffa...

Former Lightning standout will be guarding the net in style in 2017-18

Devils are still in rebuilding mode, but they have reason for hope thanks to young additio...