Nicklas Backstrom sits after banned substance from allergy meds found
Sweden was dealt a massive blow just before the gold-medal game when Nicklas Backstrom was announced as a scratch. A banned substanced believed to be from allergy medication was found in his system.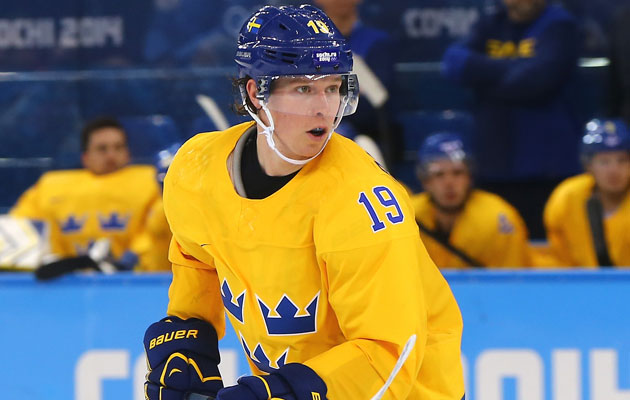 Sweden had a surprise of the worst kind on Sunday before playing for gold against the favored Canadians; center Nicklas Backstrom was a late scratch from the lineup. The bigger surprise? He missed the game for testing positive for a banned substance.
When Sweden took the ice for warmups, Backstrom was not among the players joining them despite being on the lineup sheets handed out. Then just moments before the game, Backstrom was officially scratched from the lineup with what is believed to be a migraine.Then during the game a report from Yahoo Sports said Backstrom was out for the drug test.
After the game, a Swedish official gave a little more information to Swedish outlet Expressen about the failed drug test. It sounds worse than it probably is.
"That's correct. We know it's because of an allergy medicine he has been using for seven years," press officer Björn Folin told SportExpressen.se.

"We don't know when the test was made. We haven't been speaking to Bäckström yet. I don't have any more information," Folin said.
Sweden coach Par Marts was of course not happy with the ruling. His quote on the matter was pretty great.
Par Marts on Nicklas Backstrom: "It sucks, it's like kindergarten. I think we should have the right conditions to compete against Canada."

— Chris Johnston (@reporterchris) February 23, 2014
Backstrom spoke about it after the game as well. An IIHF doctor said that Backstrom was just a victim of circumstance and Backstrom explained how his medicine is nothing new.
Nicklas Backstrom: "I have absolutely nothing to hide. I've had allergy problems for several years."

— Chris Johnston (@reporterchris) February 23, 2014
What a tough way to be ruled out for the gold-medal game; allergy medicine? The worst part about it is hearing "Backstrom failed a drug test." At least it shouldn't cost Sweden its silver medals, so that's good. That would be just an awful way ending to the Games.
It's hard to understate how big of a blow that was for Sweden. Backstrom had been centering Sweden's most effective line between Daniel Sedin and Loui Eriksson and had been vital with the Swedes already down Henrik Sedin and Henrik Zetterberg at center. Danielcomplimented Backstrom in saying that he plays a lot like his twin Henrik making the transition easy.
Backstrom, the Capitals star, is as good of a play-maker as there is in the game, an outstanding passer. In the end it probably wouldn't have made much of a difference for Sweden anyway but missing a top play-maker like Backstrom only contributed to Sweden being blanked by Canada 3-0 in the gold-medal game.
Saturday's showdown will serve as a rematch of one of the NHL's first-ever regular season...

Stacia Robitaille says Donald Trump told her in an elevator that she was coming home with...

Vladislav Yeryomenko was the Teddy Bear Toss goal scorer for the Calgary Hitmen
The Golden Knights are finally getting their No. 1 goalie back after a 25-game absence

Washington has won four straight, and the Kings are also on a tear right behind the Lightn...

The NHL says it's only interested in expanding to Seattle, but here's a look at all the moving...