Oilers extend All-Star Jordan Eberle for six seasons, $36 million
The Oilers just locked up one of their young stars in Taylor Hall, now they have extended another one in Jordan Eberle for six seasons.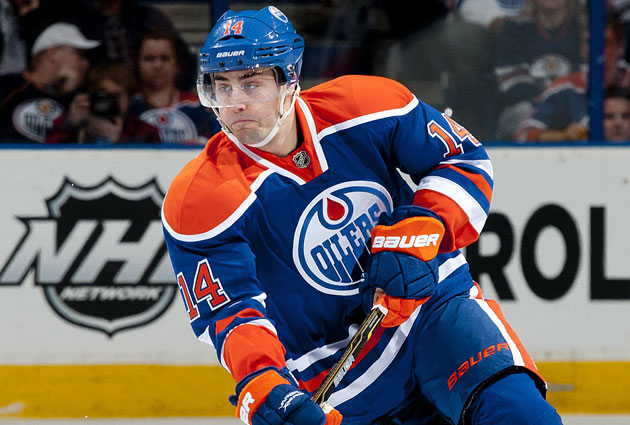 Eberle is signed with Edmonton through the 2018-19 season now. (Getty Images)
The Edmonton Oilers just locked up one of their young stars in Taylor Hall for the next seven years last week. Now they have extended another one in Jordan Eberle for another six seasons.
The Oilers made the announcement on Thursday, releasing the terms of the six-year extension. It will cost the Oilers $36 million over the duration of the contract. Because Eberle has one more year remaining on his entry-level contract, it will kick in after next season, meaning he'll be under contract with the Oilers through the 2018-19 season with this new contract.
Eberle was selected by the Oilers 22nd overall in the 2008 draft and has quickly established himself as another one of the cornerstone pieces for the Oilers to build around along with No. 1 overall picks Hall, Ryan Nugent-Hopkins and Nail Yakupov. He turned in a strong rookie campaign but had an even better second season in 2011-12 for the Oilers.
In 78 games for Edmonton, Eberle had 34 goals and 42 assists while only accruing 10 penalty minutes and pulling in a plus-4. It was good enough to get him onto the All-Star team and make him a well-known name across the NHL as well as earn him a nomination for the Lady Byng Trophy. Hey, a trophy is a trophy.
At $6 million per season, Eberle's cap hit comes in at the exact same rate as Hall's 7-year, $42 million contract, which is really no surprise. After Hall signed his extension the expectation was that Eberle wouldn't be far behind at all and based on their relationship as good friends as well as emerging stars on the same line they figured to have very similar deals. The only thing that's different is the extra year for Hall.
The question will now become a matter of are the contracts worth it? It's a pretty heavy price to pay, $6 million to players who are so young. Adam Gretz took a look at the Hall contract and noted how nice it is even at the price, the advanced statistics love Hall. Eberle? Not as much.
Hall led all Oilers who played in at least 10 games in On-ice Corsi, a rating that measure how often shots are going in your team's favor when you're on the ice vs. shots going the other way. Hall had a 5.67, twice as strong as any other Oiler. Eberle had a -3.02 despite the two playing together often.
Still, advanced metrics can't be the be-all, end-all. You have to look at the box scores too and given that Eberle was very nearly a point-per game player and scored 34 goals as a 22-year-old sure don't make $6 million per season seem outlandish.
Because the Oilers have drafted such top-end talent in the recent years, it's going to cost them pretty good money to keep those players around. So it's going to be difficult to judge if it is too much money at least for a few more weeks/months.
If the cap is drastically reduced then the Oilers are going to have a lot of money tied up in players already with more like Nugent-Hopkins and Yakupov to sign. If the cap remains closer to what it's projected to be with the current system then they'll be just fine.
For more hockey news, rumors and analysis, follow @EyeOnHockey and @StubitsCBS on Twitter and like us on Facebook.
The team tweeted on Monday that Shaw would be re-evaluated in 7-10 days

The Montreal forward was hospitalized after taking a Zdeno Chara slap shot to the head

Tampa Bay is still No. 1 and Vegas is still up there, but a few others are finally catching...
Army filed an opposition to the use of 'Golden Knights' on the last day that it was permitted...

The NBC rinkside reporter is hoping to return in time for the 2018 Olympics

Here's who wade the cut for the 2018 NHL All-Star Game on Jan. 28 at Amalie Arena in Tampa...