Oilers fire GM Steve Tambellini, Craig MacTavish to take over
After almost five years and no playoff appearances, the Edmonton Oilers have fired GM Steve Tambellini, replacing him with Craig MacTavish.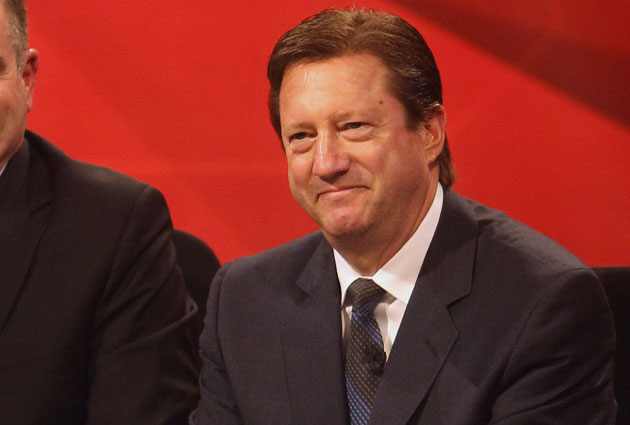 More NHL: Scores | Standings | Odds | Fight-O-Meter | League Leaders | Rumors
The Edmonton Oilers called a news conference out of the blue on Monday, so immediately speculation turned toward the future of general manager Steve Tambellini.
Not long after, Ryan Rishaug of TSN first reported what many suspected; Tambellini is out as Oilers general manager. And it appears that Oilers president of hockey operations Kevin Lowe already has a replacement lined up.
#Oilers announce Craig MacTavish as their new General Manager, Scott Howson named Senior VP of Hockey Operations

— Edmonton Oilers (@EdmontonOilers) April 15, 2013
Huh? Who would have thought that picking No. 1 overall for three straight seasons and being near the bottom of the standings again in the fourth year wouldn't be good for the ol' job security? OK, a lot of people.
In fact, it was just in the past 24 hours that calls for Tambellini's head as general manager hit a crescendo as the Oilers limp to the finish line and sink down toward a high draft pick once again. Terry Jones of the Edmonton Sun was saying it's time. Apparently, Lowe is a reader of the Sun because he agreed.
"Fact of the matter is we aren't where we want to be or where we should be," Lowe said on Monday. "We need to get better immediately. That starts today with this announcement."
Tambellini's legacy isn't going to be a great one. The Oilers entered dubious territory by drafting first overall three straight years and finishing 30th, 30th and 29th in the NHL during that span. This season, they were expected to start climbing up the standings, but I don't think 23rd in the NHL is what was envisioned.
At the same time, Tambellini will go down as the general manager who drafted the core of what should be a great future for the Oilers. Then again, they were all pretty easy picks to make.
When he took the GM job, Tambellini faced a massive overhaul, that much was known. Patience was the prudent course, but everybody runs out of patience at some point. For the Oilers, that point seems to have been reached this season, and with the playoff expectations fading, Tambellini is done.
Many would say it took way too long to get to this point, Tambellini should have been fired long ago. That stance certainly looks right in hindsight, but the Oilers were busy with a massive overhaul. They were willing to see it through to this point, which I feel was fair. If you give the OK for a complete rebuild, you have to know what you're getting in to.
But by now they should be sniffing the playoffs and they're not. Tambellini had more than enough time to get the job done. It has just taken too long.
Interestingly, the Oilers are demonstrating some excellent nepotism in the replacements they are lining up. MacTavish was fired as coach by Tambellini after the 2008-09 season and now he's going to replace him. Not only that, but Howson, who the Oilers brought back to the organization after he was fired in Columbus as the general manager, will take on an expanded role. It's actually the same role he held with the Oilers before going to the Blue Jackets.
What goes around comes around.
That said, MacTavish comes into one juicy spot as a GM. Because the Oilers have stunk so much they have an incredible crop of young, star players who are ready to mature. Taylor Hall, the first of those No. 1 selections, is enjoying an incredible season and they have a slew of other young stars like Jordan Eberle, Ryan Nugent-Hopkins, Nail Yakupov and Justin Schultz to build around.
In other words, the table is set pretty well for MacTavish to enjoy the spoils. I would say Tambellini did all the hard work, but it's not too hard to ice a team that can finish at the bottom of the standings for three years in a row. Then again, NHL history would say that was pretty tough to do.
What we don't know is how good MacTavish is at winning lotteries because the Oilers will be partaking in the ping-pong ball session again, and this season you don't have to be in the top five to pick first. Whoever wins the lottery goes No. 1. If anything, Tambellini proved he was adept at that. Perhaps the Oilers should have waited until the lottery was past.
NBC will reportedly be devoid of NHL game broadcasts between Feb. 7-26

The Winnipeg winger suggests Trump is going after 'the principles the U.S. was founded on'

League gets excited about exhibition matches in Beijing and Shanghai
NHL players are still disappointed they won't be going to skate in PyeongChang

With Artemi Panarin in the mix and a Vezina winner headlining the defense, Columbus can be...

The league's crackdown on faceoff infractions and slashing penalties isn't without some cr...