Oilers get No. 1 overall pick Nail Yakupov signed to entry-level contract
The Edmonton Oilers have signed the No. 1 overall pick in this year's draft, Nail Yakupov, to a three-year entry-level contract. The team made the announcement on Monday.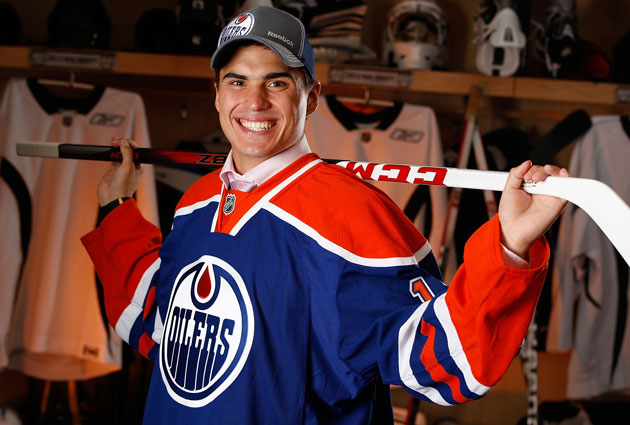 Nail Yakupov poses after going first overall this summer in Pittsburgh. (Getty Images)
The Edmonton Oilers have signed the No. 1 overall pick in this year's draft, Nail Yakupov, to a three-year entry-level contract. The team made the announcement on Monday.
"We're very happy to sign Nail to a three-year contract," GM Steve Tambellini said in the team's release. "He's an extremely talented and passionate young man who we feel will be an integral part of our team for many years to come."
Immediately the question becomes how soon will those "years to come" begin? This was the third straight draft where the Oilers had the honor of selecting first and the past two selections -- Taylor Hall and Ryan Nugent-Hopkins -- began playing in the NHL right away. Will Yakupov be joining them?
Not many doubt if Yakupov is ready to step right into the NHL and play today. The answer is yes. That is likely to be the same answer to the question of will Yakupov be in the NHL next season ... yes.
Frankly, it would be a shock if he doesn't start in the NHL. The Oilers have proven with their past two top picks that they aren't afraid to push the development track up a little and put guys at the top level immediately. Some teams take slower approaches than others but Edmonton didn't have that luxury in past seasons, evidenced by the fact that they still had the No. 1 selection this summer.
History also suggests it will happen. When forwards go first overall, they play. Aside from Alex Ovechkin who didn't play the year he was drafted because of a lockout, you have to go back to Eric Lindros in 1991 as an example of a forward not playing right away after going No. 1 overall.
While trying to come up with reasons why Yakupov might NOT start next season in the NHL I come up with very little. The Oilers have 13 forwards already signed for next season? Hardly an impediment when guys like Darcy Hordichuk are among the names on that list. No offense to Hordichuk, but it wouldn't seem to make a lot of sense to delay Yakupov's arrival in the NHL so a veteran with heavy fists can take a spot. Point is, making room for Yakupov on the roster shouldn't be much of a challenge.
So with that part out of the way and all signs pointing to Yakupov playing with the Oilers when next season starts the next question becomes of where does he play? It would be awesome to see him on a line with Nugent-Hopkins and Hall just because of the sheer novelty of it -- and because of the skill overload. But Jordan Eberle fits into that line with Hall and RNH pretty well too.
But those are all things for new coach Ralph Krueger will figure out later. Not the worst set or problems to have if you're a new coach in the NHL -- "how do all of these supremely talented players fit into the picture together?"
Yakupov, who hails from Nizhnekamsk, Russia (interesting sidenote: we're at the point now where players were not born into the Soviet Union), played the last two seasons with the Sarnia Sting in the OHL. Over the two seasons and 107 games Yakupov had 80 goals with 90 assists for a tal of 170 points. Not bad. Not bad at all.
To celebrate, Yakupov took to Twitter about the only way he knows how, if his first few weeks on the social-media machine have are any indication.
Fanzzz!!! Thanks a lot !:) I'm very very happy :) Sooooo, let's make something crazzzzzy this year !!! :D

— (@Nail10_1993) July 23, 2012
For more hockey news, rumors and analysis, follow @EyeOnHockey and @BrianStubitsNHL on Twitter and like us on Facebook.
The city has already received approval from the NHL to file for an expansion team

Bovada says the two nicknames are favored to be used, with Rainiers coming in third place

Here's everything you need to know to watch the NHL's marquee midseason event
The expansion Golden Knights officially moved into first place in the NHL on Sunday

The former Boston Bruin was the first black player to play in the NHL

Inclement weather led to the Charlotte Checkers and Bridgeport Sound Tigers playing in front...