Oilers GM Craig MacTavish shouts at fan, insists brighter future
The pressure of losing finally got to Oilers first-year GM Craig MacTavish when he apparently got into a shouting match with a fan following the team's most recent loss.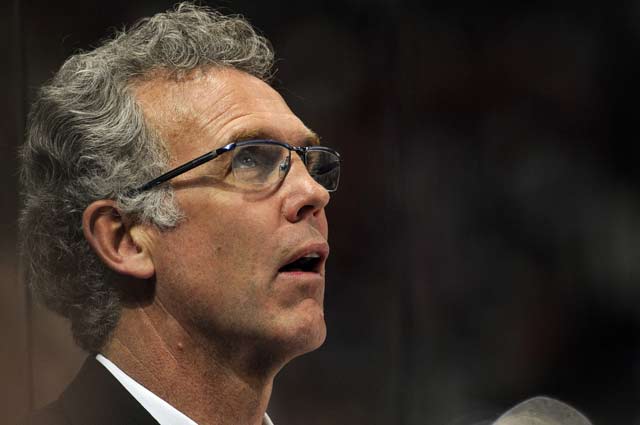 It finally seems as if the losing in Edmonton has reached a boiling point.
Following Tuesday night's 5-2 loss to St. Louis, which dropped the Oilers to a Western-Conference-worst 14-27-5, Edmonton's GM Craig MacTavish got into a shouting match with a fan as the frustration of losing continued to mount. 
"Ah, the usual stuff, I'd just had enough," MacTavish, the former player and first-year GM told The Edmonton Sun. 
"It was not a good night to have it," he added. 
MacTavish entered the locker room from the front, after presumably walking past a bar filled with disgruntled Oilers fans. "It's not a good set up under the current circumstances," MacTavish said.
According to The Sun, "The Oilers are the only team in pro sports that effectively has to walk through a bar six times a game to get on and off the ice."
The losing, both recently and in the past few seasons, has been sustained. The Oilers have lost 11 of their last 14 games and haven't finished better than 24th in the past five seasons.
Despite the frustration, MacTavish isn't folding his cards.
"There have been 12 deals made this year, and we've made four of them. You can argue the pluses and minus of the four deals we made. We're trying to do something. We'd be crazy not to. We just have to keep grinding away, having conversations until there's something that makes sense," he said.
Skepticism is fair, but he believes the team – even if wins don't reflect it, yet – is building a solid core.
"Analyzing our team, we can now see a number of pieces growing quickly. We're seeing core players become much more competitive in difficult matchups."
So while this season appears to be lost, the GM insists a turnaround isn't far off.
"It's too long coming for most of us. But it's coming." 
The former Boston Bruin was the first black player to play in the NHL

Inclement weather led to the Charlotte Checkers and Bridgeport Sound Tigers playing in front...

The NHL chose the Detroit rocker as its All-Star Game entertainment and not everyone is th...
NHL fans from all over seem to agree on one thing: Hating Kid Rock

The team tweeted on Monday that Shaw would be re-evaluated in 7-10 days

The Montreal forward was hospitalized after taking a Zdeno Chara slap shot to the head