Oilers GM ready to part ways with vets Ales Hemsky, Shawn Horcoff
Oilers GM Craig MacTavish said that the team, ideally, will part ways with Ales Hemsky and Shawn Horcoff. Nikolai Khabibulin is also likely gone.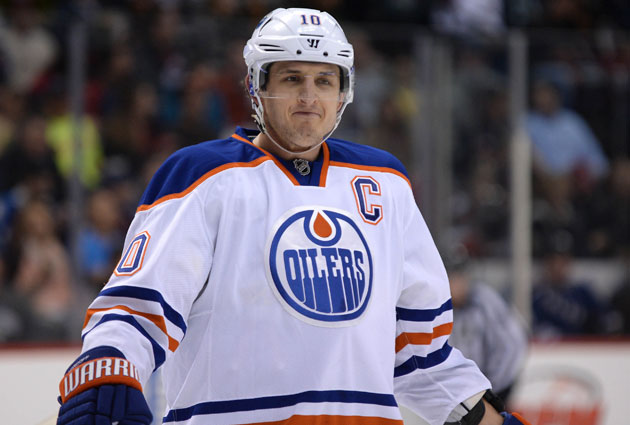 More NHL Playoffs: Scores | TV Schedule | Expert Picks | Odds | Mock Draft | Rumors
Have we seen the last of Ales Hemsky, Shawn Horcoff and Nikolai Khabibulin in Edmonton? Sounds like it.
New Oilers GM Craig MacTavish joined Edmonton's 1260 for an interview on Thursday and was surprisingly open, surprising because it seems most GMs keep everything close to the vest. MacTavish spoke about the three veterans and indicated that their time as Oilers is up.
"Ideal scenario would be to move them on and wish them the best," MacTavish said of Hemsky and Horcoff. But he didn't shut the door on their careers in Edmonton yet. "Would we welcome those players back if the right circumstance doesn't present itself? Absolutely."
As for Khabibulin, MacTavish was a bit more certain in his language, saying they'll "go in a different direction." That shouldn't come as a big surprise as Khabibulin is 40 and had seen his playing time diminsh behind Devan Dubnyk. It will be interesting to see if there are any teams interested in Khabibulin at this point or if it's the end of the line for the Bulin Wall in the NHL.
Khabibulin is a free agent, so the parting of the ways is much easier in that case. The Oilers can just let him walk. In the cases of Horcoff and Hemsky, though, they still have contracts. Given the fact that MacTavish said they would welcome them back indicates they aren't planning to use amnesty buyouts on either player, leaving the trade route.
According to CapGeek, Horcoff has two seasons remaining on a contract with a $5.5 million cap hit while Hemsky has one season left at $5 million, both relatively high cap hits. They certainly are still capable NHL players, so there could definitely be suitors, though the returns might not be that great. But at this point it seems as though it's about moving forward for the Oilers, turning things over more and more to the young core. MacTavish is starting to prepare to follow through on his promise to shake things up.
Hemsky played 39 games this season and had nine goals and 11 assists. Horcoff played in 31 games and had seven goals plus five assists while wearing the C for the Oilers. Both players have spent their entire NHL careers in Edmonton.
The expansion Golden Knights officially moved into first place in the NHL on Sunday

The former Boston Bruin was the first black player to play in the NHL

Inclement weather led to the Charlotte Checkers and Bridgeport Sound Tigers playing in front...
The NHL chose the Detroit rocker as its All-Star Game entertainment and not everyone is th...

NHL fans from all over seem to agree on one thing: Hating Kid Rock

The team tweeted on Monday that Shaw would be re-evaluated in 7-10 days