Oilers owner issues letter to frustrated fans preaching patience
Oilers owner Daryl Katz penned an open letter to Oilers fans as the team is headed for another postseason-less season, saying the team is on the right track.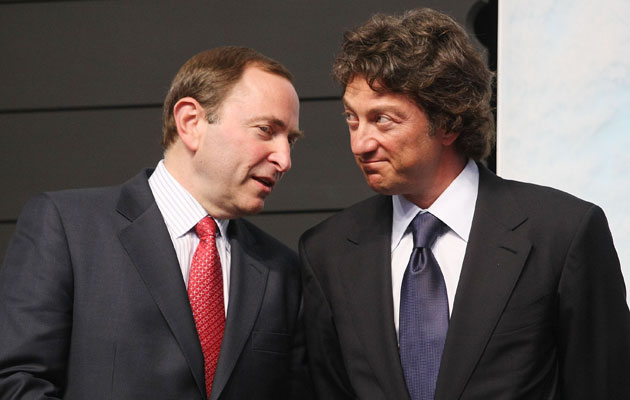 More NHL: Scores | Standings | League Leaders | Odds | Injuries | Power Rankings
It's frustrating being an Edmonton Oilers fan these days. The team is struggling, flirting with the worst record in the NHL once again after picking first overall in three of the past four years. It has been eight years since they reached the postseason. That's a lot of losing.
Oilers owner Daryl Katz understands the frustration but felt the need to reassure Oilers fans that things are going to be alright.
Katz authored (or at the very least, put his name on) an open letter to Oilers fans talking about the tough times and asking fans to continue to bear with the organization. Patience is key and all that.
Here's a taste, you can read the entire letter here:
I know this will almost certainly be the eighth consecutive year since we made the playoffs. I hate that fact as much as anyone, but the reality is that this is only year four of the rebuild that started when we drafted Taylor Hall. The good news, if you can call it that, is that other teams that committed to fundamental rebuilds went through the same kind of droughts over the same kind of time frames, or longer. That doesn't make it fun for anyone; it just means we have to stay the course.

Yes, we hoped and expected to be better this year – there's no question about that. But we've also been more active than any team I can think of in rebuilding our organization from bottom to top by supporting player development in OKC and Bakersfield, revamping our scouting organization, naming a new GM and a new coach, signing free agents like Justin Schultz, Boyd Gordon, Andrew Ference, Anton Belov and Ilya Bryzgalov, and trading for players like David Perron, and now Ben Scrivens and Matt Hendricks. And we're not done.

But I can also tell you that we are not going to sacrifice the future by doing something short-term. Those days are over and they're not coming back. If we're going to rebuild, we want to do it right and we only want to do it once.
Katz also cited the fact that everybody is held accountable for what's happening, himself included. That begs the queston of who is holding the owner accountable, but we digress.
Part of the issue is that Oilers fans for the most part have been pretty patient and understanding with what the franchise is doing but by now there should be some real signs of improvement and it looked like that was starting to happen last season but the Oilers have fallen flat on their faces again, seemingly regressing. When you've been waiting this long as a franchise to see things turned around, that's going to be frustrating. It can be harder to swallow the idea tht Katz is spouting that the Oilers are on the right path. It seems like the pieces are coming together but the results aren't showing that.
It's not as though the fans have much option but they're just going to have to grin and bear it as the Oilers stick the course and go through the painful process of the ongoing rebuild.
Los Angeles isn't rushing to sign the 45-year-old forward any time soon

The University of Denver star and Hobey Baker Award winner is drawing interest

Intrigue is high in Arizona after a wild offseason, but expectations should still be tempe...
Players are set to give personalized messages for Adidas' former hockey equipment brand

The 40-year-old center is returning to the Wild after a successful run in Pittsburgh

Edmonton locks up its 21-year-old RFA a month after McDavid's historic extension