Oklahoma tornadoes hit close to home for Edmonton's AHL affiliate
The Oklahoma City Barons, Edmonton's AHL affiliate, were a little to close for comfort to the tornadoes this week.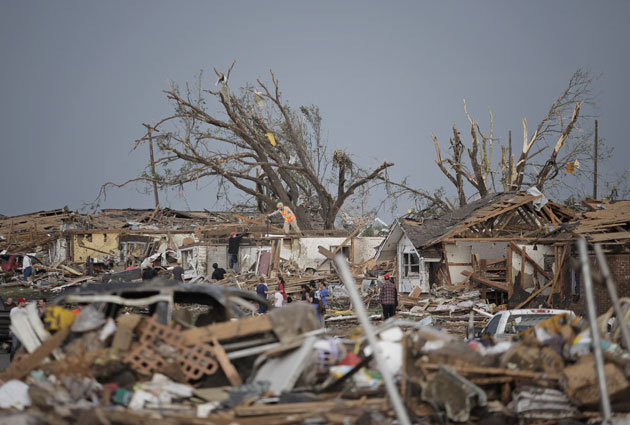 More NHL Playoffs: Scores | TV Schedule | Expert Picks | Odds | Mock Draft | Rumors
The Oklahoma City suburb of Moore, Okla., was rocked Monday by a powerful and deadly tornado that hit close to home for hockey players on the Oklahoma City Barons, Edmonton's AHL affiliate.
The Barons are still playing this season, currently waiting for their opponent in the Western Conference Final of the Calder Cup playoffs. So they were practicing Monday and wrapped up about three hours before the twister came ripping past about a half-mile away from their facility.
"We're good. Our guys live on the north side of the city or in the downtown area," Barons GM Bill Scott told the Edmonton Sun.
"Our staff was in the office downtown. Some of them live in Moore but all are accounted for. But, my God, it affects everybody. People lost their homes and businesses. The devastation is truly unbelievable."
Remember, the players are part of the community, too, living there like everybody else with friends and other loved ones. While none of them were directly affected, people they know were, such as the host family for defenseman Alex Plante, who has been rehabbing a broken jaw.
"We don't know about their house. We can't get back to the house. You can't even drive down there."

Plante said they'd spend the night in a downtown hotel.

"We have a program called 'Barron's Buddy', which is how I became involved with the family. I ended up family friends. They are very good people. They built up my faith. When I broke my jaw, they took me in. I've been there two and a half weeks."
While the rest of the area tries to recover from the horrific natural disaster, the Barons have the unenviable task of staying focused on hockey. As mentioned, they are waiting to see who they will play in the Western Conference final.
Moreover, it's going to be something to keep an eye on as to whether or not they will be able to play in Oklahoma City. You have to wonder if OKC will be in any shape to host a couple of games and a visiting team.
For more news on the Oklahoma City tornadoes, visit CBSNews.com.
The 32-year-old forward tells the media he expects to be back on the ice for the Devils op...

It seems it's all as wild as it sounds, with Canadian actor Zack Ward heading a 'West Coast...

Lots of moving parts may be the biggest hurdle for Carey Price and Co., a defensively geared...
The Penguins have some fun with the names of some Ducks linemen

Rookie Tyler Wong scores a hat trick to lift the NHL's newest team in its exhibition debut

Depth is a concern, but Edmonton is all in on its young, speedy stars with Stanley Cup pot...