Olympic Hockey Live blog: USA vs. Slovakia
Check back for constant updates as the USA takes on Slovakia in men's Olympic hockey action.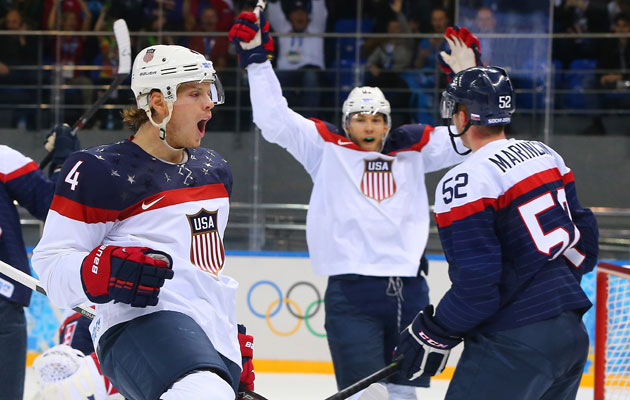 Refresh the page to get the latest updates
USA 7, Slovakia 1 -- Final
9:50 a.m. -- Maybe one last installment of #PicsWithZdeno is a good way to end this today. NBC doing a little trolling.
.@nbcolympics #PicsWithZdeno pic.twitter.com/avdHBKg3X8

— NBC Sports (@NBCSports) February 13, 2014
9:47 a.m. -- Next up on the schedule for the USA is a game against Russia on Saturday. Based on today's results today, it's almost certain that the winner of that game will win the group barring anything unforeseen in the third game of group play. It's going to be an incredible challenge for the US but they'll be brimming with confidence after the way they dominated Slovakia. The crowd is going to be loud and it won't be on America's side. It will be the game of the round-robin stage in these Olympics.
9:44 a.m. -- Some final numbers from this game:
Shots: USA 33, Slovakia 23
Slovak goals: Tomas Tatar
USA goals: Ryan Kesler, John Carlson, Paul Stastny (x2), Phil Kessel, David Backes, Dustin Brown
Slovak goaltenders: Jaroslav Halak: 20 saves on 25 shots, Peter Budaj: 6 saves on 8 shots
USA goaltender: Jonathan Quick: 22 saves on 23 shots
9:40 a.m. -- It's all over, the third period goes goalless as the USA rolls to a 7-1 victory in a complete performance from start to finish. There is no way you could have asked for any more than that from the USA against a Slovak team that isn't among the elite but isn't a pushover either.
9:37 a.m. -- The most visible Slovakin in this game? Perhaps Tomas Tatar. He gets a really good look but can't actually get a shot on net against Quick. He also has their lone goal.
9:34 a.m. -- This is what the American bench looks like with time left in the third. Yes, it's been that type of game.
"Are you having a laugh?!?" pic.twitter.com/mn2x24rIJO

— The Royal Half (@theroyalhalf) February 13, 2014
9:31 a.m. -- Down to 6:00 to play and there is still little happening here in the third period. USA hasn't quit playing but seem to be saving up at least a little bit for the big game against Russia on Saturday. The Russians, by the way, are now up 5-2.
9:25 a.m. -- Ryan McDonagh makes a really nice play by laying out to prevent a Marian Hossa shot on a mini break and then keeps at it, eventually poking the puck off Hossa's stick while prone on the ice.
9:23 a.m. -- With 11:26 remaining, it's been a pretty sleepy third period as you'd expect with the score the way it is. Shots this period are just 3-2 in favor of Slovakia.
9:20 a.m. -- Russia goes back up by two goals after Stars rookie Valeri Nichushkin dazzles. The future is bright for him, very bright..
9:18 a.m. -- The USA has done a lot of damage in this game but they haven't done much of it with Chara on the ice, so at least there is that, Slovakia.
Zdeno Chara has an even plus-minus rating, despite Slovakia being down 7-1. #Sochi2014

— Mark Lazerus (@MarkLazerus) February 13, 2014
9:15 a.m. -- Slovakia puts another decent shot on Quick but he's there for the save. It will clearly be overshadowed in this game for obvious reasons but Quick has been very solid for the US. He hasn't been tested too much but he did make a couple of very nice saves and as of now has 19 saves in the game.
9:11 a.m. -- Third period is a go.
9:08 a.m. -- Did anyone see that goal explosion coming? I sure didn't. Six goals for Team USA and dominance in the possession game during the first half of the period put Slovakia out of this one. All of the questions about USA's lineup and offense are all melting away. Slovakia doesn't have the skill of the U.S., but at the same time they're an experienced group. The U.S. made the proper adjustments to bust Slovakia's trap and then the floodgates opened. This bodes very well for the U.S. going forward. Now they need to play a clean third period and start getting ready for Russia Saturday. -- Chris Peters
8:56 a.m. -- That's the end of the period, mercifully for Slovakia. The USA scores six goals in a span of less than 16 minutes. Keep this in mind for the third period: There will be a delicate balance here for the US. Nobody wants to embarrass an opponent but the tie-breaker to get into the quarterfinals if you don't win the group is goal differential. It serves the USA's interests to keep adding to the goal total in the third.
8:54 a.m. -- So much for that relief over at Bolshoy. Slovenia scores another and it's a game again at 3-2. We all knew that Slovenia-Russia was going to be the close game out of these two, right? Right.
8:52 a.m. -- A big sigh of relief comes across Sochi as Ilya Kovalchuk (remember him?) scores for Russia to make it 3-1. Meanwhile, the Slovaks are actually putting a couple of shots on Quick and they get a penalty call out of it. Kessel going to the box for slashing with 1:50 remaining in the period.
8:48 a.m. -- Is there a mercy rule? The USA is just passing at will and almost looks to be playing at half speed and still doing whatever it wants. This time the finish comes from Dustin Brown in the slot after a nice pass from John Carlson.
8:47 a.m. -- GOAL USA
8:46 a.m. -- The rout is officially on. The Americans look like the Globetrotters out there right now. James van Riemsdyk's shot (or was it a pass? Looked like a pass) finds Kessel on the doorstep after a sweet drop pass from Ryan Kesler. The USA is just carving up Slovakia right now and this is not a terrible Slovak team either.
8:45 a.m. -- GOAL USA
8:44 a.m. -- Kevin Shattenkirk drives the puck wide down the boards and throws a dime right to the stick of Paul Stastny, who gets it past Jaroslav Halak for his second goal of the game. And with that, Halak gets the hook, replaced in the Slovak net by Peter Budaj.
8:43 a.m. -- GOAL USA
8:42 a.m. -- For the first time in several minutes the Slovaks get some pressure but Quick keeps it out.
8:37 a.m. -- Kessel is having a great game so far. Kessl is a great American.
February 13, 2014
8:35 a.m. -- The Americans get a lot of shots on the power play but not goals. However after the penalty concludes, the US cram the crease and a mad scramble for the puck ensues before eventually David Backes gets the goal after Phil Kessel knocked the puck toward the cage. A crazy sequence but the result is an American goal. All USA right now.
8:34 a.m. -- GOAL USA
8:30 a.m. -- Over at Bolshoy Ice Dome, believe it or not Slovenia has scored! They are down just 2-1 in the second period after Russia's roaring start.
8:29 a.m. -- What's going on here? There hasn't been a goal in about three minutes. However the USA is completely controlling the puck and it finally results in a tripping penalty against Slovakia. That was one heck of a shift for the US. They are absolutely buzzing since the Slovak goal.
8:26 a.m. -- Paul Stastny pounces on a rebound after Max Pacioretty's shot is stopped (after a great cross-ice pass from T.J. Oshie) and doesn't miss the open net. So the Americans had a nice response to that goal, huh?
8:25 a.m. -- GOAL USA
8:24 a.m. -- Back to the Slovakian goal for a second here. A pretty obviously offsides call was completely missed and seconds later Tatar scored.
Oh. That's not even close. pic.twitter.com/pHY7XnoJrc

— Andrew DeWitt (@DeWittCBS) February 13, 2014
8:22 a.m. -- Patrick Kane does a little dance that frees up Ryan Kesler from the faceoff circle and he rifles home the shot and just like that, the Americans hop right back into the lead.
8:21 a.m. -- GOAL USA
8:20 a.m. -- Just 24 seconds into the period Tomas Tatar beats Quick for a goal to even up the game. Ryan Suter with the rare bad play leading to the goal.
8:19 a.m. -- GOAL SLOVAKIA
8:18 a.m. -- The second period is under way.
8:11 a.m. -- Checking in on the other game, Russia is unsurprisingly ahead of Slovenia 2-0 at the end of one period. Evgeni Malkin scored Russia's second after Ovechkin's quick tally with the shots being in favor of the host team 18-4. Poor Anze Kopitar.
8:08 a.m. -- The U.S. is off to a really solid start with the 1-0 lead. Out-shooting the Slovaks 11-4, Team USA was in control pretty much the whole period. The few mistakes they did make were almost costly, but that's all about adjusting to the big ice. I've seen a lot worse starts in an opener, but here, the U.S. is looking very comfortable. That JVR-Pavelski-Kessel line is dynamic and as this tournament progresses, they'll probably only get better. Overall, a really good start for Team USA. -- Chris Peters
8:05 a.m. -- That's the end of the first period, a period that was controlled by the US and it shows with the 1-0 lead on the goal from Carlson. Shots in the first period favored the Americans 11-4. Patrick Kane and Max Pacioretty led with two shots on goal.
8 a.m. -- Shout out to this American fan (or hopefully fans) with his Labatt's USA beer cans.
@ChrisKuc doing it for America! pic.twitter.com/pGx71oYuai

— Adam Smith (@Pappy_SmithTime) February 13, 2014
7:59 a.m. -- Slovakia gets an absolutely golden opportunity when Richard Panik is left all alone in the slot. He tries one too many moves and loses the puck while trying to deke Quick. That was a close call.
7:57 a.m. -- First shift after the goal and Slovakia gets its best sequence of the game, firing a couple of pucks on Quick who eventually freezes it.
7:56 a.m. -- John Carlson gets the goal on a slap shot that beats Halak but that play was really set up by Phil Kessel. With Carlson trailing to give the US a 3-on-2 rush, Kessel cleared some space then dropped the puck to give Carlson a wide open shot and Carlson wired it top shelf. Who says Kessel is just a sniper?
7:55 a.m. -- GOAL USA!
GOAL USA!!!!! pic.twitter.com/ZcStJr4DqV

— Bailey LA Kings (@BaileyLAKings) February 13, 2014
7:51 a.m. -- Not much doing on the power play for the USA. Game remains scoreless 13 minutes in, though the US is only building on its shot advantage, now 8-2. Jonathan Quick has had a quite period so far.
7:49 a.m. -- This is how the Americans start the power play personnel wise. Not to shabby, USA.
First power play. Team USA had some really intriguing units in practice. Shattenkirk-Pavelski, Kane-Kesler-Parise start it off

— Chris Peters (@chrismpeters) February 13, 2014
7:47 a.m. -- The first power play of the game is coming up halfway through the first period. The USA will get a man advantage after an interference call on Slovakia's Tomas Marcinko. So far the game has been controlled by the USA, this is a big chance for an opening salvo.
7:43 a.m. -- Shots says it's just 3-2 in favor of the US but the Americans are getting a lot of pressure and some quality looks in the early going. Halak has certainly been busy.
7:41 a.m. -- It's clear the Slovaks think that JVR-Pavelski-Kessel line is going to be important too. Chara has been given his duty and is joining that line on the ice in the early going.
7:38 a.m. -- Over at the big Bolshoy Ice Dome it takes Alex Ovechkin just 1:17 to give Russia a lead over Slovenia. It sounds like the fans are happy about this development.
7:37 a.m. -- Already the line of JVR-Pavelski-Kessel generates a great chance. This is going to be a critical line for the USA in these Games.
7:35 a.m. -- GAME ON!
7:24 a.m. -- If the USA beats Slovakia, it will not only give them a great start to the Olympic tournament but will actually be the USA's first win over Slovakia in the Olympics in three tries. There's a first time for everything, right?
7:15 a.m. -- Over at the other arena, Slovenia is on the ice. You couldn't miss them if you tried.
7:13 a.m. -- No surprise, Slovakia is going with Jaroslav Halak in goal. Halak is 24-8-4 this season for the Blues with a save percentage of .915.
7:08 a.m. -- As a reminder, the game can be seen in the US on NBC Sports Network. Meanwhile, Russia will be playing the Fighting Kopitars of Slovenia at the same time and that game can be found on MSNBC.
7 a.m. -- And the Americans take the ice. It's been a very long wait but game time is now oh so close!
Americans on the ice at Shayba Arena. pic.twitter.com/Ev3dnavUWt

— Dan Rosen (@drosennhl) February 13, 2014
6:57 a.m. -- If you're looking for a way to kill some time before the puck drop just after 7:30, might we suggest perusing the hashtag #PicsWithZdeno? As you can probably guess by the title, a lot of Olympians have been interested in taking pictures with Zdeno Chara. Because the Slovak defenseman is very tall, you see.
If you haven't seen the @NBCOlympics compilation of #PicswithZdeno you should. Chara's the most popular man in Sochi pic.twitter.com/Hq6IneAjoz

— NBC Sports (@NBCSports) February 8, 2014
6:39 a.m. -- A look inside the USA dressing room where the Americans will wear white against Slovakia.
U.S. Olympic men's lockerroom at Shayba. Training staff awesome job getting it ready for team arrival. #teamusa #usah pic.twitter.com/AF7rAkhp6S

— USA Hockey (@usahockey) February 13, 2014
6:36 a.m.-- The USA announced the lineup against Slovakia. The scratches are Justin Faulk, Derek Stepan and Jimmy Howard. Here are the lines:
Men's team lines are posted #DawnsEarlyLight pic.twitter.com/h60YSBV1KM

— USA Hockey (@usahockey) February 13, 2014
If you're having a tough time seeing that, here they are:
Zach Parise-David Backes-Ryan Callahan
Dustin Brown-Ryan Kesler-Patrick Kane
James van Riemsdyk-Joe Pavelski-Phil Kessel
Max Pacioretty-Paul Stastny-T.J. Oshie
Blake Wheeler
Cam Fowler-John Carlson
Ryan Suter-Paul Martin
Ryan McDonagh-Kevin Shattenkirk
Brooks Orpik
Jonathan Quick
Ryan Miller
______
Preview
Who: Slovakia vs. the United States
What: Opening game of the Olympics for both teams in Group A 
When: 7:30 a.m. Eastern on NBCSN 
Where: Shayba Arena; near Sochi, Russia 
United States Preview by Chris Peters
2010 Finish: Silver
Three Key Players: Zach Parise, Ryan Suter, Phil Kessel
Quick Preview: The U.S. built a team on a foundation of speed and seems to have the offensive firepower to be able to score frequently in this tournament. Eight players have 20 goals or more on Team USA's roster this year led by Phil Kessel who is among the hottest scorers in the NHL coming into the Olympics. The goaltending situation, whether it is Jonathan Quick or Ryan Miller between the pipes, is a strength for the U.S., and it will need to be. The U.S. is young on the blue line, but extremely mobile and will be a tough team in transition. The size this team boasts up front will also be a big advantage throughout the tournament. The U.S. doesn't match the depth of some of the other top teams, but it's not far off and is very capable of making a run at the gold medal.
Slovakia preview by Chris Peters 
2010 Finish: Fourth
Three Key Players: Zdeno Chara, Marian Hossa, Jaroslav Halak
Quick Preview: Recent injuries to Marian Gaborik and Lubomir Visnovsky put a dent in Slovakia's depth, but this is a team that has beaten the odds before. With Zdeno Chara anchoring the blue line and Marian Hossa leading a forward crop that includes exciting youngstars Tomas Tatar and Tomas Jurco, anything is possible, but it is an uphill battle. Jaroslav Halak will have to have the tournament of his life to keep the Slovakians in the hunt late. This team may have some extra motivation in 2014, though, as they play with the late Pavol Demitra in their hearts. He was the leading scorer for Slovakia at the 2010 Olympics and remains a favorite son of his home country even after his death in the tragic Lokomotiv plane crash. This is a team that lacks the depth of talent of others, but will be a tough out for whoever they face in the knockout stage.
The 38-year-old defenseman had been on the free agent market since July 1

New York fans aren't too happy about it, either

The league is not backing down, but players aren't hiding their frustrations, either
Draisaitl remains unsigned as Edmonton's premier restricted free agent

Yes, it is as perplexing as it sounds

Here's a look at the best of what's left in the pool of unsigned veterans