Olympic hockey, where foes become friends and friends become foes
What's it like to play with guys you normally battle? Or to play vs. guys you normally have on your team? The odd dynamic of Olympic hockey.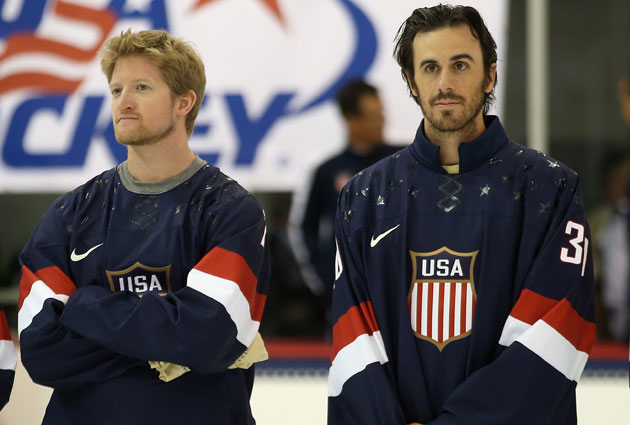 More NHL offseason: Rumors | Top 50 Free Agents | Buyout Tracker | Trades | Transactions
Rangers, Islanders and Devils, Sharks, Ducks and Kings, Canadiens, Maple Leafs and Senators; they tend to go together as well as cats and dogs or peanut butter and ham. On and on the rivalries go in the NHL, and they'll continue to go on and on. But for a few weeks in February they will stop as the NHL teams take a back burner to international squads.
It creates an odd dynamic on these teams. Guys who might have dropped gloves before and duked it out will now come together and fight together for their country. The switch has to go off and the rivalries have to be left aside.
Fortunately, players insist it's not that tough to do. Whatever differences they might have had in the past are forgotten just when you put on that sweater.
In fact, Ducks defenseman and Team USA hopeful Cam Fowler insists that the days of hate and grudges are pretty gone altogether from the league.
"It's pretty much non-existent, there's no time for that," he said of off-ice grudges. "If you're trying to make Team USA it's about Team USA, it's not about the Kings, the Sharks and the Ducks. You're all striving for one common goal and that's the 100 percent truth, that's how it works."
In other words, don't expect to see any scenes out of Miracle now or any time before Sochi.
Even if there are any grudges being held by anybody, that gets checked at the door and with relative ease.
"There's mutual respect, I think the game breeds respect for your opponents and your teammates," the Blues' David Backes said. "Knowing how hard some of these guys are to play against, you try to team up those forces to shake hands, acknowledge that there's been some battles between you but now you've got the same jersey going forward. Combining forces with some of these guys is a good feeling."
Jimmy Howard couldn't agree more. The Red Wings goalie has had to deal with Backes often pestering him in the crease and just being a royal pain. Does he take this setting at least as a chance to talk to Backes about it?
"No, not at all. He's a competitor, he just competes," Howard said, while standing right next to Backes. "He's hard from the first drop of the puck to the final buzzer, Backs goes hard. It's something that you can really respect out there."
That's one half of the unique dynamic. The flip side is that you end up playing against guys who you normally call teammates, guys you share a dressing room with season after season. In many cases you end up playing against some of your best friends.
It has the chance to get awfully weird in some cases. Dustin Brown has played with Anze Kopitar for years on the same line. He could finally face him on opposite sides in Sochi with Slovenia making the tournament.
"This year it will be really weird for me having to play my linemate for the past seven or eight years, my centerman who's probably given me 40 empty-net goals is going to be on the other side for the first time," Brown said of Kopitar. "It's a unique experience but I also think players enjoy the opportunity to play against an Anze Kopitar, Drew Doughty or Slava Voynov. Plus it's important to win those games for bragging rights."
Of course not everybody will find it weird. Some guys such as Dustin Byfuglien of the Jets would welcome the opportunity.
"I think you definitely target your own guys for sure," Big Buff said. "It's like when you get traded and you play that team the next time you pick a couple of guys like 'I have got to hit you.' Just things, little things that you can have fun with but be serious with it."
Byfuglien's teammate in Winnipeg, Zach Bogosian doesn't care. If you're in another jersey, you're open to get hit, even if it's blood.
"I treat everyone the same, I usually run every one as hard as I can," Bogosian said. "I played against my own brother and I was trying to hit him all night, I guess it comes with the territory."
Then there are the bragging rights, bringing some of that success back to camp. Howard would love to be in that spot if for no other reason than to quiet down some of his louder teammates.
"It would be pretty gratifying, it would be something I would be able to have in my back pocket for the remainder of our careers," Howard said with a smile. "It would be fun, especially if one day they started giving it to me a little bit and I was just like 'oh hey, you remember that in the Olympics?' That would be nice to have in your back pocket."
But really it all comes down to doing what you have to do, whether it be teaming up with a guy you haven't always got along with or going against your best friends in the tournament. It comes with the territory, almost like an All-Star Game but nothing like it at all. With no offense (OK, all offense) to the All-Star Game, this sweater means something and that bond can trump all.
Perhaps Bobby Ryan put it best.
"The old adage that there are no friends on the ice kind of rings true."
The 38-year-old defenseman had been on the free agent market since July 1

New York fans aren't too happy about it, either

The league is not backing down, but players aren't hiding their frustrations, either
Draisaitl remains unsigned as Edmonton's premier restricted free agent

Yes, it is as perplexing as it sounds

Here's a look at the best of what's left in the pool of unsigned veterans