On trade block, Mike Ribeiro would like to stay with Caps 'long term'
One of the hottest names on the trading block as the April 3 deadline looms is Washington Capitals center Mike Ribeiro. But if he had his way, he'd stay right where he is. For many more years.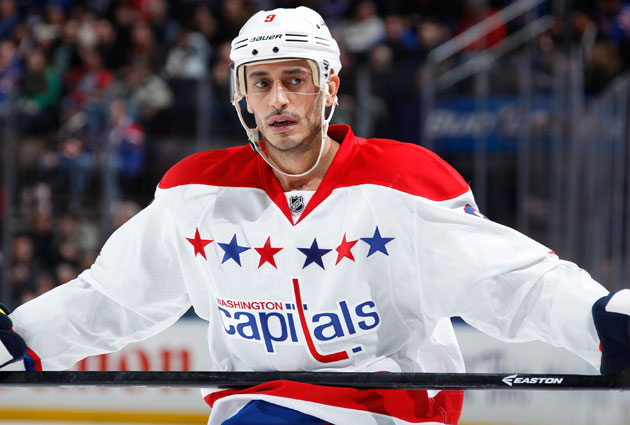 More NHL: Scores | Standings | Odds | Fight-O-Meter | League Leaders | Rumors
One of the hottest names on the trading block as the April 3 deadline looms is Washington Capitals center Mike Ribeiro. But if he had his way, he'd stay right where he is. For many more years.
Ribeiro is set to be a free agent after this season, his first in Washington. With the way the Capitals began the season, it seemed to open up the possibility that Ribeiro would be traded to the highest bidder as we all know top-six centers are always in demand.
Then a funny thing happened: The Capitals started winning. Washington is in the midst of a stretch that has brought the team from the depths of the Eastern Conference all the way up to 10th place and only two points out of the playoffs. It begs the question if Ribeiro should indeed still be dealt.
If Ribeiro called the shots he would like to sign a new deal with the Capitals and stay right where he is. He's not thinking short-term, he'd like to see a long-term deal, five years or so. From Stephen Whyno of the Washington Times:
"If we can agree to a long-term [contract], then I'll be more than happy to stay here," Ribeiro said. "But I don't know if I'm looking for two years and change place and then another two years. I don't think I want that. So we'll see what we're going to come to."

...

"Obviously family comes first. If I could get a five-year [deal], then I'm 38 and then I don't want to move, then I'll stay here," Ribeiro said. "I want to stay in a city for at least the next 10 years until they're done with high school and then go to college. So if I could get a five-year and then stay in the same city the next five, seven years with the kids and I don't want to move them too much throughout school. Especially teenage ages, I guess it's hard for kids to move around. For me it's to be stable somewhere, and if we can do that here, I think I would be more than happy."
That makes perfect sense, Ribeiro is thinking about his kids first and foremost. Remember, these guys are people with families and personal lives. He's enjoyed his time in Washington, it would seem -- and apparently so has his family -- and he would like to stick around.
The question is if the Capitals are willing to make it happen. Ribeiro has been very good for them this season, especially on the power play. He's Washington's leading scorer, with 34 points in 32 games, and seems to have begun to click with Alex Ovechkin.
Still, Ribeiro is 33 years old so if you're talking about a five-year contract, you're looking at signing him until he's 38. It might not be a bad idea; he's not showing much sign of slowing down at this point. Then there's also the salary aspect of it. Right now Ribeiro is making $5 million per season and it's tough to ask him to take a cut with the way he has played. As a free agent he would likely make more than that.
Is it possible, though, that he'd be willing to take less money to get the term he wants from the Caps should it come to that? If he truly wants to stay in Washington then perhaps he would. The tough part is Ribeiro is exactly what the Caps have been looking for over the past few seasons: that second top-six center. Now that they have him, do they just let him walk?
Caps general manager George McPhee doesn't have a lot of time to make a decision on which way he wants to go. The trade deadline is a little more than a week away and so if he's going to trade Ribeiro he has to make that decision soon.
It was my belief for weeks now that Ribeiro should and would be traded before the deadline came and went. He is as good an asset as the Caps have and they seemed dead to rights but alas they play in the Eastern Conference. Now I'm not so certain. With the team making a surge, it would be an awfully tough blow and message to the team if McPhee were to trade away its leading scorer now.
I'll just say this: I don't envy McPhee this week, or any GM, for that matter.
Here's your guide for how to watch this year's Stanley Cup playoffs

Breaking down where things went wrong for the Blue Jackets

Caps owner Ted Leonsis offers a standing invite to Keelan Moxley for the rest of the playoffs...
A look at the entire postseason field -- and who's going up against who for a shot at the...

The fans in attendance carried a great rendition of 'O Canada'

The Maple Leafs have won two straight to force a Game 7 back in Boston