Ondrej Pavelec won't dress for Czech Republic's opener
When the Czech Republic plays Sweden on Wednesday to open the Olympic hockey tournament, Ondrej Pavelec won't be in net. Or even in uniform.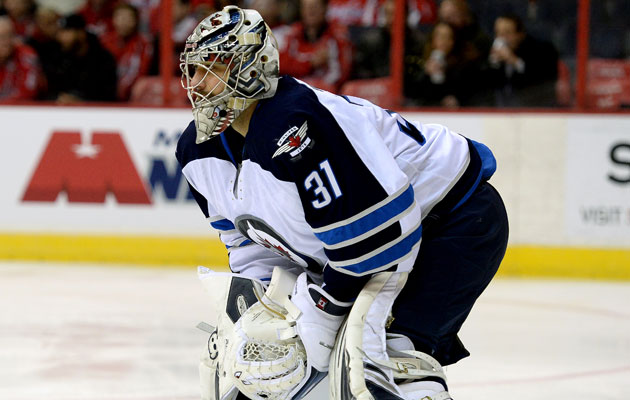 More NHL: Scores | Standings | League Leaders | Odds | Injuries | Power Rankings
When the Czech Republic announced their roster for the Olympic hockey tournament, the general assumption was that Ondrej Pavelec was going to be the starter. He was the only NHL goalie named to the team and started for the Czechs in 2010.
At least for the first game of the tournament against medal contender Sweden, that general assumption was wrong. Pavelec isn't going to start, he's not even going to be in uniform.
More unrest around the Czech hockey team: Ondrej Pavelec won't play the tournament-opener against Sweden tomorrow. He's not even dressing.

— Chris Johnston (@reporterchris) February 11, 2014
Step right up Jakub Kovar and Alexander Salak, you're the next contestants on who starts for the Czechs!
It's not clear why the Czechs are going to sit Pavelec but it probably has something to do with the fact that he has struggled a lot this season. In Winnipeg he has a save percentage of just .901 and, well, that's poor.
Salak is a name that is probably familiar to NHL fans as he played for a few teams across the league including the Blackhawks. But Kovar might be the one who starts. He has started 44 games for Yekaterinburg Automobilist in the KHL and has been fantastic with a .934 save percentage.
Especially with the presumed starter getting the seat, the goaltending for the Czechs is going to be a criticial position and will undoubtedly go a long way in determining their fate in the tournament. The Czechs are in a group with Sweden, Switzerland and Latvia.
The NHL says it's only interested in expanding to Seattle, but here's a look at all the moving...

The NHL says it is only looking toward Seattle for the next expansion team

The 33-year-old defenseman hopes to help find a cure for serious head injuries in athletes
Chicago becomes the latest NHL club to earn an evaluation of $1 billion or more

The city council has approved a $600 million redevelopment project for KeyArena

Arvidsson took off his glove to reveal an engagement ring for one lucky fan