One more year? Jagr says Martin Brodeur has 'another three or four'
Martin Brodeur hasn't committed to this being his final season and Jaromir Jagr isn't just stopping at one; he thinks Brodeur could play another three or four.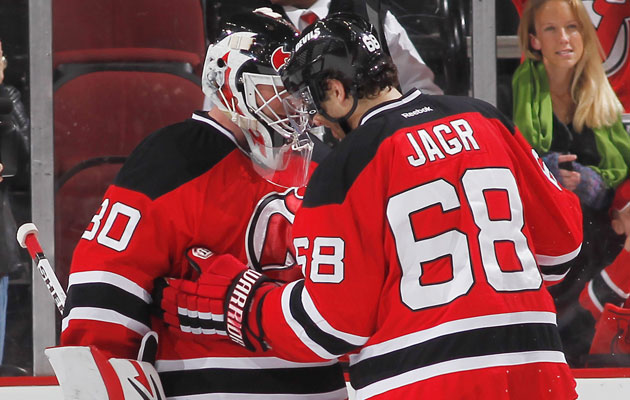 More NHL: Scores | Standings | League Leaders | Odds | Injuries | Power Rankings
This is precisely what Cory Schneider was hoping to hear: Martin Brodeur isn't ready for the retirement tour yet.
The Devils' legendary goaltender is 41 years old and is going season by season on one-year deals. Many have felt that this would be Brodeur's final season in his illustrious career but he's never said it would be and still won't close the door on returning. He's having a solid enough season so why would he?
Brodeur says it's one reason why he doens't welcome the farewell tour activities reserved for the greats across all sports when their plans are known. The 41-year-old joked to Rich Chere of the Newark Star-Ledger about just that.
"Maybe I'll play another year. You never know."
Why stop at just one more year, why not a few more? That's what Jaromir Jagr thinks and Jagr knows a thing or two about playing as long as you can. He has said he has no intention of retiring as long as there is a spot for him. Seeing how he's the Devils' leading scorer, that day isn't coming yet.
Jagr thinks Brodeur is capable of taking the same approach.
"Hey, don't count him out. Trust me. He can play another three or four years," said teammate Jaromir Jagr, who has stated he'll keep playing in the NHL as long as he's wanted. "Dominik Hasek came back when he was 47. [Brodeur] can play however long he wants to play. It's up to him. He still loves the game, so it's up to him."
If Patrik Elias keeps on playing and Jagr were to stick around, imagine what the Devils might look like in a couple of seasons. That'd be something.
Schneider, for his part, would probably be OK if Brodeur didn't decide to stick around for 3-4 more years. He has been waiting for his time to get a No. 1 spot to himself, something that is warranted with his play. He bemoaned his situation a little a couple weeks ago, saying he just wants that clear-cut No. 1 job.
Brodeur has played 17 games this season for the Devils with a .905 save percentage and 2.29 GAA. Schneider has played in 14 with better numbers; a .920 save percentage and 1.89 GAA.
Los Angeles isn't rushing to sign the 45-year-old forward any time soon

The University of Denver star and Hobey Baker Award winner is drawing interest

Intrigue is high in Arizona after a wild offseason, but expectations should still be tempe...
Players are set to give personalized messages for Adidas' former hockey equipment brand

The 40-year-old center is returning to the Wild after a successful run in Pittsburgh

Edmonton locks up its 21-year-old RFA a month after McDavid's historic extension