Outdoor hockey coming to coliseum on shores of Adriatic Sea in Croatia
The Big House, huh? Well Croatia has the NHL beat with plans to stage a couple of outdoor games at an old Roman coliseum in Croatia.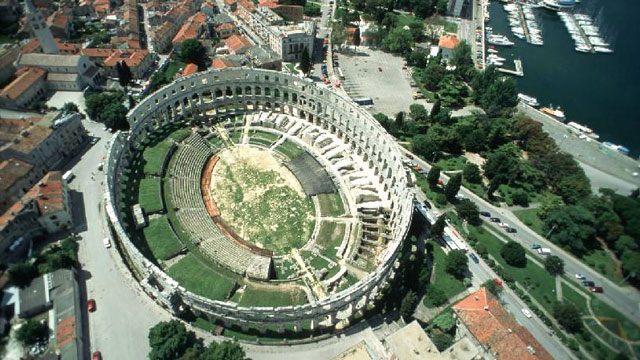 The ampitheater in Pula is one of the best-preserved coliseum's remaining. (Wayfaring)
Remember when the Florida Panthers came out and said they wanted to host a Winter Classic at Marlins Park in Miami? People laughed and laughed. The same happened when it was suggested -- before the Kings won the Cup, mind you -- that the Los Angeles Dodgers were interested in hosting the Classic. Again, people laughed.
Hockey is a winter sport. It's meant to be played in cold temperatures, not places like the Sunbelt in the States or the shores of the Adriatic Sea in Europe. Ice and warm weather don't get along very well, you know.
Well, scratch that. They ARE going to play near the Adriatic next season.
The classic Roman arena that once hosted gladitorial games in present day Pula, Croatia is going to take on ice hockey next year. In the two games will be the biggest team in Croatia, first playing Olimpija Ljubljana from Slovenia and then the Vienna Capitals two days later.
Nothing like gelato at your hockey game.
Even with a seating capacity of just 7,022, it's going to trump any outdoor game I can recall seeing, assuming it goes off. It's going to take a Herculean effort to pull it all off. From the International Ice Hockey Federation's release:
The size of the ice surface will be at the lower end of the rulebook's scale with 57 x 26 metres and 22 mega-trucks and two cranes will come to build up the rink and temporary stands. 70 employees and six foreign experts will work on the project under the careful supervision of the Arena Conservatory to make sure the set-up and the maintenance of the ice rink will succeed with temperatures of up to 30°C possible during the day in that time of the year.
Making their task even tougher? The game won't come in the Croatian "winter" but instead in September. It's not uncommon for the players to sweat during games, but fans? That's going to be a little unique. Wikipedia says the average temperature in September in Pula is 75 degerees Farenheit, an average low of 59. Good luck keeping that ice in good condition.
So get ready for ARENA ICE FEVER!!
H/t to Backhand Shelf
For more hockey news, rumors and analysis, follow @EyeOnHockey and @BrianStubitsNHL on Twitter and like us on Facebook.
Buffalo is in the midst of contract extension talks with Jack Eichel, and the payout could...

Los Angeles isn't rushing to sign the 45-year-old forward any time soon

The University of Denver star and Hobey Baker Award winner is drawing interest
Intrigue is high in Arizona after a wild offseason, but expectations should still be tempe...

Players are set to give personalized messages for Adidas' former hockey equipment brand

The 40-year-old center is returning to the Wild after a successful run in Pittsburgh