Overtime becoming old hat for Blackhawks, Bruins
With three of the first four games in the Stanley Cup Final needing overtime, both teams are ready if it happens again.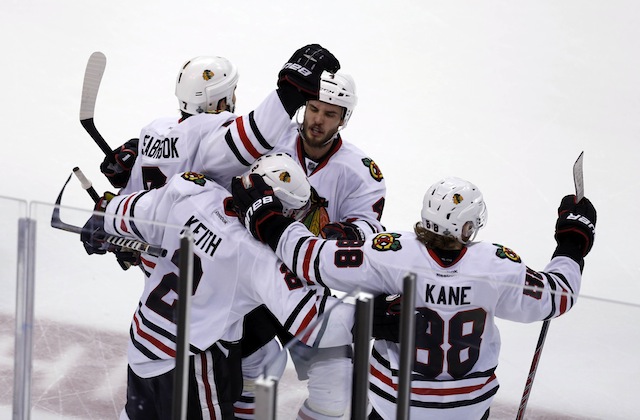 More NHL Playoffs: Scores | TV Schedule | Expert Picks | Odds | Mock Draft | Rumors
CHICAGO -- With three of the first four games in the Stanley Cup Final needing overtime to decide the outcome, it's almost at the point where one can expect an extra period or two every night in this series between the Chicago Blackhawks and Boston Bruins.
Both teams have also had plenty of practice this postseason, with Boston playing in eight games that went beyond regulation and the Blackhawks appearing in seven sudden-death situations. Boston has gone 5-3, while Chicago has posted a 5-2 record.
"It seems like it's going to go OT, but there are two teams that have the same goal," Blackhawks forward Bryan Bickell said of each game in the final. "The play is at the highest level right now, and it might take us a few extra minutes."
The seemingly increased likelihood of overtime in this series in particular is something that both coaches have thought about and prepared for, but the approach remains relatively the same for each.
"I think that whether you're looking at the length of a game going into it, I think you're playing to win the game in 60 minutes," Joel Quenneville said Saturday after his team's morning skate. "As you go along, you're just dealing with trying to play the game accordingly afterwards."
The way that each coach has used his players in regulation also lends itself well to being better in overtime.
"We feel having a balanced lineup of using four lines and keeping everybody in tune and fresh in the games," Quenneville said. "So we'll look to play the game like it's a 60-minute game and go from there."
Both coaches have been meticulously trying to get the upper hand in line matchups throughout each game, which can occasionally make it difficult to stretch the bench at certain points.
"When I'm looking at [Quenneville] and the moves he's made and the changes [to his lineup], we're both trying to get the edge on each other, which is what coaches should do," Bruins coach Claude Julien said. "Sometimes it's tweaking lines, but I'll tell you what. By the end of the game, I'm exhausted trying to keep up with him. But that's the way it's gone, and it's been a good battle between the two of us."
Once the game gets to the extra frame, however, the strategy changes slightly.
"You want to try and score as early as you can. And when you don't, you have to kind of look at your bench and try and give these guys an opportunity to catch their second wind," Julien explained. "The goal is to get that next goal, so it's not as much about line matching then and more about the opportunity to end the game."
For the players, overtime is beginning to become second nature.
"I think it's helped us [playing a lot of OT in the past]; we're confident going into overtime," said Chicago forward Andrew Shaw, who scored the overtime winner in Game 1. "We know what we need to do out there. We need to compete as hard as we can. Those long games are tiring, but we have a great staff here."
"I think both teams have seen it many times," Bruins forward Tyler Seguin said. "I think you definitely want to focus on not being afraid to make mistakes but playing on your toes to get that goal."
Julien also feels the repetition has helped his team, though the Bruins have lost two of the three overtime games in this series.
"Practice makes perfect, right?" he said. "Both teams are getting better at it and used to it. I don't think anyone's shocked going into the third period when we have to play at least another one."
At this point, with both teams having so much experience in sudden death this postseason, it's difficult to find which has the leg up. However, history says if there has been an OT advantage, it has swung in the direction of the road team.
The visitors have had a surprising amount of success when it comes to overtime in a Stanley Cup Final, having won 15 of the past 19 overtime games. Since 1990, the road team has posted a 20-6 record in sudden death in the Final. Two of the three overtimes in this series were won by the road club.
Seguin won't read too much into it, however.
"Who knows [if the road team has an advantage]? Anything can happen in overtime," he said. "It's a brand new game when you step into those periods and you just try to be ready the best you can."
As often as it has happened, Game 5 won't make it past the final horn of the third period if Blackhawks forward Dave Bolland has any say.
"I don't want overtime," he said. "They've all been tight games."
Bolland might just get his wish, but fans probably wouldn't mind seeing a record-tying 28th overtime game this postseason.
NHL players are still disappointed they won't be going to skate in PyeongChang

With Artemi Panarin in the mix and a Vezina winner headlining the defense, Columbus can be...

The league's crackdown on faceoff infractions and slashing penalties isn't without some cr...
Joffrey Lupul spent last season on long-term IR but seems to be saying he's healthy

Early playoff trouble has been evident, but the Wild tout an offense capable of making another...

Why walk with skate guards when you can rollerskate instead?