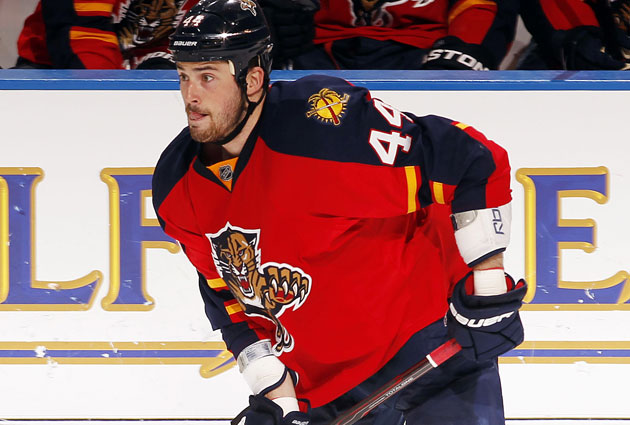 Gudbranson might not miss any NHL games because of the lockout, so there's that. (Getty Images)
In early September we passed along word that young Florida Panthers defenseman Erik Gudbranson suffered a shoulder injury in a training accident, one that would keep him sidelined for at least the next four months.
The injury part was true, but what wasn't true was how he suffered the injury. Earlier this week Gudbranson took to the ice in Florida with some of his teammates. Later, he revealed to George Richards of the Miami Herald what really happened.
On Monday, Gudbranson finally came public about how he got hurt, telling The Miami Herald it happened while wakeboarding on a lake in Ontario with his buddies.

"I wasn't being stupid; it was just an unfortunate, awkward fall," Gudbranson said.

Gudbranson said he talked to general manager Dale Tallon about the injury, stressing to Tallon alcohol played no role in the accident. Gudbranson said he and his pals have wakeboarded -- which is a combination of surfing and water skiing -- for years.

The accident, Gudbranson said, happened early in the morning on the first run of the day. He pulled up when the rope he was holding onto, while being pulled by a boat, slacked up. Gudbranson slammed into the water and dislocated his shoulder in the process. "I should have let go," he said.
As a result, Gudbranson is now suspended by the team as long as he's injured.
But wait, the players are locked out, so what is he suspended from? Well, if he were injured in a hockey-related situation, the team would still pay him his salary until he is cleared and he could use the team facilities, including rehabbing with the team doctor. Panthers forward Kris Versteeg spent the first few weeks of the lockout doing that before he was cleared, stopped receiving checks and headed to Alberta to coach at Lethbridge College.
Really, the team had no choice but to suspend Gudbranson, so it's not the biggest deal in the world. He was already doing work with other doctors and not the team doctor anyway. It's mostly just a formality (and it saves the Panthers from paying Gudbranson).
According to Richards, Gudbranson has been very contrite with the Panthers organization and has apologized profusely. But really, accidents just happen. So long as the rest of the story is true -- mainly that no alcohol was involved -- it's just a case of bad luck, nothing to get upset about. A guy should be allowed to go wakeboarding in the offseason, right? Of course, although something like this will probably end Gudbranson's wakeboarding career.
His teammates certainly understand, like his defensive partner and one of the Panthers' veterans, Ed Jovanovski.
"We were all young and adventurous. I'm not going to lie," Jovanovski told the Sun-Sentinel's Harvey Fialkov. "I water-skied as a youth in the league. Unfortunately, things happen. It was a tough position for him. I told him stuff happens. It could've been playing or scrimmaging with your buddies. You take it as a learning experience.
"He's still young and has got 20 years left in this league to figure it out."
Gudbranson was the third overall pick in the NHL draft two years ago. After Gudbranson spent one more season at the junior level, the Panthers gave him a spot on the team out of training camp. The defenseman played in 72 games, totaling two goals with six assists while bringing a strong physical presence. He racked up 78 penalty minutes on the season.
Gudbranson figured to be part of the Panthers' opening-day roster this season in one of the top six spots on defense, but the Panthers could make due if he's not ready whenever the season begins. They lost Jason Garrison in free agency to the Canucks but signed Filip Kuba to fill the hole. In addition, they carried seven defensemen all last season so Keaton Ellerby is there to take the ice time. The Panthers are hopeful of Ellerby's career down the line too, so getting a chance for him to play isn't the worst thing.
With that said, Gudbranson is expected to be cleared at some time in January, and at the rate this lockout is going, we'll be lucky to have opening night by then.
For more hockey news, rumors and analysis, follow @EyeOnHockey and @StubitsCBS on Twitter and like us on Facebook.