Panthers GM 'absolutely' sees a spot for Tim Thomas next season
Will the Panthers trade Tim Thomas? GM Dale Tallon says he sees a spot for Thomas in Florida beyond this season, and a few other UFAs-to-be as well.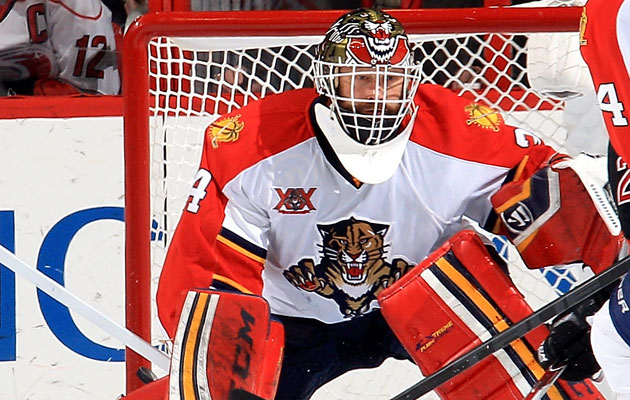 More NHL: Scores | Standings | League Leaders | Odds | Injuries | Power Rankings
We take a break from your regularly scheduled Olympic programming to talk a little NHL for a moment and a goalie who has been mentioned in possible trade speculation.
Panthers goalie Tim Thomas came back to the NHL this season with Florida on a one-year contract. He has had a few injury issues with a wonky groin but all in all, he's been pretty good for the Panthers. Not great, but pretty good.
Given where the Panthers are as an organization (still rebuilding), his age, contract status and performance, questions arose whether Thomas would remain a Panther through this season. He expressed some interest as he said he has enjoyed himself but neither he nor the team would publicly say they were willing to commit.
Until Friday. Panthers GM Dale Tallon wouldn't mind having Thomas back beyond this season at all.
#FlaPanthers Dale Tallon said he and Tim Thomas had a good talk a few days back; Thomas 'absolutely' has a future here past this season.

— George Richards (@GeorgeRichards) February 14, 2014
Tallon didn't stop there, though. He said he's interested in keeping a few of his veterans around.
#FlaPanthers Tallon won't commit to being a seller at deadline despite 13 pt hole; says UFAs Boyes, TT, Gilbert & Winchester could return

— George Richards (@GeorgeRichards) February 14, 2014
While each player has shown plenty of merit (Tom Gilbert in particular has been good) it seems a somewhat curious decision to keep together a group that is near the bottom of the NHL again this season. But they're still growing as an organization so those veterans are important to have.
Plus, you have to wonder how much any of them would get in a trade return. The Panthers believe they have the foundation in the organization at this point, they're just waiting for them to mature. So picks probably aren't that appealing, especially in a down draft class.
What remains to be seen is if Thomas will reciprocate the interest from Tallon (and the other UFAs to be) and if that changes plans but right now it's shaping up to be a quiet deadline for a team that would normally be a seller.
Some familiar faces are back, but a cap-strapped summer left Chicago a little shakier than...

The Pittsburgh Penguins will put politics aside and visit the White House out of 'respect'...

NBC will reportedly be devoid of NHL game broadcasts between Feb. 7-26
The Winnipeg winger suggests Trump is going after 'the principles the U.S. was founded on'

League gets excited about exhibition matches in Beijing and Shanghai

NHL players are still disappointed they won't be going to skate in PyeongChang