Patrik Berglund re-signs with Blues for three years, $11.1 million
Patrik Berglund has a new deal in St. Louis that will keep him around for another three seasons and eat a couple of his unrestricted free-agency years.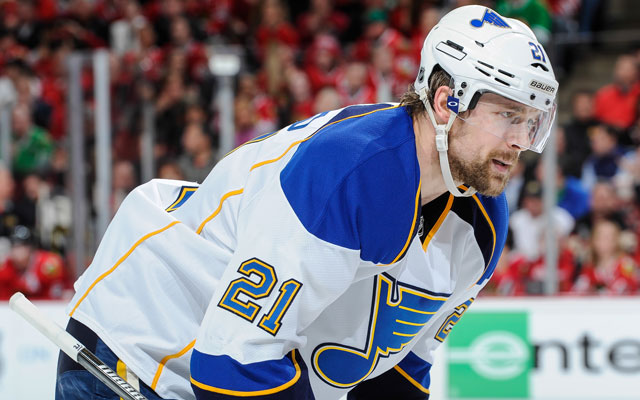 More NHL Offseason: NHL rumors | Updating rumor mill | 2014-15 preseason odds
While the Blues continue to kick the tires on the centers available in free agency or trade, they took care of another matter of business on Thursday by re-signing restricted free agent Patrik Berglund.
The deal for Berglund, 26, is for three seasons and it will take him to unrestricted free agency if/when it runs out.
As for the price, it's not all that cheap for the Blues. Jeremy Rutherford has the numbers:
Berglund's deal is $11.1 million ($3.7 AAV). #stlblues

— Jeremy Rutherford (@jprutherford) June 26, 2014
Berglund was in somewhat of a show-me season for the Show-Me State's lone team but saw his goals dip below his total in 2013 ... when there were only 48 games. Berglund finished the 2013-14 campaign with 14 goals and 18 assists in 78 games before going pointless in four postseason games with a minus-seven rating.
However outside of this past season, Berglund has been pretty much a lock for around 20 goals per season so that's certainly worth some money in today's NHL.
Berglund's best season came in 2010-11 when he had 22 goals and 30 assists in 81 games as a 22-year-old. This last season he saw his ice time as well as his numbers as he averaged just 16:10 per game.
J.T. Brown, who raised his fist during the national anthem, meets with Tampa Police Depart...

The decision would likely be met by anger from some fans, but it could also make sense

Toronto shoots to the No. 1 spot, just ahead of the Chicago Blackhawks
The Penguins' standout is at it again

Gary Bettman all but reverses course from his September comments on anthem demonstrations

The 'Washington Post' says many teams have stopped booking stays at Trump-owned properties