Paul Martin out 4-6 weeks for Pens after breaking hand in Sochi
Paul Martin broke his hand playing for Team USA in Sochi and now the Penguins defenseman will miss 4-6 weeks.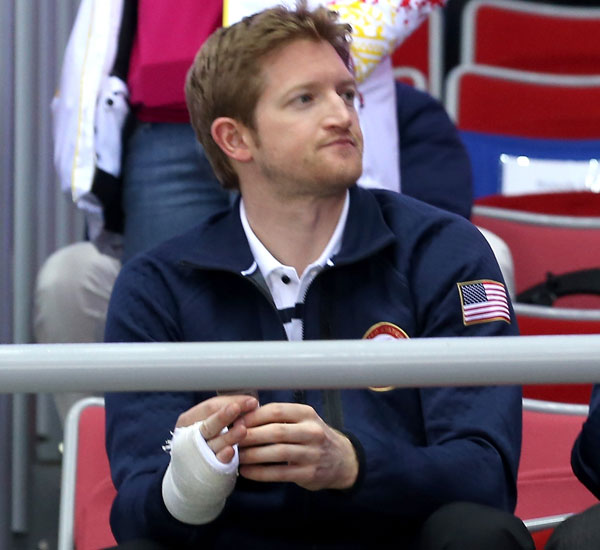 More NHL: Scores | Standings | League Leaders | Odds | Injuries | Power Rankings
You can add Penguins defenseman Paul Martin's name to the list of players returning from Sochi and the Olympics with injuries.
Martin, who was playing for Penguins coach Dan Bylsma for Team USA, missed the final two games of the Olympics. There were varying reports as to why but Martin was spotted with a cast on his hand.
Turns out, he broke his hand and now it not only impacted Team USA's hopes in the medal rounds but will cost the Penguins as well.
Paul Martin broke his hand in Olympics. Out 4-6 weeks. Vokoun cleared to practice, no timetable on return #Pens

— Pittsburgh Penguins (@penguins) February 25, 2014
(On a side note, another bit of great news on Tomas Vokoun there.)
Martin's loss was felt by the Americans -- they really could have used him against the superior Canadians -- and the same will likely hold true for the Penguins, especially with Kris Letang out after suffering a stroke. Luckily for Pittsburgh, though, is that the organization has depth on the blue line and they can turn to talented youngsters such as Simon Despres to fill the void.
Interestingly, Bylsma's view wasn't changed about NHL players in the Olympics based on Martin's injuries. He's still in support.
Martin has played in just 33 games this season for the Penguins, scoring two goals and 10 assists. His 24:23 of ice time per game leads the Penguins.
The 40-year-old center is returning to the Wild after a successful run in Pittsburgh

Edmonton locks up its 21-year-old RFA a month after McDavid's historic extension

Even with a new coach and added veteran help, the Canucks have a long road ahead
Unlike expansion teams before them, the Knights have enough talent to entertain right away

Brian Lawton says he 'would not be surprised' if Boston deals its young star to end contract...

It turns out Phil does love his hot dogs, especially when they're in a Stanley Cup