Pekka Rinne returns to ice but not cleared for practice yet
Pekka Rinne has taken a step in his long recovery from an infection. He has been cleared to go back on the ice but hasn't been cleared for practice yet.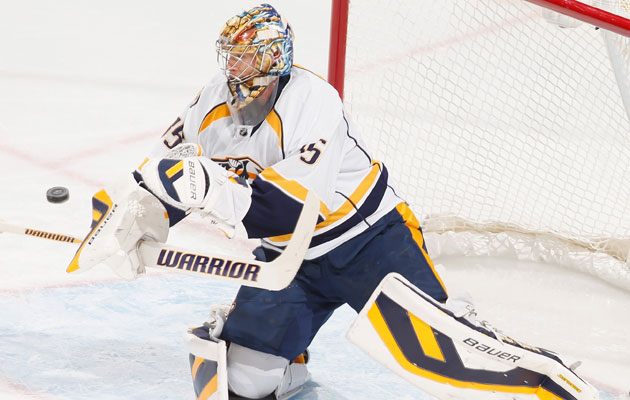 More NHL: Scores | Standings | League Leaders | Odds | Injuries | Power Rankings
The last time Pekka Rinne played a game for the Nashville Predators was way back on Oct. 22. It was after that that it was announced Rinne had suffered a serious infection in his pelvis, putting him out of commission ever since.
On Wednesday, though, the Predators got a little dose of good news on the Rinne front: he was back on the ice. He hasn't been cleared to practice with the team but at least this is a step in the right direction.
From John Glennon of The Tenneesseean:
"He's working out and he's been allowed to go on the ice," Trotz said. "He really hasn't done much on the ice. But he's starting to move around in terms of skating and getting the muscle memory of moving around on the ice. It hasn't been too punishing or anything like that.

"But it's not going to be a quick process. They're doing it very methodically and cautiously. This is for the long term."
Any bit of positive news regarding Rinne is music to Nashville's ears, even if it's just a baby step in his recovery. They have struggled with their backups having to carry the load, trading for Devan Dubnyk a couple of weeks ago. Rinne has definitely been missed.
While we can't make the jump yet, it at least raises hopes that Rinne might be able to return this season. It's unlikely the Predators will be in the hunt -- though they are within sight of the playoffs -- but it would just be good to get him back on the ice and help him get ready for next season.
Rinne started nine games before his infection, posting a save percentage of .917 and a 4-4-1 record.
The NHL says it's only interested in expanding to Seattle, but here's a look at all the moving...

The NHL says it is only looking toward Seattle for the next expansion team

The 33-year-old defenseman hopes to help find a cure for serious head injuries in athletes
Chicago becomes the latest NHL club to earn an evaluation of $1 billion or more

The city council has approved a $600 million redevelopment project for KeyArena

Arvidsson took off his glove to reveal an engagement ring for one lucky fan