Pekka Rinne's absence makes clear the value of good goaltending
Pekka Rinne has missed most of this season with an infection and the Predators have seen dips in defensive categories. Coincidence? Likely not, as his value has become more evident.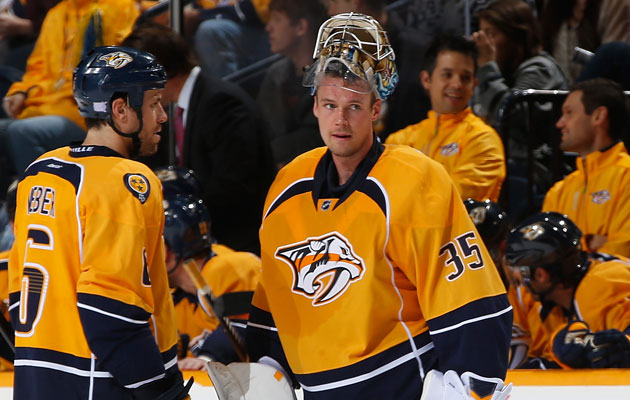 More NHL: Scores | Standings | League Leaders | Odds | Injuries | Power Rankings
To be considered the Most Valuable Player, it's usually a prerequisite to actually, you know, play a lot of games in a season. If you want to actually win the award, that's the recommended approach to take.
But sometimes the best way to judge a player's true value to a team is to take him out of the equation. If things change -- and not for the good -- in a dramatic way, you're obviously talking about a player who is very valuable to that team.
Which brings us to one Pekka Rinne, Nashville Predators goaltender. He has been out of the lineup since Oct. 22 after suffering a dangerous infection in his pelvis. He is expected to return, but maybe not this season at this point. The guy who started 73 of Nashville's 82 games in 2011-12 and 43 of 48 last season has only played nine of 55 this season.
In his absence, Rinne's value to the Predators has been illuminated. It's no secret that Rinne is one of the top goaltenders in the game and has been for a few seasons now. That's why the Predators gave him a massive, lucrative contract extension that made him one of the highest-paid goalies in the league. You don't lose a guy like Rinne and then expect not to feel the hit. In other words: Of course he's valuable, all good goalies are.
The question becomes how much of a hit is reasonable to expect without the goalie, though? Is this reasonable?
Last four seasons
Season (games)
Team Save %
Team GAA
Team PK %
2010-11 (82)
.926
2.32
84.9
2011-12 (82)
.921
2.50
83.6
2013 (48)
.904
2.77
75.5
2013-14 (55)
.903
2.91
79.8
Aside from the penalty-killing percentage, the Predators have experienced lows this season in these categories (and it's not like this season's PK percentage is great). Now obviously there is a massive drop after the 2011-12 season, which just so happens to coincide with Ryan Suter leaving Nashville, and that helps to cloud the conversation -- and works pretty well when talking about Suter's value, doesn't it?
But last season was also an outlier for Rinne with a .910 save percentage. Sometimes it happens to goalies. This season in nine games, for example, he was back up to .917, just a shade under his career average of .919. Especially when dealing with short seasons, goalies' numbers rarely stay flat from year to year. They have good seasons and bad.
To take this all a step further, the first three years above might as well be considered all Rinne (not exactly but close). The final (current) season is without Rinne. To make that so, if we remove Rinne's nine games and see what the Predators have done in 46 games this season, almost the same timeframe as last year's shortened season, it gets clearer how much his absence has been felt.
At that point the save percentage for the group of Carter Hutton, Marek Mazanec, Devan Dubnyk and Magnus Hellberg dips to .901 and the GAA goes up to 2.98. The difference between last season and this becomes more evident.
With/without Rinne
Goalie (games)
Save %
GAA
Rinne (9)
.917
2.31
Backups (46)
.901
2.98
Eventually the road leads back to the ideas of the Barry Trotz system and how it yields excellent goaltending. Tomas Vokoun excelled for years in Nashville and that torch was handed seamlessly to Rinne. The constant all along has been the defensive-stalwart coach that is Trotz.
On the Predators' team site, here's what his bio has to say about that system:
Trotz's system has seen the Predators finish among the Top 10 in penalty killing rankings six times in the last eight seasons, and in the League's top half in goals-against average seven times in the last eight years.
This season the Predators are 23rd in goals-against average and 23rd in PK percentage. Perhaps we owe Vokoun and Rinne apologies for being attached to the label of "Barry Trotz goalies." Vokoun has shown outside of Nashville that he's good and if it ever came to be, it's a fair assumption that the same would happen to Rinne, but with his long-term deal that's purely hypothetical. The system hasn't been the difference lately, it has been the personnel, particularly the goaltending.
That isn't to try and discredit Trotz or the value of coaching, it's simply to acknowledge the value of a goalie such as Rinne. If anything, it could be an indictment on GM David Poile for coming into the season with the inexperienced Hutton as his backup.
Even through the subpar goaltending the Predators have received this season without Rinne, they have remained competitive. As we all know, life is tough in the West but if the Preds had been shifted to the East instead of Columbus or Detroit, they would be one point back of playoff position right now.
With how relatively close they are, the difference in a healthy Rinne vs. injured Rinne could very well be the difference at this point from being eight points back of a playoff spot in the West and being square in the race. The team has given up more than half-a-goal per game more without Rinne on the ice. Over a 46-game span, you're talking about a difference of roughly 25 goals against. That's a lot and surely it would be reflected in the Predators' standing.
You can't help but look at the Predators and wonder where they would be right now if Rinne were playing. Their offense still isn't lighting the league on fire but it has improved from last season by 0.19 goals per game. With better goaltending, with a player like Rinne available, that uptick in offense could have resulted in a rise in the standings and back into playoff contention. That's a pretty good indication of a player's value.
Former Lightning standout will be guarding the net in style in 2017-18

Devils are still in rebuilding mode, but they have reason for hope thanks to young additio...

Buffalo is in the midst of contract extension talks with Jack Eichel, and the payout could...
Los Angeles isn't rushing to sign the 45-year-old forward any time soon

The University of Denver star and Hobey Baker Award winner is drawing interest

Intrigue is high in Arizona after a wild offseason, but expectations should still be tempe...