Penalty differential: Which players are helping and hurting their team
Taking penalties is not a sign of toughness or gritty play. Penalties are bad. So let's take a look at which players are helping and hurting their teams the most this season when it comes to penalties.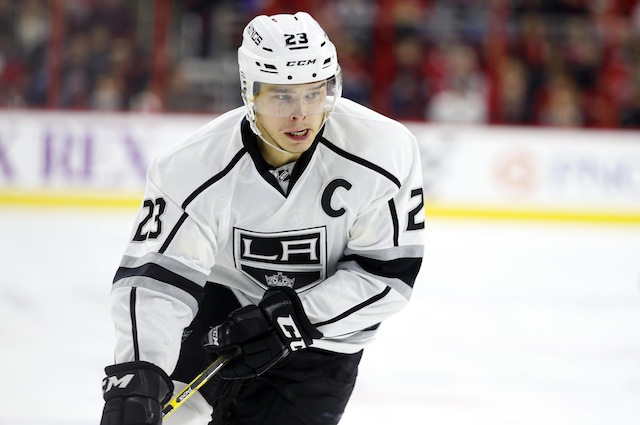 One of the most maddening elements of hockey analysis over the years has been the, at times, glorification of penalty minutes, from its inclusion as a key figure in fantasy hockey, to the way penalty minute leaders are often held up as a standard of toughness and "gritty" play. 
Unless you are taking somebody else (preferably another team's key player) to the penalty box with you, most penalties are bad, and you don't need me to tell you that. Consistently putting your team shorthanded is the exact opposite of what you should be doing as a player, and players that keep taking bad penalties can become an unwanted element for coaches, players and fans. Players should look to be physical when they have the opportunity, and sometimes playing on the edge is a necessary element in the game.
The players that are able to do that without putting their team at a disadvantage are pretty valuable. 
On the other side of that are players that are able to draw penalties.
Drawing penalties is a skill that can be repeatable from one season to the next. Some guys are good at it. Some are not. Skilled players that have the puck on their stick can put defenders into bad situations that force them to resort to hooking, holding or tripping in an effort to slow them down. And still other guys, for lack of better phrasing, are simply good at getting the attention of a referee when somebody gets a hand or a stick on them. 
The players that are able to combine the ability to draw penalties with the ability to stay out of the penalty box have a skill that is a valuable addition to a roster. It's not enough to make a bad team a good one and vice versa, and it doesn't mean that a specific player is better or more valuable than another just because he has a better penalty differential.
But it might lead to a few extra goals and a couple of extra wins in a team's favor over the course of a season.
So far, which players across the NHL have been helping (and hurting) their team the most when it comes to penalties? Because forwards and defensemen are asked to do different things, I've put them into two different groups. Let's start with the Forwards with a minimum of 100 minutes of ice-time this season. 
Kadri and Brown are two regulars at the top of this list, and it's no surprise to see them up there again this season. Kadri in particular is one of the best in the NHL when it comes to helping his team get more power play opportunities than it gives up, and since he has been in the NHL has an almost unbelievable plus-74 penalty differential (119 penaltes drawn, only 45 penalties taken).
He always seems to be under a great deal of scrutiny in Toronto and his power play time, usage and production is currently a hot topic around the Maple Leafs, but if nothing else he gives his team a ton of opportunities which can not only lead to more goals for it, but also help limit the opposition.
Now let's take a look at the players that have been hurting their teams this season.
Let's talk about Steve Downie for a minute. The Penguins brought him over the summer to add depth and what they felt was some much-needed toughness to their roster. The price was certainly right on a one-year, $1 million contract, and he is a very good player that can chip in some offense and play a variety of roles on a team. But sometimes he simply crosses the line and is out of control. Lately, the out of control side has been showing through. He's taking penalties at a rate that is almost unheard of, even for him, is going to the penalty box every 13 minutes that he is on the ice, the second highest rate in the league behind only B.J. Crombeen. Making matters worse is that he's not always taking somebody with him. 
Defensemen simply don't draw anywhere near as many penalties as forwards, and far as defensemen are concerned, Alex Pietrangelo's numbers are off the charts.
T.J. Brodie's presence at the top of this list is just another bonus that he brings to what has been perhaps the best defense pairing in the NHL this season.
The name that stands out here is Brent Burns. He was even last season in the penalty game (17 penalties drawn, 17 penalties taken) as a forward and is now a minus-10 this season as a defenseman. He's still producing a lot of points from the blue line, but he's had his shortcomings in the defensive zone and when combined with how dominant he was as a power forward the past two seasons the decision to move him back to defense was still a curious switch by the Sharks.
Update: This article originally had Dustin Byfuglien listed as a defenseman, the position he usually played the past several seasons for the Winnipeg Jets. He has since switched back to a more primary role as a forward. That change has been made on the above charts. 
[All penalty data via War-On-Ice]
The city has already received approval from the NHL to file for an expansion team

Bovada says the two nicknames are favored to be used, with Rainiers coming in third place

Here's everything you need to know to watch the NHL's marquee midseason event
The expansion Golden Knights officially moved into first place in the NHL on Sunday

The former Boston Bruin was the first black player to play in the NHL

Inclement weather led to the Charlotte Checkers and Bridgeport Sound Tigers playing in front...